It is fashion week in NYC and our focus turns to a fashion 'plate' of a different sort. Food is fashion. And though there are timeless classics (like a Chanel jacket, the perfectly cooked pig in a blanket) culinary innovation is a year round project.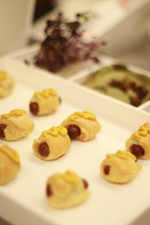 The runway is a stretch of stainless steel tables around which we gather the sales teams and culinary crew from all corners of GP food world for the Spring hors d'oeuvre tasting - to integrate items for the cafes at Sotheby's, Wave Hill and BAM, with the prêt a porter collection, as well as the custom collection for the Grand Ballroom at the Plaza Hotel or the highly stylized and glamorous world of off-premise catered events.
Oh, the pressure to be at the front of the pack - to put THE creative twist on a dish or to combine flavors and components in a tasteful and appealing way that captures our attention as we taste with our eyes before reaching with our fingers. Consider the 'small plate' trend. Currently, the darling of the catering world, it evolved from restaurant dining and ethnic dishes, like tapas, the classic small bite meal. Now, there is hardly a dish that cannot be transformed into a 2 bite passed hors d'oeuvre. (Spaghetti and a mini-meatball twisted on a forked skewer, served in a miniature cup!)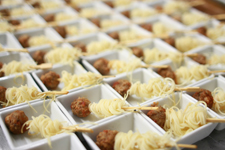 There are culinary artists who like fashion designers, create trends that ripple through the industry and change the way we look at things. El Bulli has been one of those, led by Ferran Adria. Chef Grant Achatz blogged recently for the New York Times Diner's Journal -
"People often ask me if the style of cooking he pioneered is a trend, fad or flash in the pan. My belief is that every 15 to 20 years, with an obvious bell curve of energy, most professions change. Technology, fine arts, design and yes, cooking, follow the same predictable pattern. A visionary creates the framework for a new genre, others follow and execute, and the residual effects remain, embedded in the cloth of the craft," (2/16/10).
And while there are culinary giants who have completely changed the way we look at our daily fare, food fashion is not immune to the forces that influence all fashion - grass root trends that trickle up, or socio-economic/political events that impact our culture. Witness the presence of military style in current fashion. Thankfully, we are not serving rations (though spam did get some press attention), but our presence in foreign countries sensitizes us to their cuisine while the economic climate has had a profound impact on our food choices. What you are going to be served at a cocktail party connects to these trends in various ways - and unlike Seventh Avenue fashion, the changes happen quickly.
Witness the fall of 09, as the financial markets collapsed; the culinary world went instantly from precious and expensive to affordable, comfort food. (Restaurants have become taverns - casual dining has never been more universal.) Meatball madness, stores devoted to the art of Mac and Cheese, bistro gastronomy, Shake Shack - the touchstones of mass-market food fashion.
The other 'ingredient' that morphed overnight from trend to movement (and now displays fad-like adaptations) is the farm-to-table, local food cuisine. Ironically, we bought our farm in 06 without any insight into what was to follow; it was simply time for us to act on a dream. This truly grass root revolution is causing ripples in the food world. A food movement with political lineage is a departure from the Julia Child or Auguste Escoffier or Nouvelle Cuisine game changers.
Okay - back to the kitchen runway! Chef de Cuisine Marc Spooner describes his goal for the new hors d'oeuvres:
"My main goal was to provide at minimum 3 textures to each item, providing interesting layers with fresh flavors in each texture. I'm also a big fan of heat in the form of chili's, working with herbs like cilantro and flavors of tamarind and guava. Other ideas are that I like include passed sweets with a savory twist and paired cocktails with small bites. And of course tasting plates that can offer more interaction than seated dinners."

Gathered around the tables, the seasoned sales managers, and a well-oiled machine whose professional taste buds have been refined over years of party planning and countless trends and fads.

Sound 'bites' from the experts:
Rob Arango/Client Relations @ Plaza Hotel: "Anything bigger than a one bite is a mortal sin. Our clients keep asking for smaller, not too much garlic or onion, not too drippy or crumbly canapés. Fried is okay but only as one of the 8 on a menu. Deconstructed is still hot to talk about but actually executing is another issue. Mark's tiny Mozzarella was amazing. A first place among the one bite canapé club!! Fried lobster corn dog--huge--it is a 6-bite canapé for those who dare to go against the establishment!"

Joanna Nadel/Event Manager: "I am often saying and hearing clients use the words "fresh", "bright", "clean" - what started with an examination of hors d'oeuvres from the standpoint of color and presentation has evolved into the want for fresher ingredients, with more color and bolder taste. Now, the heavier, fried yet seductive items are selected as one or two decadent selections - the rest are typically the healthier, more colorful, fresher options. What am I seeing - Jalapeno, coriander, curry. Oh, and shiso, the use of a bold flavors or spice is more en vogue."

Porfi/Event Manager for Wave Hill and El Museo del Barrio: A trend request that I am experiencing, pairing hors d'oeuvres with Mini shots of colorful cocktails. Passed combos include -
Seared/Spiced Tuna + Ginger Stacks with Cold Mini Saki shots;
Miniature Beef + Chicken Empanaditas with Mini Margarita shots;
Long Stemmed Strawberries Drizzled with Sweet Balsamic with Cold Strawberry Flavored Vodka Shots."

Linda Abbey/Vice President: "I liked having Claudia Bonn attend (President/Executive Director of Wave Hill). It was great to see Chef so excited and to hear the back story as to how he created each item. My faves: arepas, deconstructed caprese, tuna tartar. Clients are looking for easy to eat, fresh, seasonal, flavorful, colorful items. The key - a BURST of flavor."
Sampling close to 2-dozen items, evaluating them the way an Olympic judge scrutinizes an athletic performance, is hard work for a Friday afternoon (wink) but a professional necessity.

Food as fashion fuels an industry and taps into our creative juices; it strikes a passionate chord in us. We turn ourselves into pretzels at the challenge of reinventing our food with timeless ingredients so that we provide sustenance and entertainment to our guests. (The perfect one bite burst of flavor - as hot as skinny jeans.) Let's just remember, before fashion, there was food. And eating will never go out of style.

Cherry Tomato Wrapped in Mozzarella
with Pine Nuts, Capers and Katchkie Farm Pesto
Assorted Goat Cheese Truffles
Pink Peppercorn, Truffle Powder and Fresh Herbs
Zucchini Pesto Crostini
Brunoise Zucchini with Parmesan Pesto on Garlic Crostini
Crispy Wonton
Thai Inspired Tuna Salad
Scotch Quail Eggs
Green Goddess Dressing
Buffalo Chicken Croquant
with Blue Cheese Mousse and Celery Leaf
Bibimbite
Kimchee Rice Cake with Korean BBQ Skirt Steak, Chive Garnish
Classic Prosciutto and Melon with Mint
Antipasto Skewer
Artichoke, Cheese, Roasted Pepper and Salami
Handmade Arepa
Avocado Crema, Chipotle Pulled Chicken
Smoked Salmon Mousse Barquette
Salmon Roe and Dill
Grilled Wahoo Taco
with Radish Escabeche
Maryland Blue Crab and Avocado Salad
Old Bay Profiterole
3 2.19.10
Lobster Corn Dogs
Maple Whiskey Mustard
SUBSCRIBE TO & FOLLOW THE MORNING EMAIL
The Morning Email helps you start your workday with everything you need to know: breaking news, entertainment and a dash of fun. Learn more