The North American roll out of the Breeders' Cup Challenge kicks off on Memorial Day, May 28 2012, with the Metropolitan Handicap at Belmont Park Race Course, Elmont, New York. The winner of the Met Mile, and winners of the 72 other Challenge races, will have an automatic berth in their Breeders' Cup division, all pre-entry and entry fees will be waived and a travel stipend of $10,000 for domestic and $20,000 for international travel. A $10,000 check will be awarded to the foal nominator of each Challenge qualifier. The Metropolitan Handicap winner qualifies for the Breeders' Cup Dirt Mile. In 2011, Tizway won two Breeders' Cup Challenge Races, the Met Mile and the Whitney Handicap, qualifying for both the Classic and the Dirt Mile. An injury late in the season necessitated his retirement before the Breeders' Cup.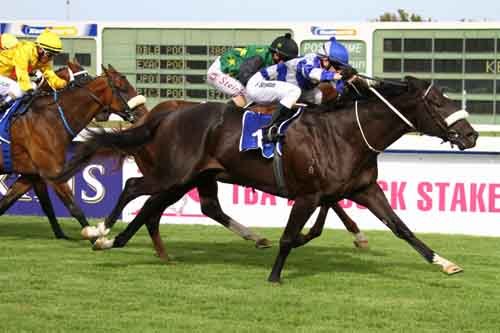 Gimmethegreenlight (AUS) winning the Ormarin's Queen's Plate at Kenilworth, Cape Town, South Africa. Piere Strydom up.
Breeders' Cup Challenge races have already run in Australia and South Africa. Qualifying for the Breeders' Cup Mile, More Than Ready's three-year old son Gimmethegreelight (AUS) won the 151st running of the L'Ormarins Queen's Plate at Kenilworth Race Track, Cape Town, South Africa on January 7, 2012.
Photo on right: Owner Hassen Adams (right) and his son Rayaan lead in the victorious Gimmethegreenlight (AUS). Photo courtesy of Hamish Niven Photography
Master of Design (AUS) won the Darley TJ Smith Stakes at the Australian Jockey Club's Royal Randwick, Randwick, NSW, Australia, on April 14, 2012; qualifying for the Breeders' Cup Turf Sprint. A week later, on April 21, 2012, More Joyous (NZ) qualified for the Breeders' Cup Mile by winning the BMW Doncaster Mile, also held at Royal Randwick.
The next Challenge race is on Friday, May 25, 2012 for the Gran Premio 25 de Mayo at Hipodromo de San Isidro, Buenos Aires. Argentina; the winner will have a berth in the Breeders' Cup Turf.
More photographs from Gimmethegreenlight's L'Ormarin Queen's Plate win ...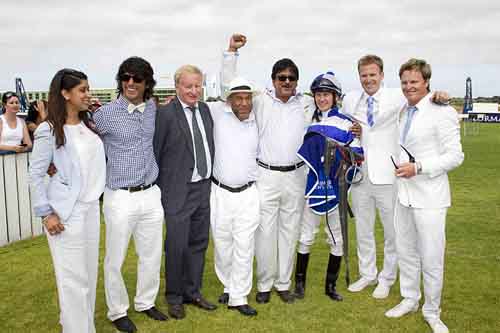 From left to right - Rozana Adams (owner's daughter), Rayaan Adams (owner's son), Chris Snaith (trainer's father), Ashraf Mohammed (owner's friend), Hassen Adams (owner), Piere Strydom, Jonathan Snaith (Snaith Racing) and Justin Snaith (trainer).
Gimmethegreenlight (AUS) galloping out under Piere Strydom
FOLLOW HUFFPOST