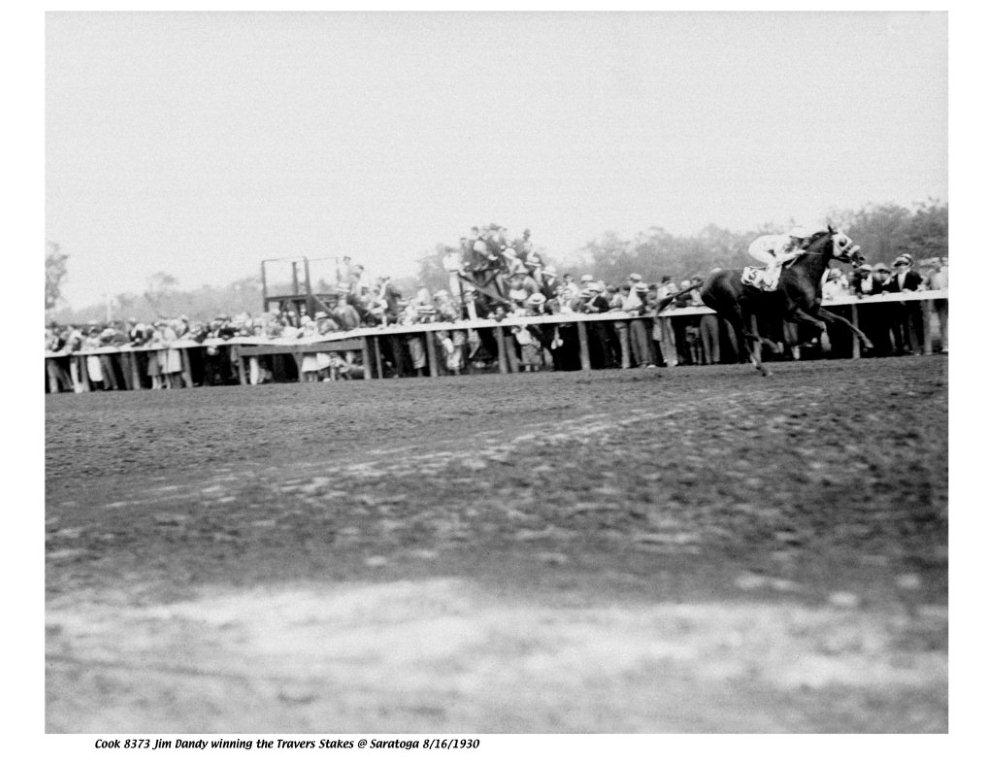 Jim Dandy winning the 1930 Travers Stakes at Saratoga, NY
On Saturday, eight members of what is left of the precocious 2012 crop of three-year old colts, who battled the likes of I'll Have Another and Union Rags on the Triple Crown trail, will test their mettle in the 1 1/8 mile Jim Dandy Stakes G-2 at Saratoga Race Course.
The Jim Dandy is a proven prep race for the hallowed Travers Stakes G-1 for three-year olds, run mid-August at Saratoga. Last year Stay Thirsty won the Jim Dandy as a stepping stone to winning the Travers. Since 2001, Medaglia d'Oro (2002), Flower Alley (2005), Bernardini (2006) and Street Sense (2007) have joined Stay Thirsty as victors in the Jim Dandy and the Travers. During the same period, only Point Given (2001) won the Haskell Invitational G-1 and the Travers Stakes.
The post positions and field for the $600,000 Jim Dandy Stakes G-2 on Saturday, July 28 are:
Post 1. Alpha. Bernardini -- Munnaya, by Nijinsky II. Last race: twelfth in the Kentucky Derby - Gr. 1. Trainer: Kiaran McLaughlin. Jockey: Ramon Dominguez
Post 2. Fast Falcon. Awesome Again -- My Chickadee, by Pleasant Tap. Last race: second in Dwyer Stakes - Gr. 2. Trainer: Nick Zito Jockey: Rosie Napravnik
Post 3. Atigun. Istan -- Rimini Road, by Dynaformer. Last race: third in the Belmont Stakes - Gr. 1. Trainer: Kenny McPeek. Jockey: Julien Leparoux
Post 4. Neck n' Neck. Flower Alley -- Bootery, by Storm Boot. Last race: WON Matt Winn Stakes - Gr. 3. Trainer: Ian Wilkes. Jockey: Leandro Goncalves
Post 5. My Adonis. Pleasantly Perfect -- Silent Justice, by Elusive Quality. Last race: WON the Long Branch Stakes. Trainer: Kelly Breen. Jockey: Javier Castellano
Post 6. Teeth of the Dog. Bluegrass Cat - Deputy Reality, by Deputy Minister. Last race: WON Dwyer Stakes - Gr. 2. Trainer: Michael Matz. Jockey: Joel Rosario
Post 7. Liaison. Indian Charlie -- Galloping Gal, by Victory Gallop. Last race: third in the Swaps Stakes - Gr. 2. Trainer: Bob Baffert Jockey: Martin Garcia
Post 8. Prospective. Malibu Moon -- Spirited Away, by Awesome Again. Last race: WON Ohio Derby - Gr. 3. Trainer: Mark Casse. Jockey: John Velasquez
Who was this Jim Dandy?
Triple Crown winner Gallant Fox met his only defeat in the 1930 running of the Travers Stakes at Saratoga Race Course, Saratoga, NY. Jim Dandy was the colt that beat him.
Jim Dandy relished the muddy surface of the Saratoga track that day when he won the Travers as a 100-1 shot. The previous year as a two-year old, he won the Grand Union Hotel Stakes in a 50-1 surprise victory on a similarly heavy track.
In 2001, New York Times writer Bill Mooney interviewed 83-year old Richard Cherry who saw Jim Dandy upset Gallant Fox:
"It was Aug. 16, 1930," said Cherry, who has lived in Saratoga Springs his whole life. "Heavy rain fell the morning of the race, and showers kept up through the afternoon, even when the sun was visible. The track surface was mud, heavy, thick, shin-deep mud. It sucked the boots off your feet if you tried to walk through it."
But mud gave Jim Dandy an advantage. A year earlier, he won Saratoga's Grand Union Hotel Stakes in identical conditions. Jim Dandy had what trainers call eggshell hooves, which are thinly walled and can be painful when running on fast tracks. As Damon Runyon noted, though, they allowed Jim Dandy "to cruise beautifully through the Saratoga goo."
Parimutuel wagering was not offered in New York in 1930, but bookmakers operated on Saratoga's grounds. "People often say Jim Dandy was 100-1 in the Travers, but the bookies were offering 500-1 on him, or whatever odds you wanted," Cherry said. "That race put some of those guys out of business."
Gallant Fox, bred and owned by William Woodward, had Hall of Fame credentials. In 1930 he competed in 10 races and won nine of them, including the Kentucky Derby, the Preakness and the Belmont Stakes.
Jim Dandy made 141 career starts, finished last in more than half of them, and won just 7 times. He spent the bulk of his career chasing claiming horses, most of whom he could not catch. Jim Dandy's 20 trips postward that 1930 season brought him one victory. But it came on the only occasion he met Gallant Fox, at rain-soaked Saratoga in the Travers.
Notes: 1. Information on Jim Dandy entries courtesy of NYRA. 2. Information about entries' previous wins from Equibase. 3. The article quoted is "The Day Jim Dandy Danced in the Rain" written by Bill Mooney, published in the New York Times on August 26, 2001.
SUBSCRIBE TO & FOLLOW THE MORNING EMAIL
The Morning Email helps you start your workday with everything you need to know: breaking news, entertainment and a dash of fun. Learn more