Thoroughbred racing sensation Uncle Mo arrived in New York this week to prep for his run in the 2011 Wood Memorial, Saturday April 9 at Aqueduct Race Track, Jamaica, NY.
Undefeated in four starts, including a dominating win in the 2010 Breeders' Cup Juvenile, three year old Uncle Mo is the current media darling of turfdom. With good cause - he is an extraordinary colt, owned by committed and oft-quoted businessman Mike Repole, and trained by Eclipse Award winning Todd Pletcher.
After settling in at the barn, and galloping at 6:30 a.m. on Thursday morning, it was time for Mo to party with some other three and four year olds - a group of pre-schoolers from Anna House, the daycare center of the Belmont Child Care Association.
Mike Repole, trainer Todd Pletcher, retired Hall of Fame jockey Angel Cordero and Uncle Mo's jockey John Velasquez made sure all the kids, both human and equine, played nicely and had fun. As part of a "Get to Know Uncle Mo" promotion some of Mo's adult fans were able to join in the festivities, too. Throughout all the socializing, Mo appeared friendly and sweet - a testament to his kind disposition.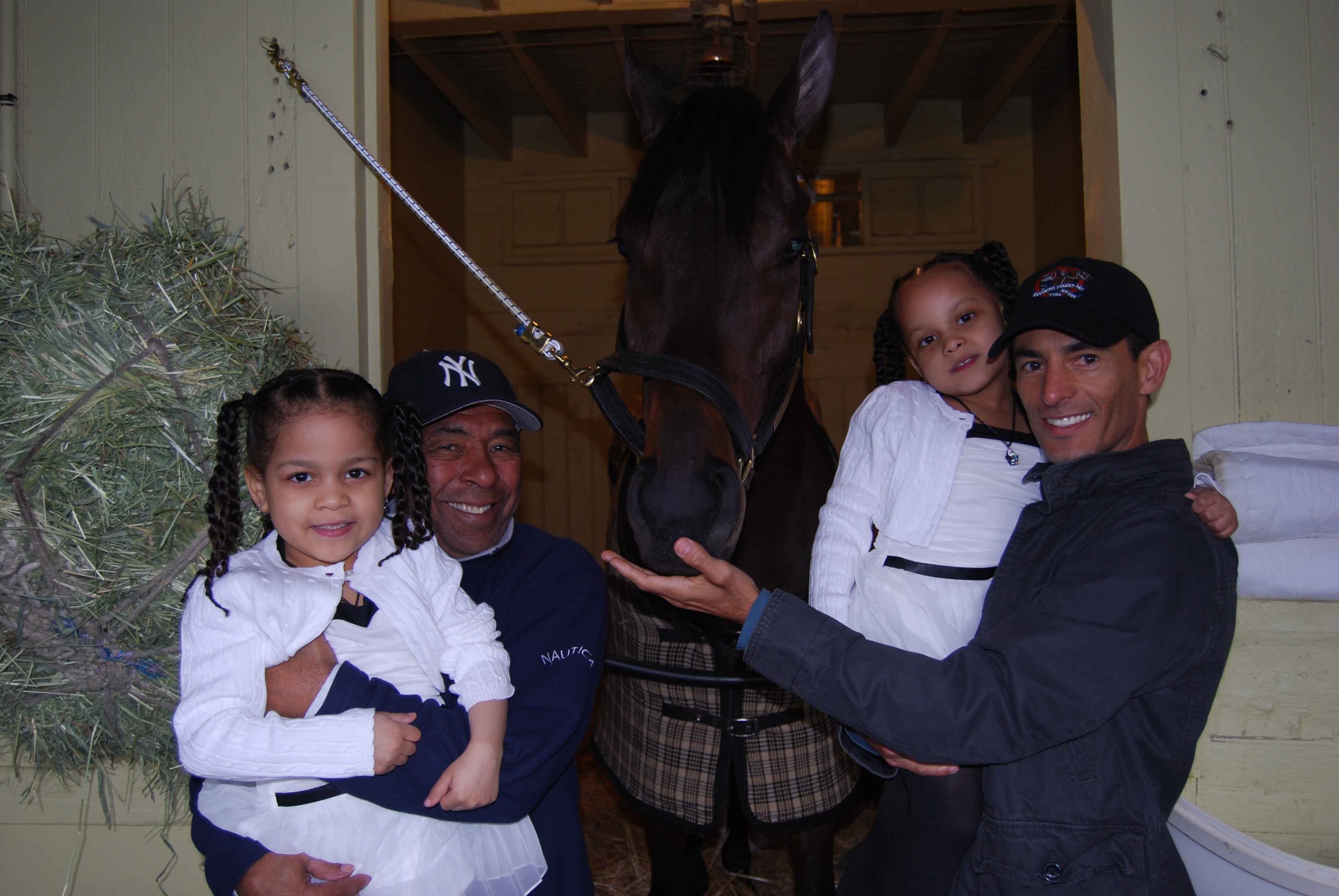 Four year old Anna House twins, Halen and Hayden Estevaz, assisted by Angel Cordero (left) and John Velasquez, visit with Uncle Mo. It is reported that Uncle Mo, a child whisperer, told the twins to study hard and stay in school.
Photo courtesy of NYRA and Anna House
In Saturday's Wood Memorial we will be looking at Uncle Mo's running ability and scope. He is by far the most accomplished entry in the field. If Mo runs to form, the biggest contest will be who runs second. The post positions, horses and jockeys entered in the 2011 Wood Memorial are:
Starship Caesar (Cornelio Velasquez)
Toby's Corner (Eddie Castro)
Full of Scoundrels (C.C. Lopez)
Arthur's Tale (Ramon Dominguez)
Uncle Mo (John Velazquez)
Preachintothedevil (Junior Alvarado)
Duca (Jon Court)
Norman Asbjornson (Julian Pimentel)
Isn't He Perfect (Channing Hill)
Son of Posse (Francisco Maysonett)
(Monday morning postscript: With the benefit of hindsight, Toby's Corner won the 2011 Wood Memorial, Arthur's Tale was second, and Uncle Mo came in third.)
Recap of Meet and Greet With Uncle Mo
Video Courtesy of NYRA; Videographer: Jenny Kellner
SUBSCRIBE AND FOLLOW
Get top stories and blog posts emailed to me each day. Newsletters may offer personalized content or advertisements.
Learn more