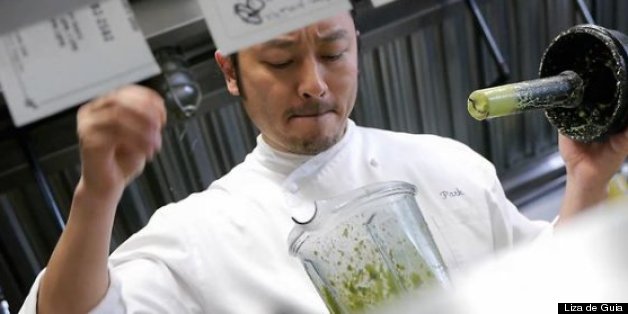 "I wanted to make upscale food more accessible, because that's the way I want to eat."

Meet Sung Park, the chef and owner of Bistro Petit in Brooklyn, a tiny, unassuming, 10-seater restaurant entirely devoted to unique, bold-flavored Korean French cuisine. Yes. You read that right: Korean French cuisine. Chef Park specializes in the novel -- breaking taboos and creating new possibilites in food -- proving to doubtful colleagues that you can marry Korean and French flavors and technique. As Chef Park explained to me, "it's all about balance." But, achieving that balance didn't come easy. In fact, it took close to a decade of working and reworking his ideas to finally understand.
I'm telling you now, this is a special place, one of the best deals in Brooklyn too. A place where you'll discover standout dishes like kimchi bouillabaisse and Korean beef bourguignon http://www.livefootagebrooklyn.com. It's a playground, an on-going test kitchen where Chef Park tinkers and plays around with his secret supply of specialty Korean ingredients -- all because, to him, it's exciting!
Bistro Petit has certainly made an impression on me, which is why I'm excited to share this story. Be sure to check out the $90, seven-course tasting menu served stool side Tuesdays, Wednesdays and Thursdays. It's a food experience you won't want to miss, especially for the price. So, what's that moment of clarity like, when you finally know why you want to cook? Click play and find out.
**A very special thank you to my pals Mike Thies and Topu Lyo of LIVE FOOTAGE for lending their beautiful, atmospheric music to this story. You can watch them perform live at Apotheke every Sunday night in New York City. Or, just click here!
Thanks so much for watching and supporting food. curated.! Happy Eating!
SUBSCRIBE TO & FOLLOW LIFESTYLE
All the meal hacks and indulgent snacks. You're welcome. Learn more