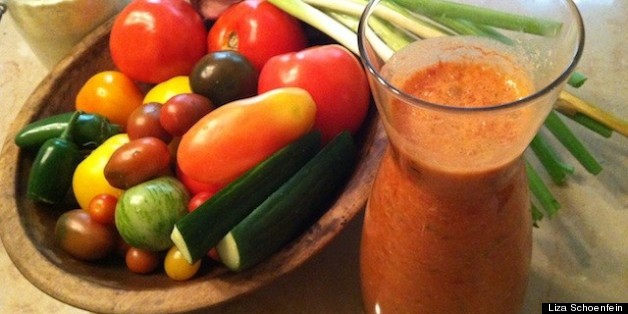 Liza Schoenfein
Allow me to introduce myself. I'm Liza Schoenfein, food writer, editor, recipe developer and author of the blog Life, Death & Dinner. My approach to food is simply this:

Life is complicated; cooking should be fun.
For me, the process of cooking is relaxing and enjoyable. In rough times, I find it therapeutic. But I realize that for a lot of people, cooking can feel hard, complicated, and stressful -- just like life sometimes.
I'm here to show you that it doesn't have to be.
It's my goal to help you enjoy putting meals on the table. (And if you already do, then to enjoy it even more.) Some recipes, like the one below, will be super fast and easy. Others may take a bit more time, but I'll walk you through it, giving you not only the recipe, but also ideas and techniques that will translate when you tackle future dishes. Most things will be impressive enough to serve company, but easy enough to whip up after work. Nothing will be fussy.
To learn a little more about me, watch the video above. My friend Amy Atkins Sawyer shot it last week while I cooked spicy tomato soup for her and her nine-year-old daughter. The recipe in the video isn't one I made up, but I've adopted it as a favorite. It's from Barbara Lynch, the chef at Boston's No. 9 Park, and I found it on the fabulous Food52 site.
Because I wanted to give you a quick, delicious and beautiful recipe of my own; because the weather's warming up; and because I have to go to a college reunion in June and want to drop five pounds, I decided it was time to break out my Girlish-Figure Gazpacho. I promise, you won't feel deprived. What you will feel is glad to be eating home-made soup that you whipped up in less than 10 minutes.
So have some fun in the kitchen, would you?
Girlish-Figure Gazpacho

The recipe calls for cherry tomatoes -- grape tomatoes work well too -- because they're always available and full of flavor year round. But by all means, substitute a pound of regular tomatoes when you find good ones in season.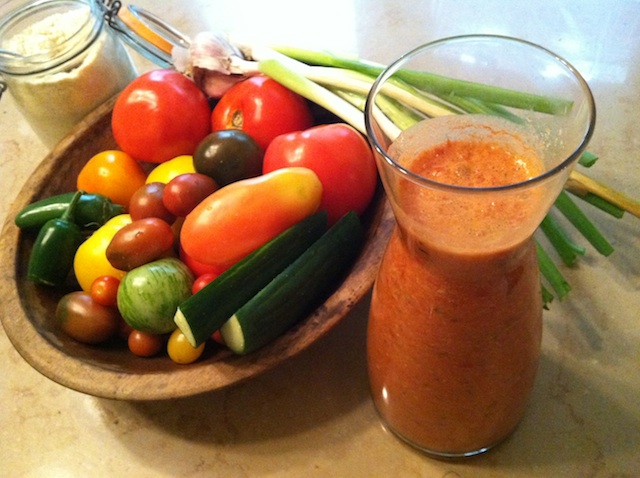 2 tablespoons almond meal or breadcrumbs
1 bell pepper, roughly chopped
½ a large seedless cucumber, unpeeled, or 2 kirbies, peeled, roughly chopped
1 scallion, roughly chopped
1 tablespoon extravirgin olive oil
1 tablespoon red wine (or sherry) vinegar
½ seeded jalapeño pepper or 7 dashes of Tabasco
½ teaspoon Worchestershire sauce
8 ounces V-8 or tomato juice
In a blender, pulverize the almond flour (or breadcrumbs) and garlic. Add everything else and blend very briefly, leaving the soup somewhat chunky. Chill before serving, or if serving right away add an ice cube or two to the mix before blending.
FOLLOW HUFFPOST