Recently, Value-dictorian of the House of Representatives Michele Bachmann eloquently summarized our economic fears with her statement "We're running out of rich people!"
It's the phrase we have all been grappling for to encapsulate our feeling about this crisis but just couldn't find the words.
Now Americans all over the country making the Sophie's Choice of losing their healthcare or losing their homes, have a rallying cry.
Michele Bachmann, you da woman!
With insights like that I assumed that she had an elaborate plan to pull us out of this mess, so I went to her website to read all the details.
And there it was, right in the Taxes and Economy section: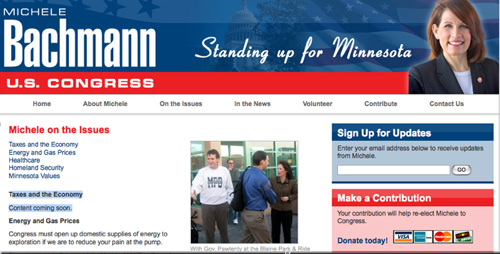 It is a little thin on the details, but still gives us some insight into her keen legislative skills, and more important, who she is as a person.
Michele Bachmann: Content Coming Soon.
We are all breathless with anticipation.
SUBSCRIBE TO & FOLLOW POLITICS
HuffPost Politics brings you the top political stories three days a week. Learn more