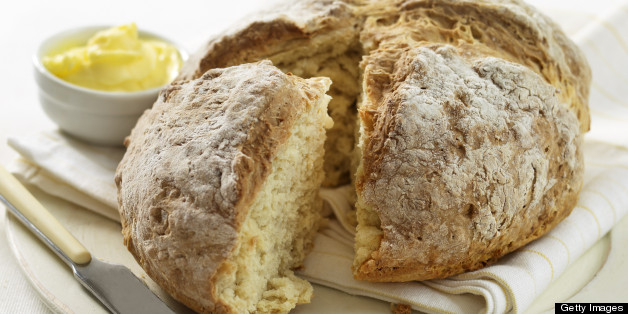 Getty Images
Or traditional Irish Soda Bread, as it is also called, is a staple of the Irish. Served with nearly every meal, it's great warm, with Irish grass-fed butter like Kerrygold, or with fresh raspberry or ginger rhubarb jam like from Ballynocken Cookery School. After returning from an amazing trip to Ireland through a food tour that Good Food Ireland set up, I am now a total convert to the baking that the Irish have done for more than a century. Truly amazing!
Ireland is one of the most beautiful countrysides to visit, with artisanals purveyers of all sorts and honest farms that pride themselves on grass-fed meat and dairy. Their hotels and dining scene are top notch as well, which made it my favorite kind of trip -- going from petting donkeys on a local farm to dining at a Michelin Star restaurant. Contrary to what popular culture might presume, Ireland is booming with some of the best food and baked goods. The Irish are known for their grass-fed butter (my eyes hurt by the end of the trip because -- yes, I live in NYC and am only used to Central Park -- but, the green grass covering their rolling hills was just so vibrant!), hearty whole wheat, an abundance of oats, and delicious grains like spelt and gluten free options. Refreshingly, natural unrefined sugars were options all over the place too, like local honey or unrefined cane sugar. I was a happy gal :)
Ireland reminds me of why I started my company Sweet Loren's -- to bring baking back to honest, local, unprocessed basics -- but the number one rule is that it has to be absolutely delicious. Ireland prides itself on tradition too, using the types of ingredients our grandparents might have baked with because ingredients weren't as refined then. Whole grains and rolled oats are just part of every day sustenance, as opposed to a healthier, "crunchier" way of life. I'm on a mission to bring the goodness of whole foods back. Healthier, meet delicious. We can learn from the Irish!
This recipe is easy to follow or add to -- meaning that you can make it in a loaf pan; circle with slices in it like American-Irish Soda Bread; or as little rolls. I added a touch of sweetener so that there's a sweet nuttiness to the whole grains, but you could simply omit it. Add your favorites like caraway seeds, nuts or dried fruit. I went with a classic version baked in a loaf pan so that I could cut slices. I also used the same batter but added chocolate chunks to one batch to create a Chocolate Brown Bread that could be used for a healthier alternative to a conventional white flour chocolate bread or chocolate croissant in the a.m.; a noche with your coffee break mid afternoon; or as a light dessert served with tea, with no butter and barely any sweetener in the batter. This recipe I tweaked from what I learned at the famous Ballyknocken Cookery School making Mary's Brown Bread recipe that had been passed down from generations.
What you'll need:
- 10 oz whole wheat bread flour (more for mixing, if dough is too wet)
- 6 oz oat flour
- 2 tablespoons Sucanat, unrefined sugar cane, or honey (optional)
- 2 teaspoons baking soda
- 1 teaspoon sea salt
- 1 tablespoon olive oil
- 3/4 cup buttermilk (more for mixing, if dough is dry)
- 1 cup dark chocolate chunks (optional, if making the Chocolate Brown Bread)
How to make it:
1. Preheat oven to 425 F.
2. Place the whole wheat, oat flour, Sucanat, baking soda, and sea salt in a large mixing bowl and whisk until combined.
3. Add liquids including the oil and buttermilk.
4. Mix with wooden spoon just until combined. Don't overmix. Consistency should be sloppy oatmeal. If too dry, add a little more buttermilk, and if too wet, add a little more whole wheat flour.
5. Line a loaf pan with parchment paper or oil. Add chocolate chunks to the mixture, if making the Chocolate Brown Bread, otherwise keep as is and place batter in the baking pan. Sprinkle with rolled oats for decoration and an extra crunchy crust. Bake for 45 minutes until a tooth pick inserted in the center comes out clean and the top is lightly browned with a crust.
6. Let cool and then slice. Serve warm with some grass-fed butter and jam, or save for later to serve at room temperature.
7. ENJOY!
Try these out and tell me what you think. To find out more about Ireland's amazing food purveyors, contact goodfoodireland.ie. There are so many good purveyors there, you'll have to start planning your next trip soon!
Your body is your temple...
Be Sweet to Yourself.
FOLLOW HUFFPOST