Growing up, my elementary school sold freshly made pumpkin chocolate chip muffins every morning, all year round. I often ate them for breakfast. They weren't seasonal, they were just a crowd pleaser for people of all ages. I continue to crave them to this day.
Seeing pumpkins this time of year, I was reminded of my favorite childhood treat and determined to recreate it. This time, instead of making muffins, I decided on a loaf. The pumpkin gives a complex flavor, somewhere between savory and sweet... there is a lot going on in this loaf, yet it is an incredibly comforting combination of pumpkin and chocolate.
Kids and adults alike never tire of this flavor. I vote for pumpkin chocolate chip loaf to make a year-round comeback. In addition to being delicious, pumpkin is packed with nutrients like fiber, antioxidants and fiber. We add whole grains which makes this baked good even more satisfying, keeping you full longer. Moist and naturally sweetened, this bread is studded with chunks of dark chocolate, making it a sweet breakfast treat. I believe in seasonal eating, but this is a baked good that is great all year round.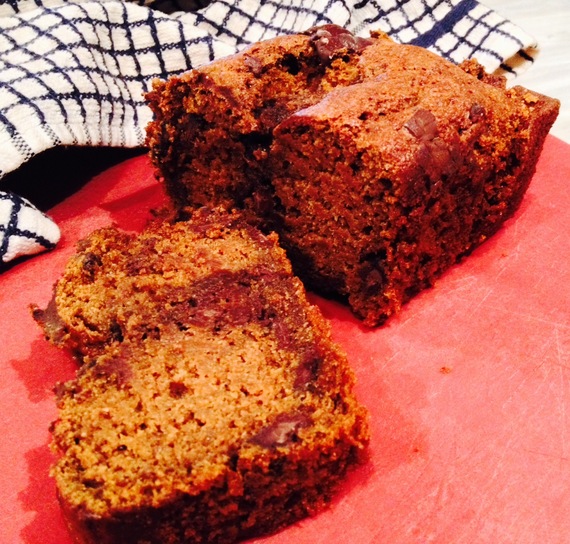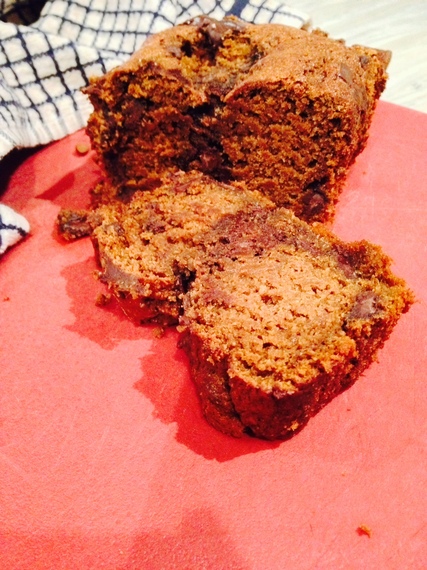 Pumpkin Chocolate Chip Loaf
Ingredients:
1 cup (115g) ww flour
1/2 cup (60g) oat flour
1 1/4 cup (300g) canned/freshly roasted pumpkin
1/3 cup (70g) coconut oil, melted
1 cup (180g) sucanat or unrefined sugar cane
2 large eggs (100g)
1/4 cup buttermilk
3/4 tsp ground cinnamon
1/4 tsp ground nutmeg
1/2 tsp sea salt
1 tsp baking soda
1/2 cup chocolate chips (130g)
Directions:
Preheat oven to 350 F and grease a 9″ x 4″ loaf pan.
In a standing mixer, beat the oil and sugar. Add pumpkin puree, eggs, and buttermilk. Mix just until blended, then add spices, baking soda and sea salt. Fold in flours, then chocolate chips.
Pour into greased pan and bake for 30-40 min. or until toothpick inserted comes out clean.