Growing up in an Italian-Catholic family, we had many traditions... most of them revolved around two things:
1. Church
and
2. Food
Sunday was mass followed by "the meal" with all the aunts, uncles and cousins at Grandma and Papa's house.
Wednesday night was CCD (Religious Ed) followed by deli trays of cheese, bread and cold cuts.
And Friday... Friday was all about the pizza.
See on Fridays a lot of Catholics don't eat meat; most other families I knew ate fish for dinner on Fridays. My mother didn't like fish -- the taste, the look, the smell, anything about it -- so we never ate it at our house. It was the late '70s/early '80s, so some big couscous/falafel/black bean burger/vegetarian thing wasn't happening yet.
On Fridays we would order a large cheese pie from the pizza joint up the street.
I think that the no meat on Friday thing was supposed to be a form of us "giving up" something we enjoyed on a weekly basis, which kind of backfired because I friggin' love pizza. Again, Italian + New York = pizza.
Each Friday on his way home from work my dad would stop at the pizzeria on the corner. I still have that image of him coming through the door in his '70s suit, wide tie and short-lived moustache with a pizza box in his hand.
That sight at 5:30 on a Friday afternoon was the perfect start to the weekend.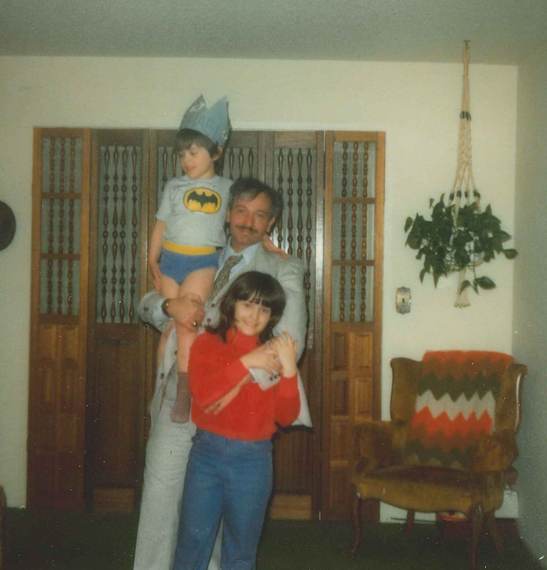 We would sit at the kitchen table, open the box and dive in, talking about our days, what we were going to do this weekend and who the guest stars were on tomorrow night's episode of The Love Boat.
When only the crusts were left, Mom would bring over the butter dish. Yes... we would take our warm crusts and run them through a stick of butter, sometimes adding a shake or two of salt. Because we were all into our health back then.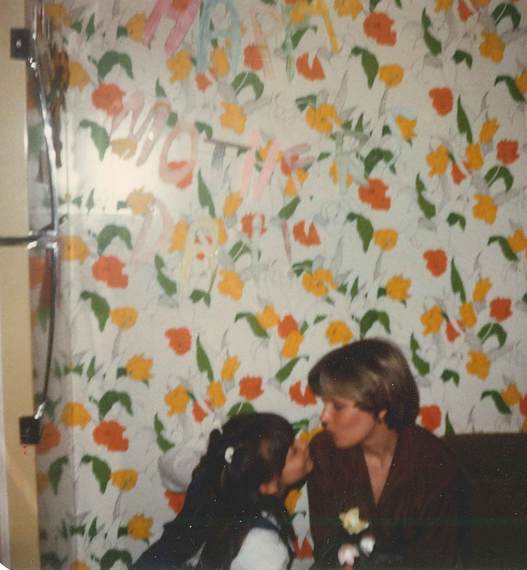 This kitchen wallpaper is forever burned into my brain.
The arrival of Pizza Friday meant the weekend had officially begun.
Ever since my boys have been old enough to eat pizza our family has brought my family's tradition back -- my 6- and 8-year-olds know that Friday means pizza. We all eat in the living room that night (new tradition) and watch The Muppet Show on DVD. With Miss Piggy and Kermit on my television for a split second I feel like a kid again too.
Everyone in our lives knows we celebrate Pizza Friday.
From co-workers at my office to our family and friends, on Friday people ask what kind of pizza we'll be ordering tonight.
Our Pizza Fridays have kind of gone to a new level from when I was little -- friends, couples and kids come over to share in our tradition. Pizza, Coca-Cola, wine, beer, video games, movies, board games and Muppets.
The boys get extra excited knowing friends are coming over to eat pizza with us -- it's like guest stars coming over to our house on Friday night.
Last weekend we had two couples over -- my friend Brooke deemed it EPIC PIZZA FRIDAY. It was on the calendar in our kitchen that way and before school, all sleepy-eyed, my younger son asked, "Mommy, it's Epic Pizza Friday, right?!?"
Tradition. It doesn't have to be something big like a Christmas tree or a birthday cake to be exciting.
I love that they have this little weekly tradition to look forward to. I love that my friends love to come over and share our tradition with us. I love that this is a slice (see what I did there?) of my childhood that is now a part of theirs.
Minus the stick of butter at the table.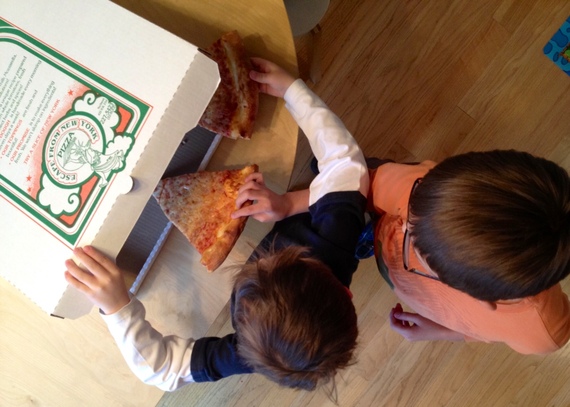 Lori's website Drawn to the 80s is where her 5-year-old draws the greatest hits of the 1980s. Her blog Once Upon a Product is where she obsesses over food, music, beauty products and Mick Jagger.