I recognize that in some cities a baseball wild card game may create a bit of interest but real buzz doesn't usually occur until a team advances. However, here in Cleveland Ohio, a wild card game is not just a game. It is baseball in October. The town is buzzing, the stadium is sold out and the local news stations are running many interesting stories about the Cleveland Indians during every broadcast.
Fans can't get enough tribe talk and our household is no different. Well, maybe a little different. That's because the cheering coming from our couch is from the oldest Cleveland Indians fan. Our Nana is 101 years old and arguably the most loyal and passionate fan.
She was at the 1948 World Series game when the Indians won and over the past sixty some years, she has never missed a game. For many years she would listen to the game on the old Motorola radio that still sits in our living room. Today, she mostly enjoys curling up on the coach with a big bag of popcorn to watch every play. She is passionate for the sport and particularly the team.
For her 90th birthday, we took her to Chicago to have a girls shopping weekend. When I was planning the trip I searched for a hotel that was convenient for shopping on the magnificent mile. I had no preference. I recall that the traffic was particularly heavy and I was frustrated with the hour delay it caused us. Nana was not frustrated I remember her simply staring out the window as she casually announced to me that the Cleveland Indians were in town to play the White Sox. I remember thinking that I didn't care about baseball as we were here for shopping. I wondered if she would really want us to search for tickets and spend our time at a baseball field instead of shopping.
As we pulled into our hotel, I could not believe what I was seeing ahead of us. It was the Cleveland Indians team bus. The players were beginning to enter the hotel. Yes, the baseball gods were shining on Nana. We were staying in the same hotel as the team. Nana smiled as she got out of the car and said, "Thank God for traffic -- timing is everything." When the players heard that there was a 90-year-old fan in the lobby, they signed autographs and took pictures with her. She even received a kiss from Charlie Nagy. It became crystal clear to me in that moment that my Nana was not just a fan but rather a super fan.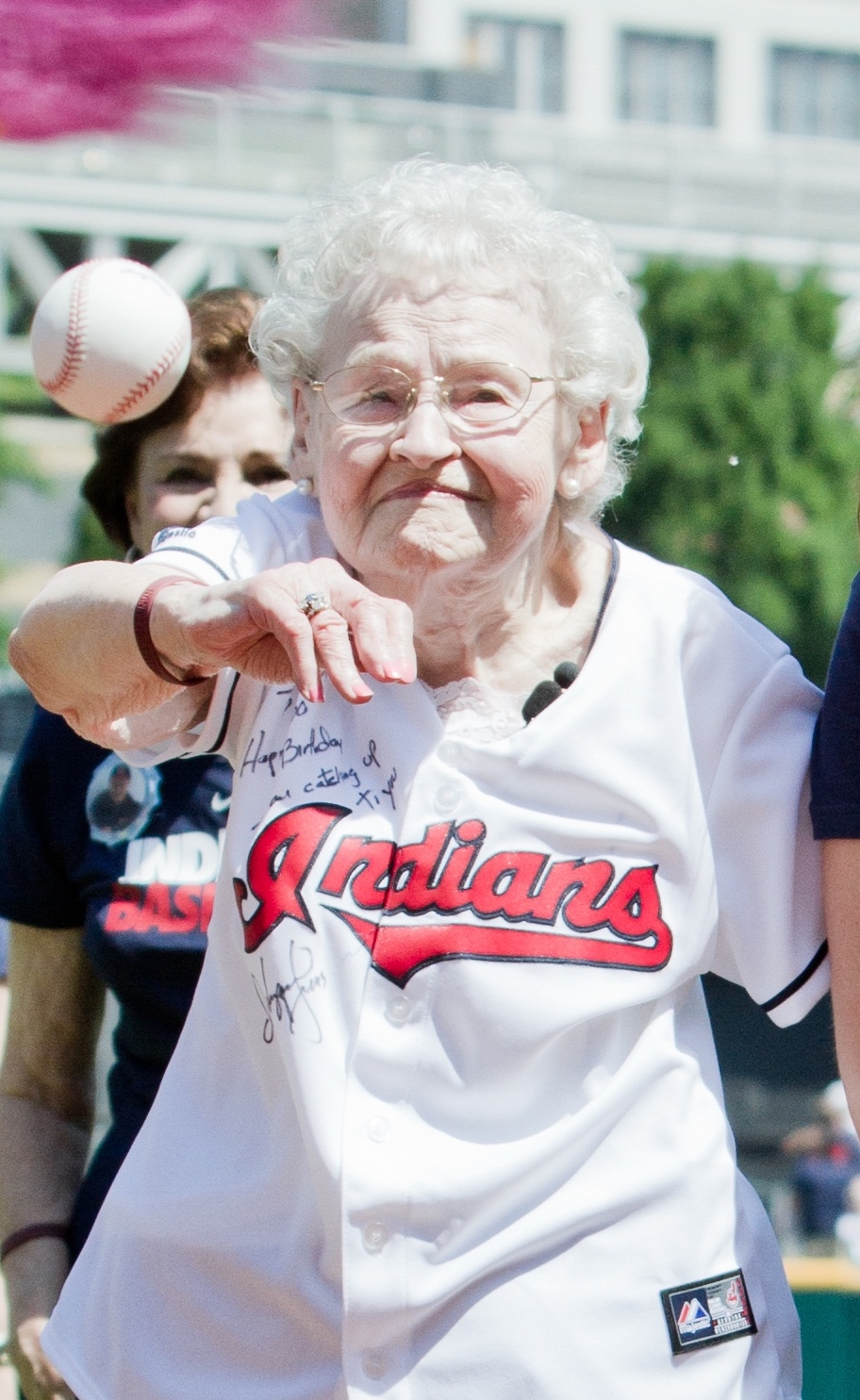 Since that day, she has been invited by the owners of the Cleveland Indians on several occasions to join them in the owner's suite to watch games. She even threw out a wind up, over hand pitch (she likes when I describe it) at a game for her 100th birthday. Omar Vizquel sent her a signed jersey for the birthday event. Today, as a 101-year-old fan, she has been holding interviews with reporters, checking the stats on players and praying for a victory before she dies. She admits that the crack of the bat, the feel of a mitt and the smell of popcorn brings her back to a time when she sat on bleachers with picnic baskets to watch baseball with her sixteen brothers and sisters. Baseball seems timeless.
Roger Angell, a writer for the New Yorker magazine wrote, ''Within the ball park, time moves differently, marked by no clock except the events of the game. This is the unique, unchangeable feature of baseball and perhaps explains why this sport, for all the enormous changes it has undergone in the past decade or two, remains somehow rustic, nonviolent and introspective. Baseball's time is seamless and invisible, a bubble within which players move at exactly the same pace and rhythms as all their predecessors."
When I read this piece, I finally understood. Baseball represents all that Nana cherishes. Her sport fosters opportunities for all to find a way to be successful despite unique differences. A philosophy that has guided her through life. The baseball field is a place where success is not dictated by the time on a clock but by each and every play much as her 101 years of living has been played. She has spent a lifetime living her life in the present focusing on each moment with only a casual glance at the clock.
So, tonight as her Cleveland Indians takes the field, she will watch intently, eat her popcorn, yell words of encouragement but mostly she will cherish the pleasure of watching her beloved baseball team -- win or lose.