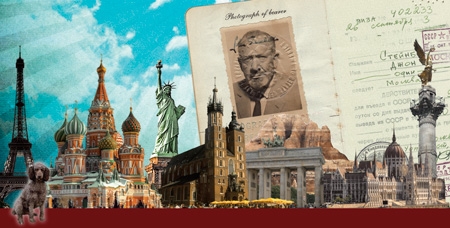 August 6, 2010. This week in Salinas, City of Letters, and in Paris, Hanoi, Mexico City, Berlin, Amsterdam, Krakow and the Sea of Cortez, the first worldwide Steinbeck Festival is under way. In its 30th year, the festival is presented by the National Steinbeck Center in Salinas from August 5-8. This year's theme is Journeys: Steinbeck Around the World, and the festival explores journeys of all kinds, throughout America and the wide world, through the eyes of Nobel laureate John Steinbeck and other writers.
It's the 50th anniversary of Steinbeck's legendary voyage around America in a camper with Charley, his standard poodle, so here's an inside tip: if you stop by the Red Wheelbarrow Bookshop in Paris's Marais district this week and tell them Charley sent you, you could be presented with a stein of Beck's Beer engraved with a quote from Steinbeck's Cannery Row: "There's nothing like that first taste of beer." Those who happen to be wandering in Hanoi can visit Tadioto, an alternative space for the arts, and join an evening of readings and discussion of Steinbeck's work about Viet Nam with writer, translator and radio broadcaster Nguyen Qui Duc, poet and musician Scott Ezell, and journalist Truong Uyen Ly.
At the American Book Center on the Spui in Amsterdam, wanderers can participate in a celebration in English and Dutch of Steinbeck's work, including Steinbeck's 1942 novel, The Moon Is Down, which was passed underground throughout Nazi-occupied Europe to inspire resistance. Just being caught with the book could get you shot--that's an example of literature changing life. The Dutch Resistance Museum in Amsterdam provided the site for an amateur video of a lecture by David Lee and a celebration of this book in eight languages, and the film has been sent overnight to Salinas to be shown at the festival. Meanwhile, in former East Berlin, at the East of Eden International Bookshop (named for Steinbeck's genesis story set in Salinas), preparations are under way for an evening of Woody Guthrie music with banjo and mandolin. In the tradition of Cannery Row's Doc Ricketts and crew, the shindig will be held after the official close of the bookshop, located under an apartment that traditionally houses musicians. Guthrie and Steinbeck were friends, and together Guthrie's music and Steinbeck's book, The Grapes of Wrath, did more to tune the hearts of America to the struggles of the Dust Bowl migrants in the 1930s--and to support the budding labor movement--than any other single event during the Depression.
In Salinas, among 46 other talks, events and performances, Pulitzer Prize-nominated Ted Conover, author of The Routes of Man: How Roads Are Changing the World and the Way We Live Today, will speak about his books and his voyages, and civil rights icon Ruby Bridges will speak about her own journey and the need for both tolerance and courage on the way. As a six-year-old child fifty years ago, Ruby Bridges walked up the steps of William Frantz public school, flanked by four federal marshals, and single-handedly integrated the New Orleans public school system. John Steinbeck, on his own voyage later depicted in Travels With Charley In Search of America, wrote about the little girl's short, harrowing journey, and the description inspired Norman Rockwell to paint the incident in the famous piece, The Problem We All Live With. At the festival in Salinas, Ruby Bridges tells her own story as she speaks about her book, Through My Eyes.
In La Paz, Baja California, ecologists and fishermen will throw a net into the Sea of Cortez in honor of Steinbeck and Ed Ricketts' journey there 70 years, ago, recounted in Steinbeck's 1951 ecology classic, Log from the Sea of Cortez. This book was one of the earliest literary harbingers of deep ecology (discussed by Petr Kopecky, a Czech writer speaking at the festival), and participants in the event at the Sea of Cortez are leaders of Niparaja, a grassroots conservation movement in Baja California. La Paz is the center of pearl-fishing in Baja, and it was probably in La Paz where Steinbeck heard the tale he later wove into his novel, The Pearl.
The Steinbeck Festival celebrates the partnership of literature and place, casting a net from Salinas, a city brought to life in Steinbeck works like East of Eden and Pastures of Heaven, to other cities of letters around the world.
Lori Wood is the manager of the 2010 Steinbeck Festival. More about the festival and the National Steinbeck Center can be found at www.steinbeck.org.

SUBSCRIBE AND FOLLOW
Get top stories and blog posts emailed to me each day. Newsletters may offer personalized content or advertisements.
Learn more