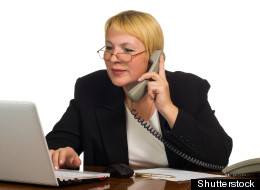 Boomer-aged Americans are three times more likely than Gen Yers to take a flyer and become entrepreneurs. A few years ago I joined their ranks. Based on the depth of my experience, I assumed I could do everything on my own. I was sorely mistaken.
I was ready to cut the W-2 apron strings after two decades of law practice and six years working for a non-profit, mainly because I feared that my rear end was going to become permanently melded to my desk chair, a concern bolstered by research associating excessive sitting with an early death. I was also secretly hoping to finally achieve some semblance of that Holy Grail known as work-life balance.
With almost six decades of life under my belt, I was ready to try my hand at having only myself to boss around. Who needs a guaranteed paycheck, paid vacation or an employer-sponsored health plan? They're overrated, I told myself.
In retrospect, I probably should have given a little more thought to how it would feel to be my own underling. As the managing partner of the SoCal branch of my law firm, I had a reputation for setting very high standards for the attorneys under my wing. Some even compared me to a notorious mustached German or used the "b" word to describe my leadership style. My saving grace, I reasoned, was that I applied the very same criteria to myself.
Now that I'm chief cook and bottle washer, I find myself to be a very harsh taskmaster indeed. While I'm slowly finding my way, I realize that I made a serious miscalculation in imagining that setting up a website and then blogging and social networking myself to death would translate into paying clients. What I failed to realize was that the web requires 24/7 attention, much like a newborn, but without the upside. Essentially, I've replaced the rear-in-the-seat syndrome with the iPhone-in-hand syndrome. It's like conquering an alcohol addiction only to become a chain smoker. But, I'm making progress. Just last month, I succumbed to hiring marketing and graphics consultants and signing up for one-on-one SCORE counseling (SCORE is a non-profit that provides guidance to small business owners).
So, I persevere, waiting for that pleasant sounding "you've got mail" e-tone to alert me to my next keynote speaker engagement or writing gig. More often than not though, it's just another spam for an erectile dysfunction drug.
This is not to say that there aren't upsides to my life as a budding entrepreneur. Although I often feel that I'm flailing about like a fish out of water, with little to show for my efforts, I have the best commute in La La Land, revel in not having to wear makeup and save big bucks on dry cleaning.
Unfortunately, work-life balance is still a pipe dream, as I put in more hours than ever, run my worry meter at warp speed and earn a below-the-poverty-line income. But then no one said it would easy. If it was, 50 percent of new businesses wouldn't fail within the first five years.
Every day brings interesting challenges and opportunities, as I head toward 10,000 ways it won't work, on my way to becoming the next Oprah. Learn from my floundering. If you decide to start your own business -- get some advice!
Earlier on Huff/Post50:
Post 50s Declare Their Independence
"I realized that I didn't want to spend the second half of my life the way I had spent the first." In 2004, Mark Noonan was a 52-year-old executive in the high-tech industry who routinely worked 60-hour weeks. After his wife died in a freak accident, he turned his life around. For the full story click here.

"I've always been that sort of person who enjoys kidding around and having fun." After a kidney disease diagnosis, Kathe LeBeau, 50, found a flier in the mail promoting a 12-week clowning class at a local community college. And that's how she found her calling. For the ful story click here.

"Suddenly, I had landed in heaven." Eight years ago, John Kerr, 74, had no idea what to do next when he retired from his job as a public television executive in Boston at age 65. After flummoxing around for about a month, he put his belongings in storage, loaded up his camper truck and drove west to Jackson Hole, Wyoming. He landed a job as a park ranger. For the full story click here.

"I'm able to look forward." A few years ago, Amy Voelker was enjoying a getaway with her extended family at a rental house in Redington Beach, Florida when her husband and three sons were killed in a car accident. Through exercise and training and the support of friends and family, Voelker has found a new vision of herself. Full the full story go here.

"Sometimes I'd joke with my friends about creating a Bloody Mary company... But then reality would set in, Monday would come along and we'd all go back to our advertising jobs." Stephanie Sanoja left an unfulfilling job in her forties to take a gamble on turning her great-aunt Gladys' Bloody Mary recipe into a career. Today you can buy Garden District Bloody Marys throughout Texas and Louisiana. For the full story click here.

"My dad called tonight. He said I did a good thing and I was a go-getter like my mom. This is the best day of my life." At age 46, Teresa Pitts challenged herself to go back to school, and earned her bachelor's degree from UCLA with honors. Read the full story here. photo courtesy of UCLA fan page

"Up came the lights -- just in a different area." At age 70, David McGiffert declared his independence by walking away from Hollywood to help his daughter achieve her own dreams of competing on the U.S. National Team for rhythmic gymnastics. He now accompanies her to competitions and training camps, and helps her manage an otherwise impossible schedule of school, training and competition. Read the full story here.

"I work in my own style, on the schedule I want; if I write what I want, people will sense the fun in it." This 61-year-old Kentucky novelist was the first self-published author to sell more than a million digital books on Amazon.com with his pulp fiction series "Donovan Creed," which follows a former CIA agent. For the full story click here.

"No matter how old you are, it is not too late to change." At age 52, Linda Tabach ditched her lifelong couch potato lifestyle for a healthier alternative. Tabach began eating a healthy diet, hit her goal weight and ran her first half-marathon. For the full story click here.

"I am here to tell women, you are never too old to pursue your dreams. I never felt better in my life. I am 60, hear me roar." After a life spent on the other side of the lens, first as a stylist and later in commercial photography, Robin Bobbé decided to "[reconnect] with that exciting part of myself," and became the new face of 60 as a model. For the full story click here. photo courtesy of WomenYouShouldKnow.net

"The girls at the rink say I'm the only one on the East Coast doing death spirals at my age... This is a part of my soul..." Although she knew from childhood that her heart lay in figure skating, Paula Shuman was convinced it wasn't a realistic career path and became a radiographer instead. She kept skating though, and when an old friend offered to coach her 20 years later, she fulfilled her childhood dream. For the full story click here.

"Just do one little thing that's meaningful to you. Break out of the box and you'll see, it can change your life." Margaret Miller started by ending an unhappy marriage, then trained for a marathon -- then began travelling the world. "Part of me was hidden away for so long. It was almost like I was introducing myself to my family," she said. For the full story click here.

"I am living proof that anything is possible." Tipping the scale at 320 pounds, the former chain smoking talent manager took hold of his life and health and underwent gastric bypass surgery seven years ago. Now he's the very picture of health, exercising and working with a trainer to keep off the weight. Read the full story here.

"Everybody in the world thinks I am a total nutcase. I just want to support our troops." Coast served in the Navy from 1982 to1993, leaving the force to raise her son. But when she accompanied her son to an Army recruitment office so he could enlist, Coast asked to sign up as well. At 51 she became one of the oldest people to complete basic combat training. Read the full story here.
Follow Lorie Eber on Twitter: www.twitter.com/EberLorie