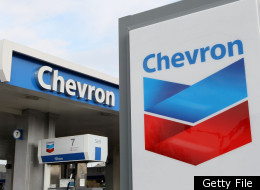 Chevron says the people in these photographs don't matter.
They are, according to the oil giant, literally "irrelevant" players in a 19-year-old legal battle against Chevron for one of the world's largest oil-related environmental disasters.
Hundreds of people have died from cancer caused by contamination left by Chevron in the Ecuadoran rainforest, where it drilled under the Texaco brand from 1964 to 1992. Thousands, more suffer from respiratory illnesses, deformities, skin disease, spontaneous abortions and other ailments.
The Ecuadorans in these photographs and approximately 30,000 other rainforest residents recently won an $18 billion damage award from Ecuador's courts against Chevron. Unfortunately, but not surprisingly, the company refuses to pay. If it did, the money would fund a cleanup of the contamination and provide clean drinking water and health care services for people living in Chevron's former concession area.
In a desperate effort to avoid paying the $18 billion judgment, Chevron lawyer Doak Bishop of King & Spalding recently said: "The plaintiffs are really irrelevant. They always were irrelevant. There were never any real parties in interest in this case... There will be no prejudice to [the rainforest communities] or any individual by holding up enforcement of the judgment."
Anyone who has seen the devastation in the rainforest and spent time with the people there, like I did when I took these photographs, would never make such a statement. (See more photos at: www.loudematteis.com).
Highly toxic production water pours into a waste pit at an old Texaco oil facility near Dureno in Ecuador's Amazon rainforest in 1993. (Lou Dematteis/Redux)

Nine-year-old Jairo Yumbo shows his birth-deformed hand on the road in front of his home in Rumipamba. (Lou Dematteis/Redux)

Her leg amputated because of a cancerous tumor, Modesta Briones sits in her house near Parahuaco Oil Well #2. Modesta died of cancer in 2008. (Lou Dematteis/Redux)

Fifteen-year-old Myra Chicaiza sits with her mother Rosa Mercedes on the floor of their home in Dureno. Myra suffers from severe birth defects due to her mother's exposure to toxic hydrocarbon contamination when she was pregnant with Myra. (Lou Dematteis/Redux)

Maria Villasis shows the scars from four operations on her liver and gallbladder at her farm near Guanta Oil Well #8. (Lou Dematteis/Redux)

A waste pit filled with crude oil left by Texaco drilling operations years earlier and never cleaned up lies in a jungle clearing near the Amazonian town of Sacha. (Lou Dematteis/Redux)

Uterine cancer victim Rosana Sisalima with her granddaughter at their home in San Carlos on November 24, 2004. Rosana succumbed to cancer in 2006. (Lou Dematteis/Redux)

Miguel Mashumar and his wife Maria Claudia Antuash sit with a portrait of two of their two daughters who both died as a result of exposure to toxic hydrocarbon contamination. (Lou Dematteis/Redux)

Juana Apolo walks out of a cemetery in La Andina where her father, brother and sister are buried, all of whom died of cancer. (Lou Dematteis/Redux)

At her home in Andina, Amanda Armijos, sister-in-law of Juana Apolo, stands in front of a photo of herself and husband Saul Apolo who died of stomach cancer at age 49. (Lou Dematteis/Redux)

Carmen Guaman with her fourteen-year-old daughter Veronica at their home in La Primavera. Veronica suffers from a neurological birth defect. (Lou Dematteis/Redux)

Luz Maria Marin holds the head of her husband Angel Toala one day before he died of stomach cancer in their home in Shushufindi. (Lou Dematteis/Redux)
I first traveled to the Ecuadoran Amazon in 1993 and witnessed first hand the contamination and environmental damage. During my trip, I spoke to a doctor at Ecuador's Ministry of Health who said the region was sitting on a time bomb. He told me that if the toxic waste was not cleaned up, the result would be an epidemic of serious and fatal health conditions.
Sure enough, when I returned to the region in 2003 for the start of the trial against Chevron, I found that the time bomb had exploded. Everywhere I turned, I encountered people with cancer, birth defects, respiratory ailments and other severe heath problems.
Enough is enough. Chevron should stop delaying the justice that the people in these photographs and so many others like them in the Ecuadoran rainforest deserve. (For more information, see the video at www.chevrontoxico.com).