This is by Anna Macdonald, a colleague from Oxfam who is in New York this month pushing governments to officially launch negotiations for a potential Arms Trade Treaty. Oxfam is also publishing a report this week showing the urgency to have a treaty that regulates arms trade.
Good things come in threes?
In 2003, the international campaign, Control Arms was launched. Three years later in 2006, 153 governments took the historic step of voting to begin work on an Arms Trade Treaty. This would be the world's first global agreement to regulate the whole arms trade.
And now three years on again, governments have the chance to launch formal negotiations to make the Treaty really happen.
In 2006, I met Julius Arilie, a young man from Kenya, who came to New York, to present the Million Faces petition, calling for an Arms Trade Treaty, to then UN Secretary Genera Kofi Anan. Julius used to be an armed cattle rustler, until an Oxfam peace building program got him involved in running instead. Julius discovered a talent for marathons. And another one for persuading young men and women caught up in cycles of violence to give up their guns and get involved in working in their communities instead. Live on Kenyan TV, he persuaded a notorious cattle rustler to go with him to the police station and hand over his automatic weapon.
He's since become something of a local celebrity and uses his fame to regularly talk to villages about non violent ways of resolving conflict. When violence hit Kenya after the elections in early 2008, Julius's area in Western Kenya was one of the few where violence did not escalate, and a well-integrated community was spared the violence that enveloped many other parts of the country.
I've seen Julius at work in Kenya, and it's impressive. But Julius and millions like him need governments at the UN this month to also be impressive. While weapons continue to flood into conflict zones around the world, poverty and human rights abuses will not be stopped.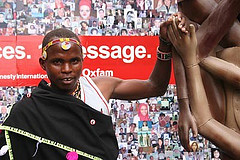 For the millions of people across the world like Julius whose lives are torn apart daily from an arms trade that is out of control, the waiting has been too long. Its time for action. Its time for decisions. Its time for an effective Arms Trade Treaty.
FOLLOW HUFFPOST