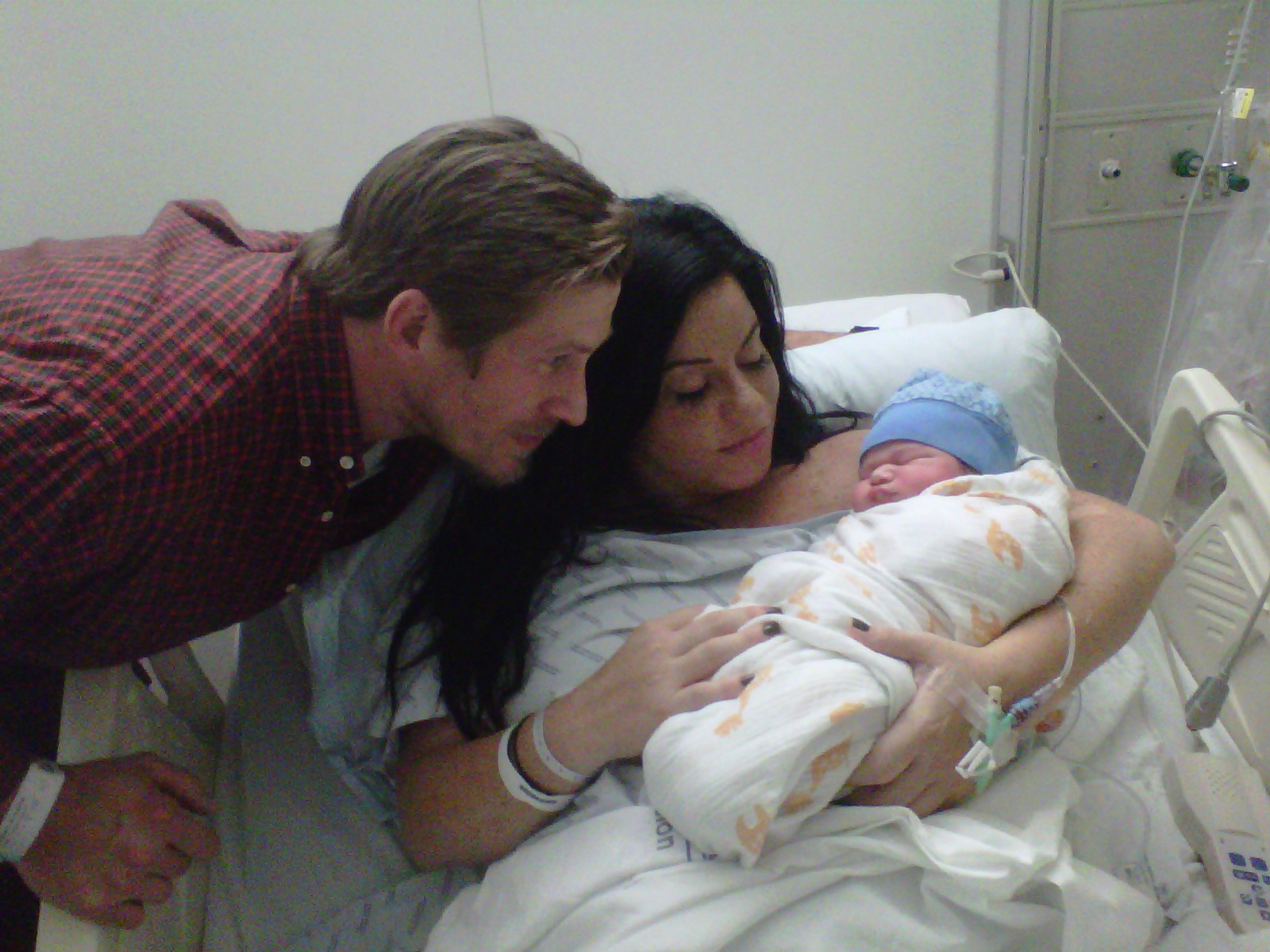 My publicist Leigh Rossini finally had her baby after a seemingly endless 10 1/2-month pregnancy. She was firmly convinced her baby had decided to maintain a permanent residence in her womb. I teased Leigh that the baby was smart not to give up his own bedroom, a rare luxury for most infants living in a space-challenged New York apartment.
I timed my hospital visit perfectly. I arrived about an hour before she was discharged. I was able to spend time with Leigh, her boyfriend Chris, and their new baby, Rome Louis. They looked like they were straight out of central casting. Rome is a beautiful 10-pound baby who came into this world camera-ready. Chris looks like a model found in a Ralph Lauren ad. Leigh was glowing. She looked gloriously womanly. I was overwhelmed by her beauty. I told her how pretty she looked and she looked at me with a devilish smile. I instantly realized Leigh had left nothing to chance. She knew there would be friends coming to welcome her baby and she made sure there would be no undesirable photos appearing on Facebook. I immediately began hammering her with questions about her beauty regime. Here's the 411 straight from the new mom.
1) Make an appointment to have your hair done as close to your delivery date as possible. Avoid blowing your hair straight because no one's hair survives delivery. Better to start with a style that works with your natural texture. If you are having a C-section scheduled, make your hair appointment that morning. You don't sweat during a C-section, so you can finish your hair as straight or curly as you desire.
2) Manicure and pedicure appointments are a must.
3) Lash extension appointments are absolutely mandatory for all those pictures of you looking down at your newborn. Even if you are not wearing a stitch of makeup, the lashes will make it look like you had a team of beauty experts work on you in delivery!
4) Spray tan before you go to the hospital. It will give you a healthy glow that will last throughout your hospital stay.
5) Be sure to have your hair color touched up if your doctor permits. There is nothing more horrible than roots showing in a picture.
6) Photos inevitably will be taken of you and baby by your family immediately after birth. Take the hospital gown and slightly pull it off one shoulder.... Hey, every little thing counts! It will give you an "I just pushed out a kid and still look sexy" look!
Leigh took advantage of every beauty secret she knows. Why wouldn't she? She does spend every day in a beauty salon! If you don't have time for Leigh's checklist, don't worry. Always remember that no matter what you have time for, there is nothing more beautiful than a woman and her newborn child.
SUBSCRIBE TO & FOLLOW LIFESTYLE
HuffPost Lifestyle is a daily newsletter that will make you happier and healthier — one email at a time. Learn more