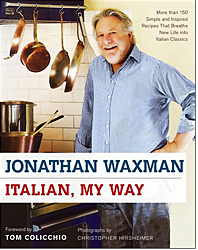 Last December, I fell in love the first -- and only -- time I've eaten at Barbuto. Seated at the intimate, rough hewn wooden chef's table in the kitchen, I was inundated with the rich smells of roasted chicken, heated olive oil, rich ragus and tried to identify each beautiful dish as it was whisked into the dining room. As plates came and went -- boards of salumi, polenta with mushrooms, salad, bruschetta, pastas, fried potatoes, and of course, the signature Jonathan Waxman roasted chicken -- I realized that, despite the fact that Italian food has reached its saturation point in New York, this was something different. Barbuto is the type of Italian restaurant I had been searching for in New York: welcoming and unpretentious -- and serving superb food.
Fortunately, seven years after Barbuto's opening, Jonathan Waxman has released a new cookbook, Italian, My Way: More Than 150 Simple and Inspired Recipes That Breathe New Life Into Italian Classics. The cookbook provides simple recipes to prepare wholesome, comforting, and delicious food. Everyone from chefs Alice Waters and Mario Batali to television journalist Charlie Rose and Kings of Leon singer and guitarist Caleb Followill have sung its praises. Recently, I caught up with Waxman to discuss the book.
Louise McCready: Italian cooking is extremely popular right now. Why and when did you decide to write Italian, My Way?
Jonathan Waxman: I got the idea to do a cookbook when I opened Barbuto in 2003. I always thought there'd be a book in the works, so the germination of the idea was at that time. I didn't actually writing it until about 2008.
LM: Unlike your last book, A Great American Cook, you wrote the text for this book yourself. Did you follow any specific sort of writing process? Or what was that experience like?
JW: I actually wrote the first book myself. I had a ghostwriter, but I didn't use any of the text he wrote. This time, even though I had already basically written my own cookbook, I wanted to make sure that I got my voice on the page and no one else's. The first time was like eating a pound of sand. This time it was like eating lemon meringue pie. It was a lot of fun, and it just kind of flowed. It was kind of surprising how easy it was.
LM: Which chefs have influenced you the most over the years?
JW: If I had to single out one person, it's Alice Waters. Alice has been a pivotal person to me in many way -- not just as a chef, but also as a human being. She is an amazing person. I don't know if I learned all my technique from her, but what I did learn is my philosophy of food, which is probably more important than anything else.
LM: On Charlie Rose, you called Ferran Adria's cooking, "food of the future." Can you explain what you meant by that?
JW: I was reading about this guy in England who is going to make a quantum computer that will compute things light years faster than any computers we have today. The world is changing so dramatically, I think the way we have to think about food will have to change as well. It's up to pioneers like Ferran Adria who are reshaping the way we're doing things, researching what the possibilities can be, and inventing things that never existed. We might not use any of it in the future, but we'll be influenced by it.
LM: What is your ideal, simple meal at home with your family?
JW: My daughter always asks for fried chicken, and I love making fried chicken. On a Sunday or on a spring day like today, making fried chicken, mashed potatoes and wilted spinach is kind of perfect. It's fun to make. The kids can help; they love shaking the chicken in the bag. I make fried chicken a little differently from most people, so it's pretty easy to do. I can make it ahead of time, leave it on the stove top, and eat it at room temperature or throw it in the oven for a couple minutes to reheat. I adore fried chicken.
LM: In Italian, My Way you mention that organically grown vegetables taste better, the recent call for naturally raised grass-fed beef and that home chefs should avoid asparagus that comes from thousands miles of way. How much more expensive does following that philosophy make the food your purchase at Barbuto?
JW: I think it's the exact opposite. Here's my philosophy: You have a farmer's market where things are in season, and you buy things when they're in season because they're more plentiful. When you buy peas or asparagus when they're in season, they're cheap. When you buy them out of season, or from a faraway place, that's when they're expensive. Piles of Parmesan cheese at the supermarket means the cheese is ripe and ready to go and someone is obviously trying to get rid of it before it goes bad. That's how the markets work.
LM: Is there anything else you'd like to add?
JW: Home cooks are much better than they were twenty years ago. Reading cookbooks, going to restaurants, and watching food channels, has elevated everyone's techniques. People are ready to step out of their comfort zone, and I encourage them to not make the same thing over and over ago. That's what this book is about -- recipes that are interesting and fun to make, but outside of the comfort zone. I made the book specifically simple so it wouldn't be hard to follow. When we're tired, we make the same things, but that's why I wanted to put this really simple pizza recipe in. You can make it at home in an hour and a half -- he dough comes together in 15 minutes, let it rise, punch it down, roll it out, put toppings on it, and put it in the oven. I'd rather have people do than go to the supermarket and buy some second rate pizza or pizza from a good restaurant that they take it home and then have to reheat. Making pizza is the best thing in the world, and it's so much more satisfying to make your own stuff.
LM: You always appreciate food you made more, and it tastes better.
JW: It does taste better. And even if it doesn't taste better, you think it does.
LM: And that's all that counts!

FOLLOW HUFFPOST