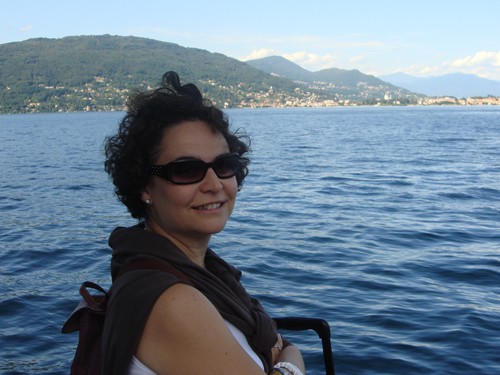 Two weeks ago, I attended the panel discussion, "Feeding Your Passion: Celebrating NYU Women in the Culinary Arts," at my alma mater. Moderated by Jennifer Berg, the discussion was lively and thought-provoking, but only touched upon a few of the many topics I had hoped. With too many questions for the time allotted, I followed up with several of the panelists. This is the first of those interviews.
Freelance food and travel writer, Sylvie Bigar, originally hails from Geneva, Switzerland and came to New York to attend NYU. Her work has been featured in such publications as National Geographic Traveler, Travel + Leisure, and Departures, and she contributes regularly to Time Out's The Feed. Bigar has tested recipes for three of Florence Fabricant's cookbooks, Park Avenue Potluck I and II, and the 2009 edition of the New York Restaurant Cookbook (Rizzoli).
Louise McCready: At last week's event celebrating NYU women in the culinary arts, the mediator asked the panelists about their inspiration. You said your mother couldn't cook which I found interesting because like yours, my mother didn't enjoy cooking and I feel that encouraged me to pick up the culinary slack. Do you think you were more likely to cook thanks to your mother's disinterest in cooking?
Sylvie Bigar: It's very timely you're asking me this question right because I just discovered that my 84-year-old mother has suffered from an eating disorder her entire life.
SB: It's pretty sad, and I just discovered this 3 weeks ago, so I'm being completely candid with you. I am still very much trying to figure out what does it do, first of all, for a daughter who's a food writer to discover that her mother's relationship with food has been an ordeal and a huge problem in her life? Then, what does it do for a mother who has a serious eating disorder to see her daughter become happily obsessed with food and make it her profession? There are the two aspects there. But my grandparents on both sides were what we call now foodies and found food extremely important. I think that my mother just pretended to enjoy food and it kind of skipped a generation.
LM: That is actually ironic, because I actually feel my mother, a very talented figure skater and who before that did ballet, has had a fraught relationship with food though she would never admit it.
SB: My mother never admitted it either.
LM: As a result, I feel she thinks it's crazy I write about food.
SB: I don't think my mother understands it either. I was afraid to cook for a long time. The person who I credit with opening my mind to the cooking is Florence Fabricant because, as you may know, I've been working with her for a long time and testing recipes for her last three cookbooks. At the beginning, I thought how can I do this [cooking]? The more I did it, the more I realized, I can follow a recipe.
LM: You said that you think of yourself as a writer, not a cook. How do you think that impacts your writing?
SB: I think that I write with my palate and my heart. I don't write with my brain. How was this made? Can I replicate it?
LM: It's like writing about a piece of art when you are not an artist and not thinking about how to replicate the brush strokes or the color paint.
SB: I can see that. That said, I love to cook, and Florence opened that window for me. I have a cookbook collection now and my husband would tell you I'm a cook.
LM: You said food is travel and if you can't travel, go out to eat. What would you consider the most inspiring place you've traveled to?
SB: I've thought about that and I'd say Morocco because I just got back from there. Morocco is an extremely inspiring country on many levels--for its food, its history, its people. So many different cultures are defined by food. What I love is studying and learning about a country's history through its food and culture. But I also have to say traveling through France is just amazing.
LM: I would agree with that. What do you find the most inspiring food place in New York?
SB: It would have to be the green market in Union Square because even in the heart of winter, the people who come there and sell their wares are passionate and in the moment. There's always something to learn from them and always something to learn with what they sell. You didn't ask for a restaurant, you said place.
LM: Exactly, because I was wondering if you were going to choose a restaurant or market. The first place I fell in love with markets was Paris. I feel the food markets, especially now and in New York, keep getting better and farmers keep bringing new items.
SB: Which market did you go to in Paris?
LM: I lived in the Marais, but worked in the 1st arrondissement, and I always walked. On the way back, in the market in Place Baudoye, off rue de Rivoli, there was a guy who sold a mushroom tapenade on Wednesdays and Saturdays, and I always made a point to go there. When asked about the next big food trend, you suggested Bill Telepan, chef at self-named Telepan Restaurant on the Upper West Side, as representative chefs who are trying to educate the public about healthful eating. Television shows like "Jamie Oliver's Food Revolution" and the White House Chef's support of the First Garden would seem to support your prediction. Do you see this as the beginning of a "revolution," as Oliver would hope, or merely a fad?
SB: What's happening right now is a revolution because it's happening in all the different layers of society. Children are eating better, or starting to eat better, because their parents are concerned about what they feed their children. The 20-year-olds are extremely concerned about what they put in their mouth because they've been taught about the environment from a very early age. The 30- and 40-year-olds are starting to have families and they care what they put in their kids' mouths. The older people are into health, and so they're reading the paper and they're informed. It is really across the board. Everyone is aware that there is something going on in the food world and you better pay attention.
Bill Telepan is wonderful, but there are many, many chefs who care about this, even chefs famous for their four stars, like Daniel Boulud. I was at the James Beard Awards the other night, and the foundation recognized some very small restaurants across the United States that have been cooking and serving in the same way for sometimes as long as 80 years. Then, the temples of food here in Manhattan or LA are aware as well. I really do think it's a revolution. It's coming to Europe, but strangely enough, this is a food trend that started in the US, not France. That's very important.
LM: Very true. When asked whether men and women perceive food differently, you said that you thought women are more open to trying new things. Based on my experience, this is true as well. Any idea why that might be?
SB: That's a hard question to explain. Are men more set in their ways than women? I don't think we can say that. What do you think?
LM: With food, at least based on my experience with friends and family, it does seem as though men don't try as much. They still prefer the food their mother made to some degree, like the simple things they grew up on. In one family, the mom always made pasta; in another, the mom always had meat and potatoes. Those basic preferences do seem to last longer.
SB: My male friends seem to carry trauma from their school cafeterias, and that's something that seems to inform a lot of men's tastes--the meatloaf, the fruitcake, the pudding, and often vegetables. I hear a lot of men say, Oh no, I don't like vegetables. You go to a steakhouse and there are more men than women. But very often if you cook things a different way or maybe seduce your way into having them try your food, they'll change their mind.
LM: And hasn't it been found that if you try something 8 times, you'll like it. Your taste buds change. You have to keep trying stuff because you never know when you'll like it. I used to hate Brussels sprouts. It turns out I just didn't like the way my mom cooked it, and vegetables can be cooked so many different ways.
SB: There are really very few things that I don't like. The one food I really don't like is tripe. Chef Gabriel Kreuther at the Modern makes an amazing tripe.
LM: But you still don't like it?
SB: I ordered it twice, and I liked everything but the actual piece of tripe.

FOLLOW HUFFPOST