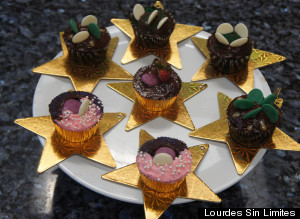 ¡Fresa y Chocolate, Sabor Veraniego!
Las fiestas de final de curso se aproximan, las vacaciones de verano están al doblar la esquina y junto con estos dos grandes acontecimientos también llega la época de los cupcakes... ¡Dulce tarea que nos toca a nosotras las mamás!

Yo acabo de hacer esta receta de cupcakes de caja con varios ingredientes que les da sabor auténtico y único de una receta casera. ¡Los llevé a la escuela de mi hijo y fueron un éxito!
Les voy a enseñar paso a paso con fotos y explicaciones cómo lograr estos ricos y lindos cupcakes que se preparan en 10 minutos y 15 en hornear.
RECETA 'CUPCAKES' DE FRESA Y CHOCOLATE:
1 caja mezcla de cake de chocolate en polvo usa tu marca favorita (yo recomiendo Betty Crocker Super Moist)
1/3 taza chispitas chocolate blanco (chocolate chips)
2 tazas de fresas frescas picadas
2 cucharadas de azúcar negra (no refinada)
Pizca de canela en polvo
1/2 cucharadita de mantequilla
1 lata de glaseado o lustre chocolate y otra de fresa (frosting) de tu marca favorita
1 bolsa pequeña de discos chocolates de tu color preferido (especial de repostería)
Une los ingredientes de la caja del cake o pastel de chocolate según las indicaciones junto con las chispitas de chocolate blanco. Pon la mezcla en un molde de cupcakes.
En una olla separada lava y corta las fresas en pedacitos, con el azúcar, canela, mantequilla y un poquito de agua (menos de un 1/4 de taza) sólo para que no estén secas al cocinar. Deja que hiervan, baja la candela a mediano mientras la mueves. Cuando veas que ya el agua se consumió y está espesa como una mermelada apaga el fuego. Déjala refrescar o ponla en el congelador hasta que este fresca.
Cuando estén los cupcakes espera a que estén a temperatura fresca.
PASO A PASO EN LA FOTOGALERÍA:
Convierte los 'cupcakes' de caja en caseros
SUBSCRIBE AND FOLLOW
Get top stories and blog posts emailed to me each day. Newsletters may offer personalized content or advertisements.
Learn more