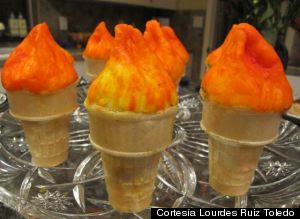 ¡Llegaron las Olimpiadas y con ellas la emoción de ver cómo los atletas que representan a nuestros respectivos países rompen e imponen nuevos récords mundiales, luchan contra adversidades, esforzándose y cruzando físicamente sus límites para alcanzar la excelencia y ganar una medalla olímpica!
¡De mi cocina para su cocina, les paso la antorcha del buen comer! Una receta que los hará vivir junto con los atletas la sensación del triunfo.
¡Olympians, con la tenacidad de los dioses griegos levanten sus antorchas de ensalada de pollo y empiecen a comer olímpicamente que los juegos, ya comenzaron!
Antorchas Olímpicas, paso a paso
MIRA ADEMÁS MÁS RECETAS PARA TUS REUNIONES DE VERANO:
SUBSCRIBE AND FOLLOW
Get top stories and blog posts emailed to me each day. Newsletters may offer personalized content or advertisements.
Learn more