fiN, the alternative rock quartet from Wandsworth played at Bush Hall, London this week to launch their new single 'Twenty Three' / 'Eve'. Beforehand I got talking to them about partying, death, and performing with Rihanna at this year's Brit Awards.
In the thick of a recession and at a time when front man Luke Joyce's dad had just lost his job, fiN wanted to embrace the adversity that nearly all people across the nation had been privy to. "My dad got laid off work and he's a miserable bastard at the best of times," says Luke. "Like father, like son," responds drummer Simon Harding. But rather than just wallow in a puddle of pitty, fiN wanted to produce music that would counter the angst and depression that was manifesting around them. They chose, instead, to pay homage to the good things in life like friends and getting drunk "because," says Luke, "in a situation when you've got no work or nothing that's really all you've got." They stress the importance of making the most of what's positive in life while you're young and you've got the chance. "When you're old and grey money doesn't matter...all you have is your memories," says Luke. And this is where a lot of his lyrical influence comes from. He's written tracks called 'Life is wasted on the living' and 'Everybody dies alone,' which, although you might not think it, resounds positivity over pessimism and dread. 'Life is wasted on the living,' he says, "is a song about grabbing life by the horns, you know, going for it. And a lot of people hold value in things that really don't matter, like consumerism. Its meant to say don't waste your time, life is so short."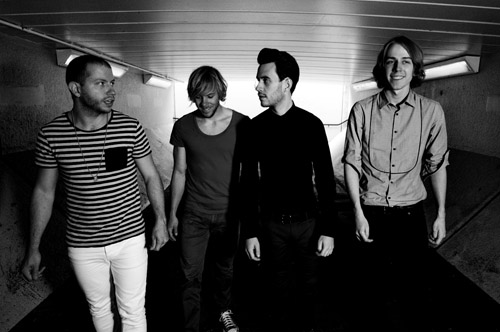 But maybe this preoccupation with the living and adventurous life experiences is medicating for Luke's intense fear of death. "I have a big fear of death, I'm scared of a lot of things. Since I was a kid its just definitely been there. And 'Everybody dies alone' -- our second single -- is our big grand song. It's about death and dying alone, and the whole fear of flying and being strapped into a chair and not being able to escape." Despite his thanatophobia, he's only too keen to explore the darker side of music with the band, if only they'd let him have his way. Simon admits that there needs to be "light and shade." "I guess maybe on the second record there'll be a bit more room for me to be negative," say Luke. With the possibility of venturing deeper into darkness in the future, it could never be as dark as Luke would like it to be. "He's allowed his moments," says Simon, "as long as he's kept under control" [laughs].
Since having begun rehearsing in a damp abandoned caretaker's house, where they also pitched tents, slept and drank beer, fiN have come a long way. They've toured with The Kooks and Incubus, and this year at the 2012 Brit Awards they were personally chosen by Rihanna to perform alongside her as she sang 'We Found Love.' Homed in boxes either side of her, where paint bombs were exploded and smeared everywhere by dancers, fiN played to 6.2 million viewers. "It was crazy... an indie band from Wandsworth, I mean how many of them get to do that and get covered in paint, and have that level of production going on, it was just a great experience. We're very lucky. And Rihanna was so lovely and such a great person," says Simon.
But the highlight for Luke wasn't the performance -- it was what went on behind stage. With Noel Gallagher's dressing room just opposite theirs, Luke decided to introduce himself and hand him their first single 'Artisan' / 'It Changes Everything'. He admits that the thought of coming face-to-face with one of music's most famous rock artists was daunting, yet it didn't stop him knocking on his door. He says "I picked up a vinyl and I thought fuck it, I'm gonna go and see him... and he is there, you know, with all this swagger and that, and I was shitting myself because Noel Gallagher is seen as a bit of a hard nut." Despite Gallagher's initial response of "What the fuck am I supposed to do with this?" Luke says he was a "lovely guy" who promised to listen to their music. Later on he was met again by Gallagher who pointed at him and said "I love your music." For Luke, aside from the rest of the evening being an amazing experience, "that was the icing on the cake."
For anyone who had the opportunity to watch the Brit Awards in February, fiN's performance with Rihanna was momentous, and they followed suit at their sell-out launch party at Bush Hall, London. For a band of young men in their mid-twenties they know exactly what they want, who they want to be compared to and where they see themselves performing in the not-too-distant future. This self-assurance, determination and charisma was bellowed throughout their laser-lit show. They were far from shy and front man Luke certainly worked a seductive charm on stage. He did this off stage too as he ambled through the crowd mid-song, reaching out to the audience. The man has presence.
The favourite songs of the evening had to be 'Rapture' and 'Twenty Three'. And strewn throughout an energetic performance were echoes of MGMT and Yeasayer. They evoked a sense of nostalgia, and you found yourself often questioning whether you'd heard the songs before. But their sound isn't one you can easily put a stamp on. They mix between grunge, rock, electro and pop, and each track differs to the next. This is part of what keeps things exciting about them, and its intentional too. Simon admits that "Its helped us broaden our musicality."
But if you want to get hold of fiN's music you have to purchase their vinyl first, which also has a download code on it. Odd? Quirky? Their reason behind it was for fans to feel a sense of investment and as though they were owner to a piece of the band from the very beginning. Its also another means to differentiate themselves in a process-driven industry. Luke says "We just like to say we're not going to do it like that, we're gonna do it differently, we're gonna break the rules a bit. Not a lot of bands do this, so we were like 'fuck you, we're gonna do it.'"
So what can we expect from fiN in the future? They'll be touring the UK, playing Hop Farm festival amongst others, and traveling to Europe to help Incubus finish off their tour. But fiN won't be finishing there. In fact, they're only just getting started.