This post is part of the Relay for Kids in partnership with SOS Children's Villages. Each time you share this post, Johnson & Johnson will donate $1 (per action) to support children worldwide affected by crisis. Scroll to the bottom to find out more.
Growing up in Detroit, Michigan, I witnessed firsthand the impact of poverty on the city's most vulnerable children.
I remember going with my parents to the city's orphanages to visit with children who had lost their parents because of neglect, abuse and abandonment. Many of them were experiencing psychological trauma and having difficulty trusting the people around them.
My favorite memories were the times my parents and I played board games and sports with these young boys and girls. Play time was a great opportunity for them to enjoy being kids. Seeing their smiles –- even after all the hurt and pain they experienced -- demonstrated to me that one person can make a difference in a child's life. It also showed just how critical it is for vulnerable children to have support systems in place to help them overcome their trauma and reach their full potential.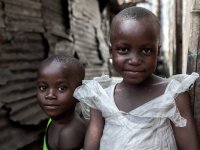 Monrovia, Liberia. Photo Credit: Daniel van Moll
These experiences inspired me to become a champion for children, and to fight for a world in which every child is given the support needed to thrive.
Currently, I work at SOS Children's Villages, an organization that aims to provide support services to children affected by crises such as conflict, economic instability, disease or natural disasters. Although we are on the ground and uniquely positioned to provide this support and care when needed, there is still much left to do.
In war-torn Syria, 5.6 million children live in fear and are unable to find basic services such as healthcare, schooling and protection. For over 1.9 million Syrian children living as refugees in neighboring countries, issues of statelessness and extreme poverty put their lives and futures at risk. And in the West African countries of Sierra Leone, Liberia and Guinea, 16,000 children have lost parents or caregivers to the deadly Ebola outbreak.
While the context in these crises is different, the life-changing impact these events have on the future of these children is undeniable.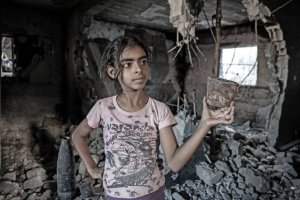 Rafah, Palestine. Photo Credit: Bjorn-Owe Holmberg
Protection, psychosocial support, health and education services are imperative to minimizing the long-term impact of crisis on children and their communities. At a critical stage in their development, children often lack the mechanisms to process and overcome trauma, leaving them to suffer through the long-term results of prior negative experiences. Without support services, these experiences can permanently traumatize children well into adulthood, both through physical and mental means.
These children need our support in order to thrive and grow up in loving, stable environments. They are most vulnerable in times of crisis and their needs often go unmet. As child advocates, we must do our part to tell their stories and inspire the global community to take action.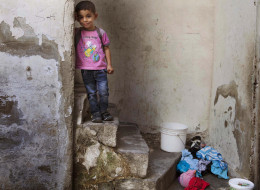 Damascus, Syria. Photo Credit: Carole Alfarah