The sixth Sa'ada war between central government forces and Houthi rebels in Yemen's north is well underway and expected to drag on given the latter's rolls of fresh recruits from the region and their unconventional tactics aided by weapons from Iran, according to the country's ruling party.
Yemeni officials told the pan-Arab daily Al Hayat the government would deal a decisive blow to the Houthis to prevent them from planning a seventh war but that the conflict may be drawn out, as the army proceeds with a "scorched earth" policy.
A military source quoted by another pan-Arab daily, Asharq Al-Awsat, said the army had seized six depots of Iranian-made weapons in the region, 240 kilometers (149 miles) north of the Yemeni capital Sana'a.
Yemeni President Ali Abdallah Saleh in a speech this week promised to eradicate the Houthis, dubbing the rebellion "diabolical" and a "cancer in Sa'ada."

Al Hayat cartoon depicting blazing Yemen, with matchbook marked
"fitna" (sedition) and matches designed as traditional janbiyya knives
"Undoubtedly, what is happening in Yemen is a scene from the Iranian scenario aimed at undermining Arab countries' stability and fomenting sectarianism among the country's people," wrote Al Hayat columnist Daoud Al Shiryan, whose paper is funded by neighboring Saudi Arabia.
He added that the battle waged by the Yemeni government could be repeated in other Arab countries, noting that Iran had sought to trigger sectarian problems in Kuwait, Sudan, Morocco, Bahrain and Lebanon.
Asharq Al-Awsat editor Tareq Al Houmayed cautioned in May against Iran's "soft diplomacy" after Iranian parliamentary speaker Ali Larijani visited Yemen bearing Persian rugs to assuage fears of Iran's naval deployment in the Gulf of Aden on the pretext of protecting Iranian vessels from pirates.
Arabs fear Iran could reinforce its military position there ahead of a Western or Israeli attack.
The rug symbolizes Tehran's patience, Al Houmayed explained. Rugs can take up to 12 years to weave and anyone seeking to understand Iranian intentions should read extensively about Persian rug production, he said, adding that President Saleh should have reciprocated the gift offering with a janbiyya, the curved dagger worn almost religiously by Yemeni men.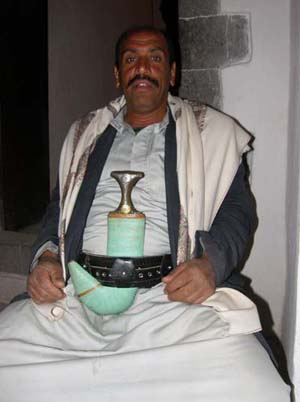 Janbiyya (dagger) is part of Yemeni men's
existence (Abu-Fadil)
In April 2009, a Yemeni court sentenced two men to death for being in contact with Iran.
It charged them with violating terrorism and state security laws between 2007 and 2008 by providing Iran with documents relating to Yemen's defense, security and economy, as well as details of President Saleh's whereabouts.
In June, Houthi spokesman Saleh Habra told Asharq Al-Awsat his movement was preparing for war and denied being an extension of Iran or Lebanon's Hezbollah (Party of God).
He accused the government of preparing for its sixth war against the Houthis in Sa'ada by charging the rebels with the kidnapping of foreigners.
He also denied being part of a secessionist movement, like that of his southern compatriots in Hadramawt and Aden, noting that all the Houthis sought was true citizenship, not marginalization and hegemony by the central government.
The Houthis have managed to control large swathes of territory along the vast Yemeni-Saudi border during recent clashes.
Earlier this month, they blocked the Sana'a -Sa'ada road to prevent the government from sending reinforcements and much-needed supplies to the north.
The rebels have used firearms, katyusha rockets and artillery, and resorted to low intensity conflict, while the government has relied on air and ground forces to pound the Houthis into submission.
Yemeni Information Minister Hassan Al-Lawzi accused "foreign parties" of financing the rebellion and charged Iran's Arabic-language Al Alam TV channel of skewing coverage to favor the Houthis.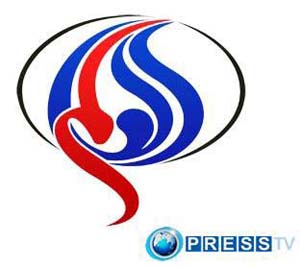 Al Alam TV logo
The Houthis belong to the Zaidi branch of Shiite Islam that claims most of Iran's population. Yemen is mostly Sunni Muslim like its larger neighbor to the north Saudi Arabia, but its president, Ali Abdallah Saleh, is a Zaidi.
A Yemeni official denied claims by Al Alam TV that Yemen and Saudi Arabia had established a joint military command to battle the Houthis, calling the reports lies and fabrications.
Meanwhile, Yemeni civil society group "Together Against Sa'ada War," called for an immediate halt to the war, the free flow of humanitarian aid and relief, and, unfettered access to the region by the media.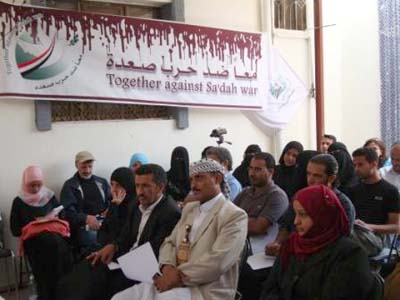 Together Against Sa'ada War campaign
The campaign's emergency session grouped activists, jurists, politicians and members of the media.
The campaign, launched in June 2007, is an independent civil society coalition for the protection of civilians. It does not absolve either party to the war.
The International Crisis Group in May warned in a report entitled "Yemen: Defusing the Sa'ada Time Bomb" that a fragile truce then in effect risked being short-lived.
"The Saada conflict might not be the most covered internationally, but it carries grave risks for Yemen's political, sectarian and social equilibrium," it said.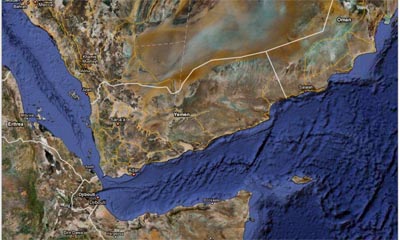 Yemen in southern Arabian Peninsula (Google Maps)
The U.S. Embassy in Sana'a on Saturday expressed deep concern about the continued armed conflict in Sa'ada.
"We call on both parties to return to the ceasefire that was established last year. In the meantime, both parties should avoid any action that would endanger the civilian population in the affected area," it said.
The antagonists have been at war since 2004. Countless army troops, rebels and civilian victims have died in the fighting but there are no accurate figures to confirm numbers provided by the warring factions.
The government has denied its forces have used phosphorous bombs to quell the rebellion.
The war expanded because it became a microcosm of a series of latent religious, social, political and economic tensions, said the International Crisis Group, a Brussels-based source of analysis and advice to governments and intergovernmental bodies.
Northerners from Sa'ada have long complained about being deprived of social services, infrastructure projects and government employment opportunities.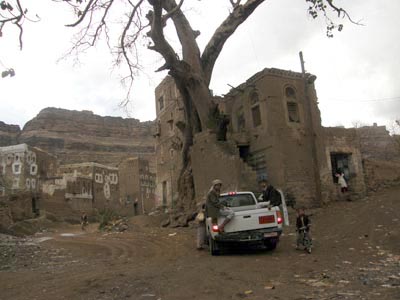 Lack of infrastructure in Yemeni heartland (Abu-Fadil)
"With only some exceptions, the international community has not recognized the Sa'ada conflict's destabilizing potential or pressured the government to shift course," the ICG report said.
It blamed the West's single-minded focus on Yemen's struggle with Al-Qaeda and the regime's portrayal of the Houthis as a subset of the war on terror.
Meanwhile, an estimated 120,000 people have been displaced by the conflict, with children and women facing the brunt of it, according to UNICEF, the UN agency that cares for children.
"We are trying our best to reach the most vulnerable children and women who have fled their homes empty-handed in a state of panic," said UNICEF Representative Aboudou Karimou Adjibade.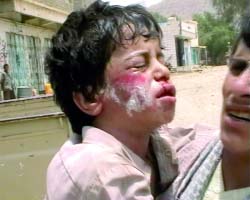 Sa'ada children caught in the crossfire
(Al Hayat)
The UNHCR, the UN refugee agency, has asked donor governments for an additional $5 million to help thousands of Yemeni civilians caught in the escalating battles.
"Today it is a real tragedy," said Claire Bourgeois, UNHCR's representative in Yemen. "Some internally displaced people are displaced for the second or third time. They were already living in precarious situations for months or even years and now they have to go through the drama all over again."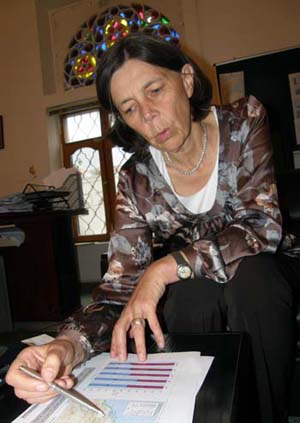 UNHCR's Claire Bourgeois (Abu-Fadil)
Foreign aid workers, doctors and professionals have worked in various parts of Yemen to help with the country's infrastructure, refugee and health care services.
SUBSCRIBE AND FOLLOW
Get top stories and blog posts emailed to me each day. Newsletters may offer personalized content or advertisements.
Learn more