The real question is: with bigger smartphones and smaller tablets, what's to become of content and how do you reinvent it?
That and countless other queries continue to baffle magazine publishers trying to re-purpose their text, photos, infographics, videos, audio, augmented reality, and other gimmicks to hang on to their readers, find new ones, and make money via an abundance of mobile devices.
"In the current market, most magazines are creating iPad content first - then porting this over to the Android ecosystem (Microsoft Windows tablets comprise a tiny 2% marketshare, making Windows-specific content low-priority," experts say of the emerging trend.
Their assessment comes in "Innovations in Magazine Media 2013 World Report," the annual must-read guide to what's new in the field with its catchy concepts, analyses of how the industry is doing, and, some looking into the future.
The book is published by the Innovation International Media Consulting Group for FIPP, the worldwide magazine media association.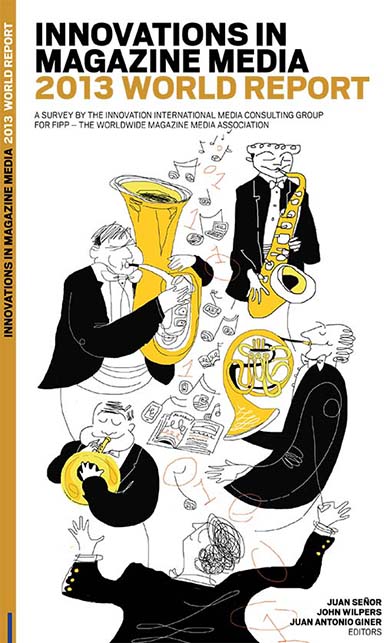 Innovations in Magazine Media 2013 Cover (Courtesy FIPP)
According to authors Juan Señor, John Wilpers and Juan Antonio Giner, iPad publishing started as a copy-and-paste deal from print to digital.
But with developers becoming more comfortable creating for mobile, magazines have begun pushing the boundaries for the "phablet" (phone/tablet combo) and across platforms, they added.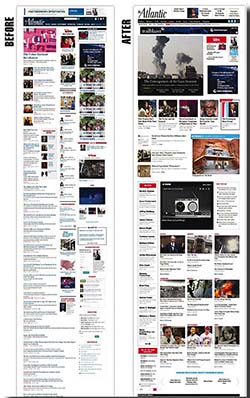 The Atlantic's cross-platform app (Courtesy FIPP)
The 130-page book offers a wealth of information on how magazines continue to morph into shapes, views and sounds beyond imagination.
Not only are magazine developers leaving no proverbial page unturned, they're also leaving no sense untouched in their quest for the ultimate experience.
An introduction to a chapter on magazines' prospects says it all: "While paper is eternal, technologists and visionaries are re-imagining the magazine following the old adage that the best way to envision the future is to prototype it."
Readers may be able to scratch and smell fragrances or other odors in print magazines, run their devices over QR codes and watermarks to enhance their interactivity with products or services featured on their pages, but now there's the potential of making the experience more visual and immersive.
Students from Stockholm, Sweden's Royal Institute of Technology have crossed the threshold of sensory stimulation with projects for holograms and video-enabled contact lenses.
James Bond-like? Not so far-fetched for developers.
The first would transcend a car's picture in print or in digital format to having the vehicle projected in front of the reader, to walk around, make smaller or bigger, and to view from different angles.
The second would involve floating images by using digital contact lenses to project them onto surfaces all around readers.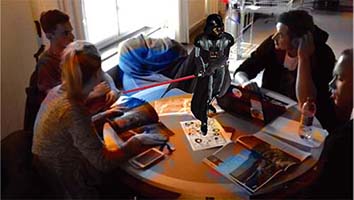 Digital contacts for magazine projection (Courtesy FIPP)
Innovations in Magazines is also a testament to sensory gratification.
The 2013 edition is enriched with Layar interactive print technology and digital content that can be viewed by using a smartphone.
"My-Agazines" delves into personalization of covers and content, which the authors report has been increasing circulation and attracting interest from advertisers.
"In the March 2012 issue of 'Harper's Bazaar,' for example, a full-page flier - or 'outsert' - was personalized with the name of 300,000 of the magazine's subscribers," Innovations said of the customization, adding that it encouraged readers to visit specific Neiman Marcus stores within 50 miles of their homes.
Another emerging trend in the magazine market is the "e-single" (electronic single) of long-form articles ranging from 5,000 to 30,000 words and available on Amazon, Kindle, Apple and Barnes & Noble.
"E-singles are filling a niche abandoned by most magazines: long-form journalism and storytelling," the authors said of consumers' growing appetite for such content and their willingness to pay for it.
A chapter on social image media features sites Pinterest, Tumblr and Instagram that are driving engagement with magazine visual content.
Fitness magazine "Self" adopted a Pinterest-friendly tagline "I Curate My Life," and in September 2012 launched a standalone site "Self Curate Your Look."

Self Curate Your Look magazine website (Courtesy FIPP)
Its users are encouraged to click on the site's heart button to broadcast their personal favorites and save items to a 'Lookbook,' similar to Pinterest and Polyvore (a social commerce network focused on creating style boards from ready-to-purchase items).
Going even further, the Brazilian publisher of Capricho magazine teamed up with Coca-Cola.FM and the JWT advertising agency to launch a campaign marking the radio station's first anniversary.
"Readers could roll up the magazine and, using a pre-cut slot, insert their iPhone into what had become a tube acting as a remarkably powerful iPhone amplifier," Innovations said.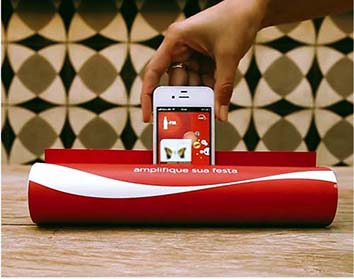 Coca-Cola.FM anniversary campaign (Courtesy FIPP)
The growing applications field has also meant fierce competition for magazines and their readers, so the book dedicated a chapter on how to make them "appetizing."
It provided a handy checklist of the best apps' characteristics that included social media sharing, geolocation service and animated graphics, to name a few.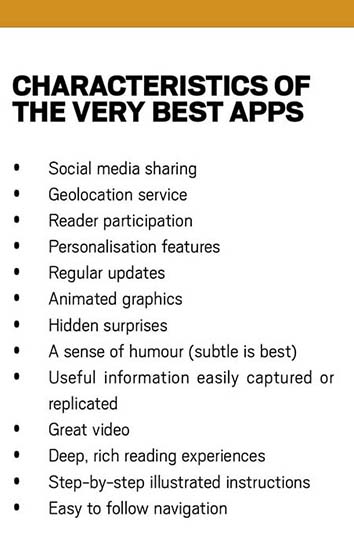 Best apps characteristics (Courtesy FIPP)