"Rule Britannia, Britannia rules the waves."
So went the song in colonial and post-colonial times (for nostalgia seekers).
But today's harsh realities and cascading financial crises have people in Britain singing a different tune.
The former British Empire seems to rule the ripples on the Thames instead, taking a back seat to emerging economies and licking the wounds of a financial crisis that has left ample scars on ordinary citizens struggling to make ends meet.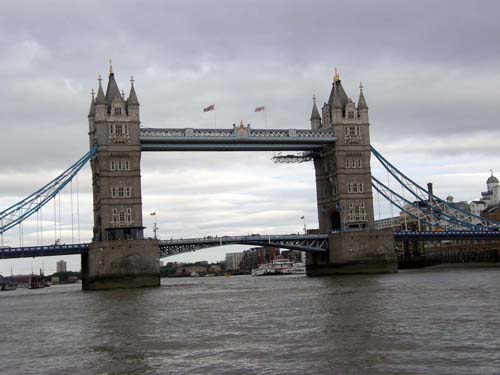 Britannia rules the ripples on the Thames (Abu-Fadil)
Heavy taxation, reduced services, high prices and failing policies are tugging at everyone's purse strings.
The heydays of Beatlemania when the rock scene helped British exports and Britannia ruled the airwaves -- if not the oceans -- seem a distant memory as Britons suffer the double indignities of tightening their belts across increasingly widening girths.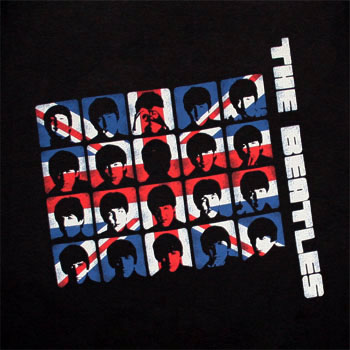 Beatlemania's heyday remembered fondly (teesforall.com)
Recent reports feature an alarming rate of obesity that may catch up with an existing one in the United States.
"It's awfully tough, what with the government slashing budgets," a British waiter told me on a recent business trip to London.
Earlier this month, Francis Maude, the minister for the Cabinet Office, demanded that heads of blue-chip companies cut the cost of services they provide to the government.
According to City A.M., a free tabloid handed to subway riders and describing itself as "business with personality," the chief executives of leading British companies were told to chip in and help reduce the country's budget deficit.
"I am laying down the challenge to major government suppliers to ask them what they can do to take costs out of contracts," Maude was quoted as saying.
According to Bloomberg, banks are also facing a rough ride, with the head of UK Financial Investments -- overseer of the government's bank stakes -- stepping down amid turmoil on whether retail and investment banking should be separated.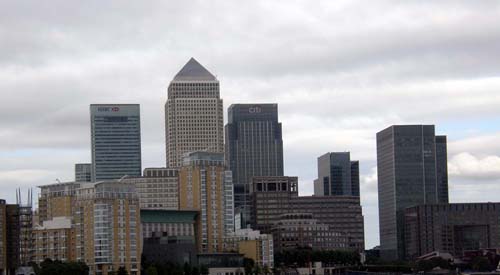 Grey skies over London banks (Abu-Fadil)
This adds fuel to the fire of pension benefits that Britain's (relatively) new government plans to slash.
Airlines are also feeling the pinch with British Airways taking several recent hits as flight attendants and staffers went on rolling strikes, stranding passengers or disrupting flights across the globe.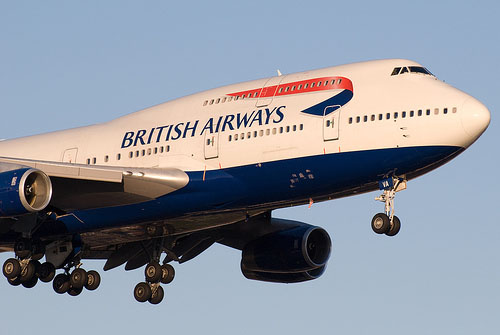 British Airways strikes ground/slow flights (airlinepost.com)
I feared being stuck in Rio de Janeiro last month with a non-refundable BA ticket after speaking at a conference during one of those strikes, as flights to Europe were fully booked.
But at least I didn't have to pay for my luggage.
Easyjet is advertising the advantage of its one-way flights on which passengers only pay 9 Sterling Pounds ($13.77) to check in a 20-kilogram (44-lb) bag against Ryanair's 30 Sterling Pounds ($45.92).
"We rest our case," the newspaper ad announced smugly in typical wry pun fashion.
Cutbacks are also being painfully felt as more businesses tank.
"Insolvencies set to escalate," headlined one business article, predicting the levels of distress would continue at a high pitch for several successive quarters in line with previous recessions over the past 35 years.
That's bad news for small businesses, but micro start-ups could benefit and gain in popularity in an era of tight credit, wrote Kathleen Brooks in City A.M.
She quoted a spokesman for the Federation of Small Business saying more people were likely to start small businesses from their homes to keep a lid on costs.
Biting the bullet is an understatement for the usually unflappable Brits who are being asked to fathom up to 40% cuts in government ministries and agencies, the largest such reductions since World War II, according to the Financial Times.
It's a hard pill to swallow for those needing reasonable housing in London where real estate costs are stratospheric by many standards.
The London Evening Standard reported ministers had axed vital affordable housing projects across the capital when the government changed hands from Labour to the Conservative Party in a bid to keep deficits in check.
The paring knife is digging deeper into the wound as officials warn London faces the worst housing crisis in decades.
It cited a survey that found 54% of young Londoners expected to wait at least 10 years before they could own a home.
In another piece, the paper pointed to cost-cutting measures at the Ritz Hotel, one of the world's toniest, where housekeeping staffers are asked to recycle or salvage soap, shampoo and even remnants of toilet rolls from the rooms of distinguished guests.
"Once the rich and famous have left their rooms and suites -- for which they pay up to 6,000 Sterling Pounds ($9,178) a night -- maids are told to decant half-empty bottles of liquid soap so they can be used in the dispensers in the staff facilities and the gents' lavatories," it said.
It's a sorry state of affairs I felt during a London stay where my hosts put a group of guests up in Spartan "serviced" apartments in Canary Wharf, a business district far from downtown, where the "service" was sorely missing.
Our three-night/four-day stay necessitated we share the two-bedroom flats with other guests to a workshop we attended. Nobody asked our views on the matter.
The place wasn't cleaned daily, toiletries were scant and not replenished during our visit, and the tiny rooms lacked air conditioning during a particularly hot summer week, making our stay unpleasant.
Even the TV set was blurry and nobody bothered to fix it.
Adding insult to injury, the hosts provided each guest with 33 Sterling Pounds ($50.48) to pay for two breakfasts, two dinners and a lunch not covered in the program where below-par meals were served.
They calculated a reception we attended at the House of Lords with lukewarm white wine -- Brits drink their beer warm -- and puny canapes were substitutes for a meal.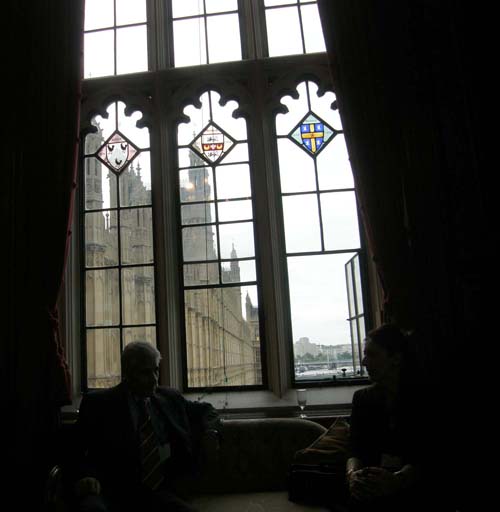 House of Lords River Room (Abu-Fadil)
It reminded us of Ronald Reagan's administration considering ketchup a vegetable in public schools.
One bright spot, however: major sales in stores.
SUBSCRIBE TO & FOLLOW WORLD POST