French first lady Carla Bruni reportedly buried the hatchet with rival and co-social climber Rachida Dati, the French justice minister who helped President Nicolas Sarkozy reach the Elysée Palace, because Bruni made sure Dati was out of the loop, according to the media.
Dati, the petite unwed recent mother of a baby whose father is unknown -- the press claimed she said it was former Spanish premier José Maria Aznar or a Qatari VIP -- had been on the receiving end of Bruni's barbs about how Rachida fancied sharing the president's bed.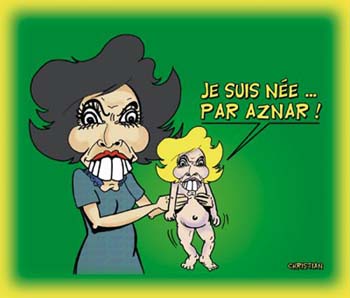 Dati's baby: "Aznar is my dad" (Christian)
To which Dati is said to have replied that Sarkozy's ex, her friend Cécilia, was a wonderful woman.
It's a soap opera-turned- cartoon strip book documenting in scathing detail the unfolding developments of Sarkozy's "coronation," the women's machinations, and the media's drooling coverage of their palace intrigues.
Carla & Carlito: Ou La vie du Chateau (Carla and Carlito, a derogatory name for a diminutive Nicolas: Life from the Palace), is a loaded 64-page hardback cartoon story that delights in the players' clawing their way to the top.
It accurately recounts how Sarkozy became president, his breakup with second wife Cécilia, hooking up with Italian model/singer/composer Carla Bruni and their wedding, the dumping of campaign spokeswoman/justice minister Dati after she fell afoul of the current spouse, and his plans for the future.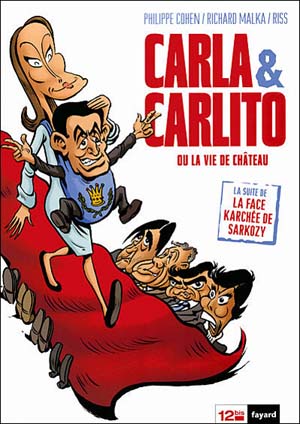 The book's front cover is telling: Carla, who towers over a short Nicolas and has turned to wearing flats to counterbalance his heels, is seen carrying a baby-like Sarkozy in a maternal front pouch across a palace red carpet rolled out over his discarded buddies, including Dati at the far end.
The back cover shows Sarkozy standing in a gallery of late French leaders, including Charles de Gaulle (whose party he supported), and grumbling about having to quote the departed figures.
Another strip has him admiring rich business leaders, politicians, and rock star Mick Jagger, one of Carla Bruni's ex-boyfriends, in a jibe at the president's passion for power, money and glamor.
The tale opens with Cécilia undergoing therapy at a clinic grouping other Sarkozy rejects -- advisers, officials and friends -- commiserating about their fate, and weaves through events uncovering his ingratitude to those who helped him make it.
Cécilia, with whom Sarkozy had a son, has since married her third husband. Nicolas and Cécilia both have children from previous spouses whereas Bruni had a son out of wedlock from a former beau.

Carla & Carlito: Ou La vie du Chateau also unveils the women's play for media attention - Dati, the lawyer of Arab, Muslim North African origins turned fashionista hobnobbing with the glitterati and kingmakers, versus Bruni, the rich pinup, who the critics claimed tried to divert attention from her husband's sinking poll figures by releasing nude pictures of herself, and later an album of songs that pro-palace media praised her highly.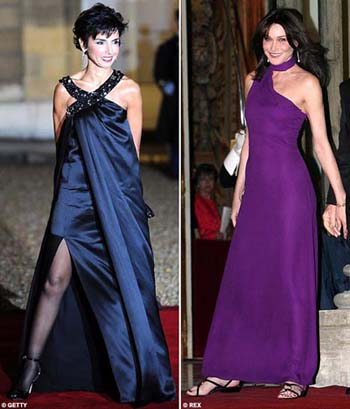 Dati (Getty) and Bruni (Rex)
But Dati jumps ship to the Socialist Party with other former Sarkozy allies in the book where she tells them derisively: "You have no idea what's become of the Elysée since Marie-Antoinette moved in."
The discredited minister was recently featured in a TV special and in an uncomplimentary book that Bruni apparently told friends she enjoyed reading.
Throughout the cartoon book Sarkozy shows off his very expensive watches and aviator glasses and jetsets with the rich and famous, whose yachts, planes and chateaus he frequents.
In one scene he's break dancing and quoted saying: "I've got the power." In another, he reminds everyone he was elected president for five years, like it or not, and doesn't shy from using obscenities in public and calling detractors names.
The book's authors and designers featured the Sarkozys' meeting with Queen Elizabeth during a visit to Britain, where Bruni appeared schoolmarmish and curtsied to the monarch, in contrast to her wild days and revealing attire.
In the next panel Bruni is smoking a joint in the palace near a working "Sarko" and a file entitled "Repression of drug users."
Previously, as interior minister, Sarkozy, nicknamed Bling-Bling (http://www.huffingtonpost.com/magda-abufadil/sarko-blingbling-flin_b_93434.html), was noted for cleaning up what he termed the "racaille" (trash) of unemployed and poor immigrants in suburban tenements who occasionally exploded into riots.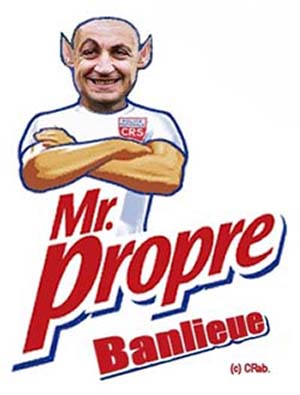 Mr. Clean suburbs (CPab)
A sore point with French journalists, as featured in the book, is Sarkozy's appointment of Foreign Minister Bernard Kouchner's paramour TV anchorwoman Christine Ockrent to head a key station and his decision to cut advertising from state-run channels to benefit his rich friends' private media companies.
Cronyism and nepotism are also tackled in the book, with rapier references to Nicolas's son Jean (from the first wife) that the president helped to become a legislator in his home district of Neuilly by obliterating a former friend and colleague of the senior Sarkozy.
"I'm going to screw them all, just like Dad does," the 21-year-old Jean tells two friends over beers, weeds and video games in his apartment.
Elsewhere, Jean kowtows to a royal Bruni, served with husband Nicolas by attentive butlers. But it's to prepare "junior" for the challenge ahead.
On the book's last page, Nicolas and Carla are sunbathing on a remote tropical island where he debates whether to run for a second term.
Then he suggests Carla take a jab at the presidency, as she's adored by the masses and given her history of supporting leftist causes, adding she could keep the seat warm for son Jean to take over in 2017.
Carla & Carlito: Ou La vie du Chateau is the third in a series of cartoon books that began with "Sarko 1er" (Sarko the First), with a cover of Sarkozy dressed Napolean-style marching through the palace.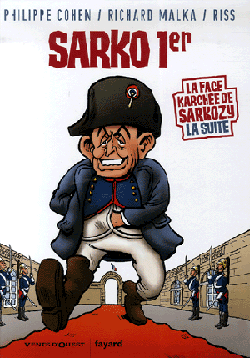 Second was La face karchée de Sarkozy, a pun on the hidden face (dark side) of the moon and the president's vow to hose down the restive, filth-infested suburbs.
On the cover, Sarkozy hoses down his Socialist Party rivals.