While countless Blackberry users in the United Arab Emirates (UAE) are distraught about an expected October ban on applications supporting emails, messaging and Internet browsing, others in the Arab region are already considering Plan B.
"If the UAE goes ahead with the ban on messenger and email on October 11, and the ban lasts, I will switch to another PC-type solution, and iPhone as a last resort," said Alma Kadragic, Academic Program Developer for Australia's University of Wollongong in Dubai.
American Kadragic, a former journalist for a TV network, is combining home leave with some business in the U.S., and hopping from her base in Abu Dhabi to New York, Denver, Las Vegas, Orlando, Miami, and Orlando, armed only with her BlackBerry.
Her month-long trip without a laptop is much easier given the number of airport checks, and, because BlackBerry allows her to keep in touch at all times -- something she's gotten used to in the two years she's had it.
In Lebanon, where talk of possible restrictions on BlackBerry's messaging and browsing services seems to have fizzled for now, users are still attached to their devices but willing to consider alternatives.
"The only good feature for me is the push mail," said Nada Abdelsamad, a veteran journalist and head of the BBC's Arabic service in Lebanon. "Accordingly, I get all my emails the minute they are sent."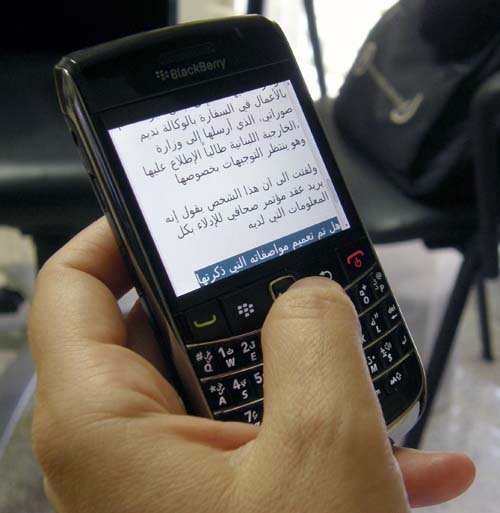 Nada Abdelsamad enjoys BlackBerry's push mail feature (Abu-Fadil)
Despite her satisfaction with the instant email service, Abdelsamad would definitely consider another hand-held if it had push mail and was less expensive.
She pays a monthly fee of $40 dollars, plus 10% value added tax. Local telecom Alfa advertises a $9.50 weekly service for 24 MB of use.
BlackBerry Alfa newspaper ad in Lebanon (Abu-Fadil)
"iPhone, for instance, is much better than BlackBerry in light of its options, but in Lebanon BlackBerry is so far the only mobile phone that has push mail," Abdelsamad added.
She feels the hype about security issues is exaggerated because users can control their own privacy settings, and she opposes government control over the disputed applications, citing an aversion to any kind of monitoring or censorship in a country that has to date enjoyed a wider margin of freedom than its Arab neighbors.
Kadragic is not in favor of governments accessing all messages and emails without specific permission from a court where some kind of convincing documentation has been presented by authorities.
"In countries where citizens and even visitors do not have the civil rights protection that Americans enjoy and the level of surveillance is high, I value the apparent privacy that BlackBerry offers," she insisted.
The New York-based Committee to Protect Journalists said the government's plan to disable the devices "will make the UAE a less hospitable place for the journalists and undermine efforts to make the kingdom a global media center."
"Why fear BlackBerry services?" headlined an article in the pan-Arab daily Asharq Al-Awsat, asking rhetorically how the UAE ban and threats to access users' emails or messages differed from what already exists in the U.S.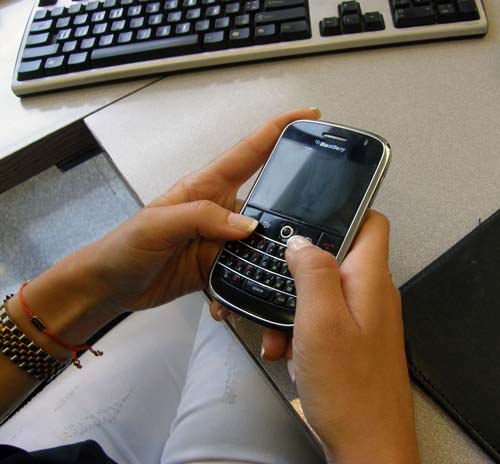 Lebanese bank employee finds her BlackBerry indispensible (Abu-Fadil)
It quoted an IT expert as saying that Research in Motion (RIM), BlackBerry's mother company, had succumbed to pressures from the U.S. to access users' information on matters of national security and terrorism, given the huge American market at stake.
"Britain and the U.S. passed laws to implement legislation and to help the state challenge telecoms to access their services...and the organizing authority in each country exercised legislative authority to protect the public interest," it said, adding that the countries had additional contractual rights in keeping with licensing agreements they signed with the network operators.
The UAE ban, and similar checks on BlackBerry applications in other countries, stem from concerns by security-conscious governments with an aversion to dissent or running battles with terrorists and spies using high-tech devices and hard-to-trace content.
In traditionally conservative Gulf Arab societies, there's also the fear hand-held devices are being used to disseminate pornography and frowned-upon behavior.
Earlier this month, Agence France-Presse (AFP) reported from Dubai -- a key UAE commercial and media hub -- that the country's Telecommunications Regulatory Authority had complained the BlackBerry service "could allow people to use some of its applications 'inappropriately.'"
It also said the decision to suspend indefinitely much-needed applications for countless users followed accusations by the Paris-based media watchdog Reporters Without Borders that the UAE had harassed and arrested users of BlackBerry Messenger who allegedly tried to organize a protest against increased petrol prices.
According to the Associated Press, the Dubai government cited a potential security threat because encrypted data sent on the devices is moved abroad, where it circumvents local monitoring for potential illegal activities.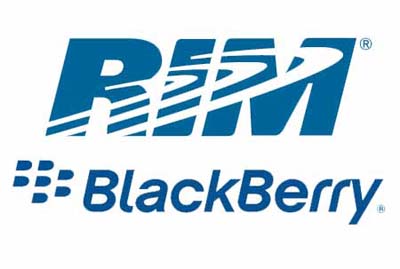 But for Kadragic, it's also the convenience of not having to lug her laptop to hotels where she'd want to have it secured, and instead using her BlackBerry to communicate with the world.
"I don't believe the UAE will go through with the ban," she concluded. "It would be a major blow to attempts to be, and look, modern."

FOLLOW HUFFPOST