Abu Dhabi is slated to become the hottest new international media hub, if Rupert Murdoch and like-minded moguls have their druthers, but the region's leaders should loosen press restrictions and open up to foreign competitors to thrive.
"By welcoming foreign competition, you will call your people to their best - and cultivate a world-class industry on par with the finance and oil giants that now dominate this region," News Corp chief Murdoch told an invitation-only audience at the Abu Dhabi Media Summit 2010 (http://www.admediasummit.com) this week.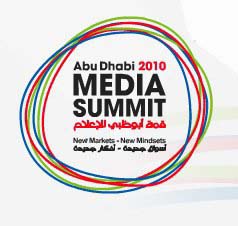 He also urged the country's leaders to ease their grip on the media and tolerate criticism if they wished to succeed in the global market.
"In the face of an inconvenient story, it can be tempting to resort to censorship or civil or criminal laws to try to bury it," he said, noting that in the long run, such measures were counterproductive.
Markets that distort their media end up promoting the very panic and distrust they had hoped to control, he added.
Murdoch also announced News Corp would set up its Middle East online advertising operations in Abu Dhabi, and move a number of Hong Kong-based satellite TV channels to the United Arab Emirates.
"We will establish a production office here for one of our documentary film-making companies," he said.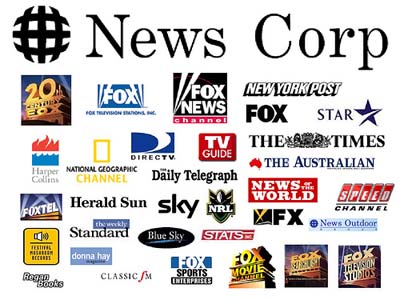 Murdoch's exhortations and announcement came on the heels of a mega deal with Saudi Arabian billionaire Prince Alwaleed bin Talal.
News Corp (http://www.newscorp.com) acquired a 9.09 per cent stake of newly-issued shares in the latter's Rotana Group (www.rotana.net), a leading Middle East firm of TV satellite channels, at a cool $70 million.
News Corp also has an option to increase its stake in the 18 months following completion, allowing Murdoch to make further inroads into a growing market of over 330 million people.
Last year, Murdoch's plans for the region ruffled feathers, given his strong support for Israel, with news he'd shoved his foot in the media door through Rotana, which owns shares in Lebanon's LBC Satellite channel (http://www.huffingtonpost.com/magda-abufadil/lebanons-lbc-tv-rides-lay_b_341335.html).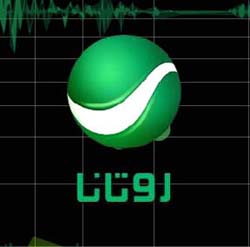 Rotana logo
But politics notwithstanding, the Abu Dhabi Media Summit is thought to have set the stage for a major transformation of that United Arab Emirate from a more reclusive presidency of the Gulf federation to an international media player.
Although flashy neighboring Dubai has to date been the undisputed leader in the region with its Media City (http://www.dubaimediacity.com) hosting countless news and entertainment organizations, Abu Dhabi's low-key approach is slowly turning it into a news hub for the likes of CNN (www.cnn.com), which began broadcasting from studios there in recent months.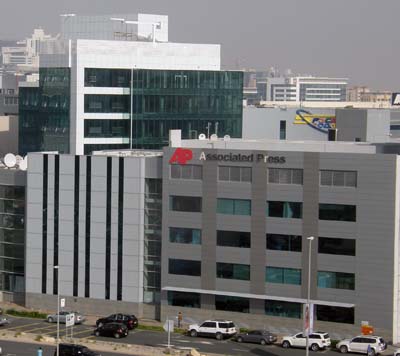 Dubai is regional hub for news organizations (Abu-Fadil)
An Arab media analyst credits UAE Foreign Minister Sheikh Abdallah bin Zayed Al Nahyan for the beefed up media presence.
Sheikh Abdallah, the late ruler's son, was his country's information minister and as a young man interned at the headquarters of an international news agency, where he is thought to have acquired a taste for the industry.
Google, represented by CEO Eric Schmidt, is seeing its fastest revenue and user growth in the Middle East/North Africa region, Gulf News quoted the company chief as telling summit participants, although he apparently declined to provide specific numbers.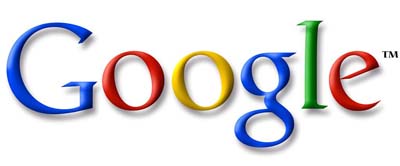 Schmidt also said there was a shortage of Arabic content, and that Arabic websites were slow to be developed.
The media summit drew almost 500 global media leaders and delegates, including AOL CEO Tim Armstrong, incoming Ericsson CEO Hans Vestberg, Turkey's Dogan Media Group Vice Chairman Mehmet Ali Yalçindag, and Murdoch partner Prince Alwaleed bin Talal, to name a few.
But critics dubbed it a summit for CEOs and geeks that excluded journalists from covering it first-hand.
Dubai-based Gulf News (www.gulfnews.com) business features editor Scott Shuey complained in a blog post that reporters were relegated to a room away from the conference where they could watch, remotely, industry heavyweights talk about the growing interactivity that digital media provides.
Members of the media were banned from interacting with the participants, Shuey said, adding that he was joined by some 50 reporters in a room adjacent to the conference hall with access limited to two 50" or so flat screen TV sets on opposite walls.
"I'm pretty sure irony wasn't meant to be on the agenda," he wrote of the event hosted by the Abu Dhabi Media Company (http://www.admedia.ae), a three-year-old venture describing itself as one of the fastest growing, multi-platform media organizations in the region.

The company is headquartered in Abu Dhabi and has offices in Cairo, Dubai and Washington D.C.
Summit participants from the media, technology and investment sectors also focused on the growing Middle East, Indian and Chinese markets, as well as new challenges for media brand marketers in the digital age.
They debated the importance of creating quality content in the Arab world, its distribution, and expanding demand for broadband across the region.
The Middle East/North Africa region is said to have one of the highest percentages of youth in the world, and one of the fastest growing Internet penetration rates.
According to news reports, this will lead to an exponential increase in demand for Arabic-language content, both in the UAE and across the region, making Abu Dhabi an ideal venue to capitalize on the trend.

SUBSCRIBE TO & FOLLOW TRUMP'S FIRST 100 DAYS
How will Donald Trump's first 100 days impact YOU? Subscribe, choose the community that you most identify with or want to learn more about and we'll send you the news that matters most once a week throughout Trump's first 100 days in office. Learn more