A schoolmarm she is not. In fact, Ouhoud Al Fahad, the one-time teacher is a strikingly attractive, coquettish, smart, articulate and ambitious brunette who lights up TV screens as a news anchor on a leading Arab satellite channel.
Her combative arguments countering a fellow Saudi Islamist on an Al Jazeera talk show of all venues triggered admiration and a job offer to work at the pan-Arab LBC Sat TV station based in Lebanon where she has been writing, reading and reporting the news since 2006.
"It was luck, it was the first thing I did not initiate," said the engaging 28-year-old about becoming the first Saudi female TV news anchor on an Arab station, adding that the career change was totally unplanned.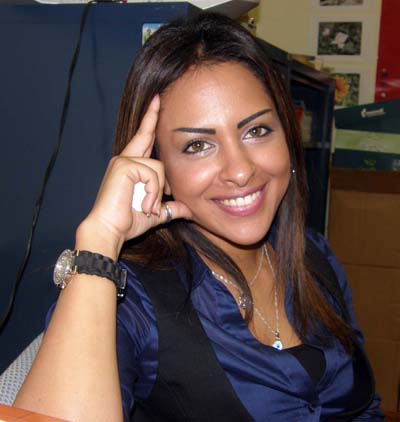 Ouhoud Al Fahad (Abu-Fadil)

By her own admission, she was at a different level in her life, doubling as a graduate student in education at the American University of Beirut (AUB) and as a part-time teacher of English at a local school.
Her concerns were tests, paperwork, and her students, she said.
"Then there was that program on a Saturday night. Monday I got a phone call from the programs director Marwan Matni at LBC Sat. I met with him and he offered me a job in February 2006 and I began training until I signed the contract in October," she recalled.

There were four Saudi women students on that talk show hosted by Al Jazeera's Ghassan Ben Geddo but Al Fahad was the most vocal among them when a male compatriot roused her anger by attacking his own government.
The show focused on whether Gulf Arab youth saw a monster in Iran like many of their governments in the region did. Did they agree with their governments' policies, the host said they would be asked ahead of the program's airing?
In his introduction, Ben Geddo apparently criticized Saudi Arabia and its policies, the first inkling Al Fahad had that the show would be extremely controversial. Saudi Arabia and Qatar, home to Al Jazeera, have been traditional Gulf rivals, with the latter being on better terms with Iran than its larger neighbor.
Worse yet for Al Fahad was the presence among the show's guests of a Saudi male student whom she knew from another university in Lebanon whose father was a jihadist opposition figure.
"He got on his high horse and used terminology that was unacceptable. He lives on another planet," she said incredulously. "The government is paying for his education and he's in Lebanon attacking it."
The irate Al Fahad took the microphone and told her countryman that Saudi Arabia, despite all the pressures exercised against it, had been able to maintain a balanced foreign policy and asked why he was being educated in Lebanon at Saudi expense.
"Then I told the host I never knew that terrorists were sent on scholarships to go and fight and blow themselves up. This is not logical," she added.
That's when the host turned red and said there was no time to turn the discussion to Saudi Arabia.
Al Fahad's boss at LBC Sat later told her she had floored the host and his guest and that he admired how she had handled the situation.
"I love my country and I'm able to see what's right and wrong and can criticize to correct mistakes," she said. "I appreciate that people are being educated abroad and that Saudi society has changed."
That learning experience that she credits AUB with providing her began with a BA in education which her family funded before returning to do an MA in the same field on a Saudi government scholarship.
"What helped was being an AUB student. It's not like you're living in Lebanon. When you're at AUB, it's like you can rule the world," she said of the holistic approach at the institution where she and her colleagues were never attached to books.
They had to act, she emphasized. Books were there on the desk, as a reference. It was the person in the classroom that made a difference.
The shift in gears was an education in itself. Being telegenic doesn't hurt, she agreed.
The training at LBC Sat involved content, appearance, technical matters, gestures, how to address guests, and writing for broadcast media.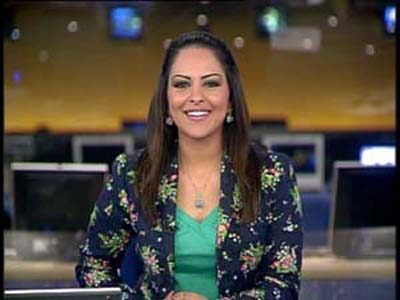 Ouhoud Al Fahad anchoring news
"I learned everything by doing," she said. "Just because I anchor doesn't mean I don't do reports. In my contract, I'm an anchor, a news writer, and a reporter but someone else edits"
The fast learner with a slight American accent picked up skills from the way colleagues at the station operate. She called it a constant workshop.

She acknowledged that she still had much to learn and accomplish but refusesd to step over people to attain her goals despite the cutthroat nature of the TV news business.
Al Fahad is heartened by the social changes she sees in her country, with young educated Saudis returning to fill key jobs.
It helps to have had educated parents. Her mother studied medicine and her father was the first person in the kingdom who was fully fluent in French and managed to work with countless French companies at a time when English was the only language of business.
"We've since progressed," she concluded with satisfaction.