American student reporters cutting their teeth on crime beats and city hall debates rarely worry about their personal safety or stories becoming explosive political footballs.
Not so their Lebanese counterparts who, along with focusing on studies, occasionally dodge bullets, rockets and bombs in attempts to cover events, and who are constrained by university or government regulations.
"I have had so many articles pulled by the administration this year, although I would not call it outright censorship," said Milia Ayache, editor in chief of Outlook, the American University of Beirut's (AUB) weekly newspaper produced by a group of dedicated student journalists wanting to make a difference.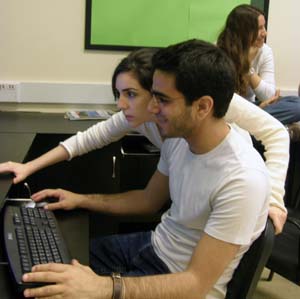 Editor Milia Ayache guides reporter
Joulan Abdel Khalek (Abu-Fadil)
Ayache said university officials usually urge the paper's staffers to play it safe, since what she believes to be freedom of speech issues could ignite something dangerous on campus.
"This has really bothered me, because if the students aren't cutting edge and provoking the university, then no one is," she said, adding that the young journalists did not have the luxury of provocation.
But provocation in a country that has not fully recovered from a 15-year civil war that ended in 1990 and that remains a victim of its own political baggage as well as of regional and international tussles can only exacerbate matters, university officials argue.
Given Lebanon's volatile domestic politics, its geographic position in a "rather tough neighborhood" and its history of being the soft underbelly of the Arab world, it's a wonder the country has maintained a modicum of press freedom in a region not famous for it.
It's also admirable that dedicated young reporters not majoring in journalism would enthusiastically produce a student newspaper under difficult, and sometimes impossible, conditions, and remind older hacks of ideals and spunk.
In May, internecine violence pitting anti- and pro-government forces led to urban battles in Beirut and fighting in some mountain regions southeast of the Lebanese capital that left scores dead and wounded.
The near two-week conflagration also meant cut off roads, inaccessibility to Beirut international airport, paralysis of the country's main seaport, a halt to imports and exports, and fear of all-out civil war.
University classes were temporarily suspended and production of the paper was set back as Lebanese students were holed up at home or stranded in dorms and foreign students were evacuated out of the country for the duration of the hostilities.
The eventual truce, despite subsequent recurring incidents in the country's north and election of a Lebanese president -- following a six-month vacuum caused by a constitutional crisis - prompted Outlookers to double their efforts and come out with an issue covering that delayed election and their own ordeals during the violence.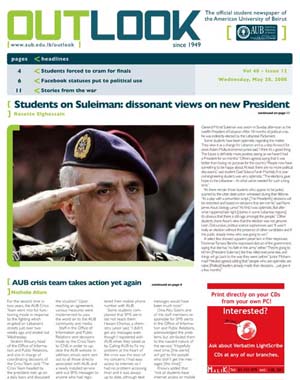 Paper published following disruptive urban
violence
It was a juggling act for the cub journalists at the non-political, non-sectarian paper (in a country divided along sectarian lines and where political news requires a government license). The students also had to catch up on missed classes and cram for final exams.
Over the months, the editors and reporters have been asked to tone down their exuberance, notably on politically sensitive matters, Ayache said. "I've had to revise half my editorials for being potentially inflammatory."
Although the university's administration draws the line at certain articles or editorials, Ayache
decides on topics at staff meetings after she and the member-at-large suggest themes and events.
"In theory, I have as much say as I want as long as I don't infringe upon Lebanese law," she explained.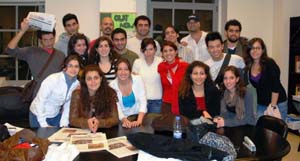 U.S. comedy team Axis of Evil visits Outlook office
(Outlook)
According to Ayache, the Outlook board functions to produce the newspaper. The assistant and associate editors "sub" incoming copy, while the member-at-large scours the university and its vicinity for interesting topics to cover.
Writers, photographers and graphic designers fill the ranks while a faculty adviser provides guidance.
The business manager brings in advertisements to help support the paper, but its production costs are underwritten by AUB. Outlook bylaws state the paper should be distributed to the university community free of charge.
The editor decides who sits on the board but past editors have been bullied into accepting or removing members belonging to one political party, or faction, or another.
"Under my editorship, I have been fortunate enough not to have been pressured to place politically motivated individuals on my board," Ayache said.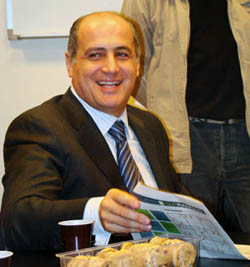 Outlook hosts Lebanese TV star
Marcel Ghanem (Outlook)
Outlook, which began in 1949 and was issued a non-political license by Lebanon's information minister in 1957, was suspended during the civil war. It was in hiatus until it resumed publication in 1997, first as a monthly, then as a weekly.
During Lebanon's heady pre-civil war days as the "Paris, or Switzerland, of the Middle East," AUB was a center of political activism marked by significant regional and international events that translated into highly charged political expression in the student paper.
Outlook reporters and editors of the late 1960s and early 1970s were noted for their high visibility and involvement in demonstrations supporting pan-Arab causes just as their American counterparts took to the streets to protest the draft and Vietnam War.
Ayache, who graduates later this summer with a major in English literature and a minor in political studies after a busy year at Outlook's helm, will hand over the baton to two women co-editors. Her predecessor was an equally determined woman.
"I learned so much from all three of my predecessors. They were all strong women, trying to change their world a little," she noted.
She urges her successors to preserve the neutrality of this year's editorship by not allowing it to slip into a political mouthpiece and hopes the paper will be taken more seriously.
"This is difficult as we have no journalism major at AUB, and the people working at Outlook are just a bunch of passionate students eager to better the university and affect change," she added.

FOLLOW HUFFPOST