Yemenis fight taboos, corruption with investigative journalism
Yemen is on an anti-corruption kick with journalists acquiring investigative skills and women slated to become the next Woodwards and Bernsteins, given their spunk and enthusiasm for such work, albeit within their own modest context.
Sensitive subjects in a conservative patriarchal society and lurking dangers seemed no deterrent to a group of women journalists in a workshop meant to steel them for the rigors ahead.
"I'll tackle the rape of women by relatives, and its social implications," said Kafa Al Hashli of her proposed investigation aimed at "outing" the subject and exposing its detrimental long-term effects on the country.
Al Hashli, an editor at Al Ayam newspaper, was to cover five of the country's provinces to familiarize Yemeni women with their legal and social rights, and to win acceptance of them and their children through civil society organizations.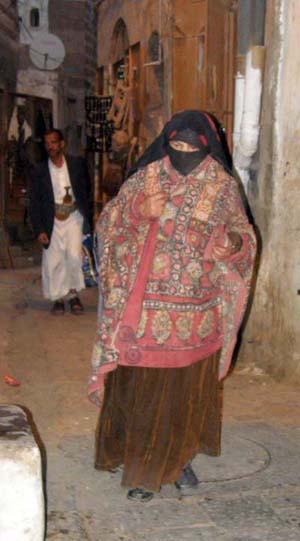 Some Yemeni women face family rapists (Abu-Fadil)
Although she planned to approach social workers, lawyers, police investigators and doctors who perform abortions or operations to restore unmarried women's virginity, hers is no easy task.
Yemeni journalists face constraints; not least of which are their news organizations' meager resources, low salaries and the possibility superiors may not approve investigative projects.
Yemen's illiteracy rate hovers around 60-70 percent, depending on whose statistics one believes, the country at the southern end of the Arabian Peninsula is considered one of the poorest in the Arab world, and journalists, much less the female variety, are not always accorded the greatest respect.
Additionally, freedom of information is not a given, despite a guarantee of such liberty in Yemen's press and publications law of 1990, so access to data can be difficult.
Yemeni journalists point to harassment for publishing controversial issues given laws that can trip the most able-bodied investigator.
But it's also a matter of poor qualifications, explained Sami Ghaleb, editor of the independent, but financially strapped, weekly newspaper Al Nidaa'.
"There is a problem with investigative reports in Yemen and journalists operate unprofessionally," he said from his spartan office, pointing to a shortage of resources and below-par university curricula based mostly on theoretical journalism courses.
Political, professional and financial limitations notwithstanding, Yemeni journalists are proceeding with hot potato investigations such as the smuggling of children.
"We aim to familiarize listeners with the danger of this social phenomenon, the reasons behind it, and appropriate solutions to deal with it," wrote Yehia El Hazzar and Fahd Al Mahyoub in a proposal on tackling child nabbing in Yemen.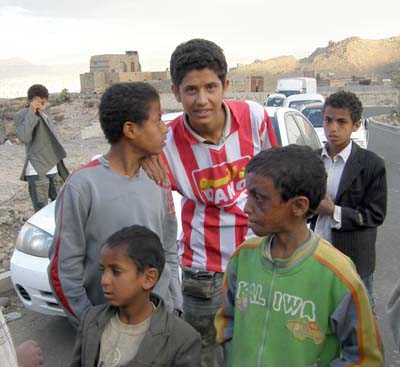 Yemeni children could face smugglers (Abu-Fadil)
The staffers at Radio Hejja, in the northwest, were two of 30 reporters and editors from print and broadcast media participating in the investigative journalism workshop in the capital Sana'a, conducted by the Journalism Training Program (JTP) that provided hands-on learning in a milieu unaccustomed to critical thinking.
Other workshop participants took on the prevalence of arms - increasingly among minors - as well as financial corruption within government ranks, the proliferation of illegal medical centers, negligence in hospitals, the sale of expired medication, torture in Yemeni prisons, and questionable construction standards, to name a few issues.
The journalists who hailed from all over were selected on the basis of balanced regional representation from Yemen's various governorates (provinces) and in keeping with political sensitivities.
There was a disparity in their professional experience. Some journalists were more attuned to multimedia and receptive to new ways of gathering information, or the notion of investigative journalism.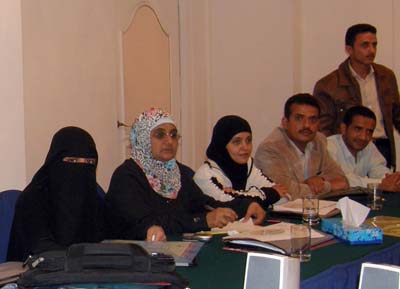 Yemenis learning to become investigative journalists (Abu-Fadil)
Others were more accustomed to being spoon-fed information by officials of various stripes and not amenable to enterprise reporting, notably since they worked for government-run media or were outright state apparatchiks.
But a colleague and I on assignment for the American University of Beirut's JTP made them watch the 1970s classic "All the President's Men" with Arabic subtitles, which really impressed the journalists, before asking them to come up with story lines and areas to probe for their respective assignments.
The positive vibes from the training is music to the ears of Women Journalists Without Chains (WJWC), a Yemeni NGO seeped in transparency and advocacy work. The organization has a track record of fighting corruption and has published a book on the subject that can be found at www.womenpress.org.
According to WJWC President Tawakkol Abdel Salam Karman, "We offer what others don't: holding senior government officials and judges accountable."

WJWC President Tawakkol Abdel Salam Karman (Abu-Fadil)
The government revoked WJWC's license at one point, withdrew its text messaging service, cloned the organization and barred it from publishing a newspaper, she said.
It seems cloning organizations is a regular occurrence in Yemen whereby fake websites, publications and other products are used for disinformation.
On the flip side, an Information Ministry official told me the government was determined to support the media in combating corruption, adding that journalists had contributed to the resignation of a cabinet member after compiling adequate evidence about his misdeeds.
Asked if journalists faced restrictions, a deputy minister replied: "There are no red lines. Journalists have the right to resort to the courts to obtain information." The only bans are on economic and military secrets.
After joining the international anti-corruption regime, the Yemeni government set up the Supreme National Authority for Combating Corruption, which officials insist is an independent body.
"The best thing about the training was the brainstorming, and the trainers' practical experience, in addition to the Q&A based on real examples and realistic exercises," said a workshop participant, adding that showing the film was original.
Emphasizing the need for media ethics was another area the journalists appreciated, along with working in a systematic fashion and learning skills that would help them handle investigative topics to combat corruption in Yemen.
Raddad Mohamed Al-Salami, editor at Al Taghyiir.net website, said: "In five days I learned more than my four years at Yemen University's School of Communication, where the minds of most faculty members stopped with journalism practices of the 1980s and 1970s."

Follow Magda Abu-Fadil on Twitter: www.twitter.com/MagdaAbuFadil