Is Britain's 2010 Shanghai Expo Pavilion a tribute to nature gone awry? Designed by U.K. architect Thomas Heatherwick, the six-story structure is a virtual pin cushion of 60,000, 7.5-meter long (about 25 feet) acrylic "hairs," waving in the wind. Each acrylic rod contains a seed from Kew Garden's millennium seed bank embedded in the end, according to The Architects Website. Sourced from "plentiful resources," the seeds will be on display to visitors, with the aim to highlight the U.K.'s global conservation efforts.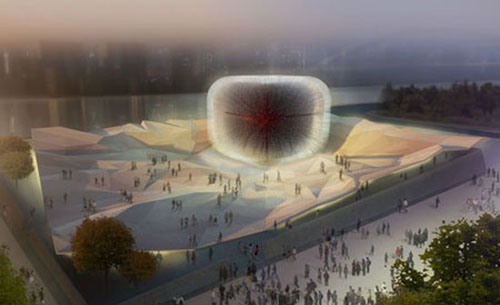 Photo courtesy of Heatherwick Studio
Conservation? It seems there are a couple things wrong with this picture, or what Heatherwick calls the "world's largest ever hairy building." First, did we mention at the height of a global economic crisis, this temporary structure -- which will be torn down at the end of the event -- is priced at a cool £13.2 million (about $21.8 million), and that figure is £1.2 million over budget?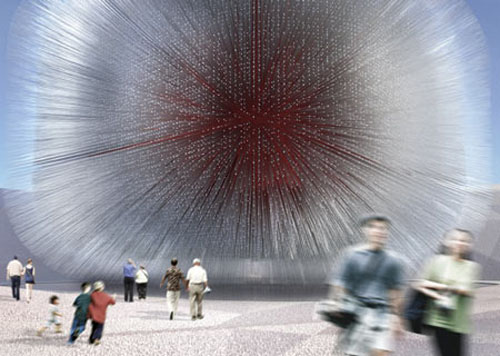 Photo courtesy of Heatherwick Studio
Then there's the fact that acrylic isn't the greenest of materials -- with some 70 million people expected at the 2010 World Expo next May through October (following the theme "Better City, Better Life), conservation is in the spotlight, with non biodegradable plastic tombs? To get down to it, nothing appears particularly green about the building -- which will sit on an "Astroturf-covered angled landscape" and follows no green building criteria -- other than the "conservation" theme.
This is perhaps great symbolism in terms of how far we need to go, when it comes to man's sustainable coexistence with nature. We have the seeds -- but then we stick them in little plastic Tupperware containers and just stare at them.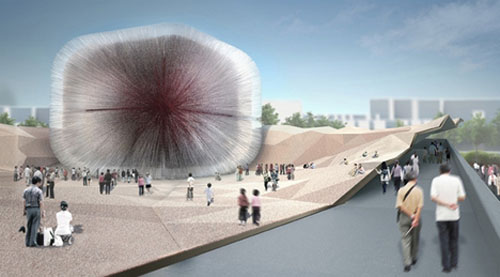 Photo courtesy of Heatherwick Studio
More From TreeHugger and Planet Green on Green Building
When it Comes to Green Building, Does Size Matter?
10 Droolworthy Eco Structures (Slideshow)
Best of Green: Design + Architecture (Slideshow)
10 Awe-Inspiring, Sustainable Designs for a Living World at Cooper Hewitt
More From Mairi Beautyman on Huffington Post
Creators of the Hydrogen 'Urban Car' Attempt to Crush Hydrogen Car Challenges
Germans and Their Scornful View of Tap Water
Could You Live Without a Refrigerator?
The Octuplets and their Massive Carbon Footprint: 30,400 Disposable Diapers and Counting