From PET plastic bottles to pull tabs, tomorrow's fashion will probably be made of trash. In recent months, recycled soda bottle fashion has become increasingly mainstream.
And we certainly have the resources: According to the 2005 Beverage Container Recycling Report, conducted by As You Sow and the Container Recycling Institute, "every year in the U.S., nearly 200 billion beverage containers are sold -- two-thirds of which are landfilled, incinerated, or littered."
So let's continue the trend: Here are six examples of recycled bottle fashion.
Women's Down Sweater from Patagonia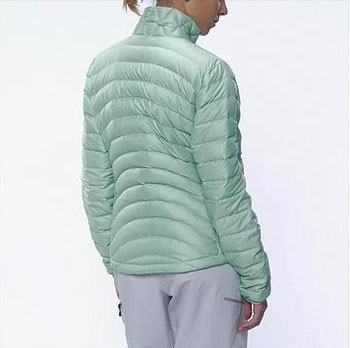 This down sweater from Patagonia is made of recycled bottles. Photo: Patagonia
Most of us are familiar with Patagonia, a front-runner in the emerging arena of recycled bottle fashion. Much of the firm's sporty line is made of polyester fiber from recycled soda bottles.
The EcoGir Suit by Bagir, Available through Sears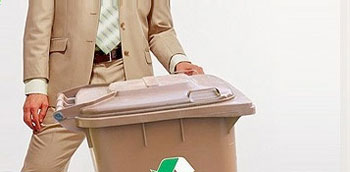 The EcoGir suit by Bagir, available from Sears. Photo: Bagir
But 2008 saw a major break-through in the market, with the debut last Spring of the world's first suit made from recycled PET bottles. Available through mega retailer Sears, and manufactured by U.K. fashion house Bagir, the EcoGir suit is made from PET bottles collected in Japan.
Olympic T-shirts Made from Recycled Coke Bottles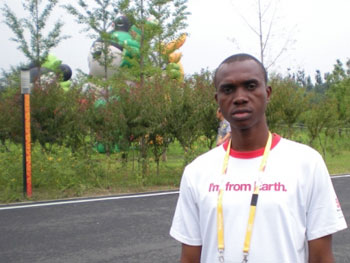 An athlete at the Beijing Olympics in a shirt made of recycled Coke bottles. Photo: Keven Tressler
Then there's the publicity at the Beijing Olympics: Each athlete at the games was given a shirt made out of recycled coke bottles.
Handbags Made from Recycled Aluminum Pull Tabs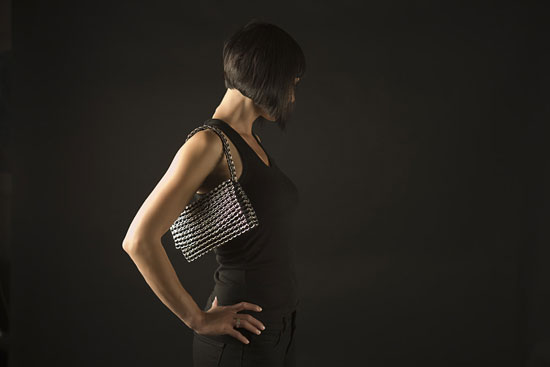 A clutch from Escama Studio. Photo: Escama Studio
And it's not just clothing, accessories are getting the bottle treatment too. How about an elegant clutch made out of recycled aluminum pull tabs from Escama Studio? Each bag is handmade by a Brazilian women's trade collective.
The Technicolor Dream Dress by Gary Harvey.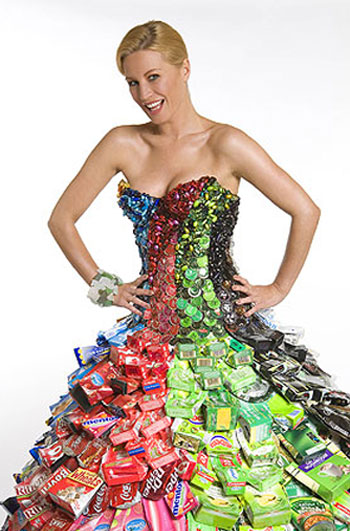 Photo: Christopher Sims
Of course, there have also been a few unrealistic -- though undoubtedly innovative -- attempts at recycled bottle fashion. Take the Technicolor Dream Dress by ethical fashion designer Gary Harvey. It's made from recycled cans, bottle tops, cardboard packaging, glass beads and plastic bags...and will certainly attract attention.
The Juice Pouch Gown by Naturevsfuture Designer Nina Valenti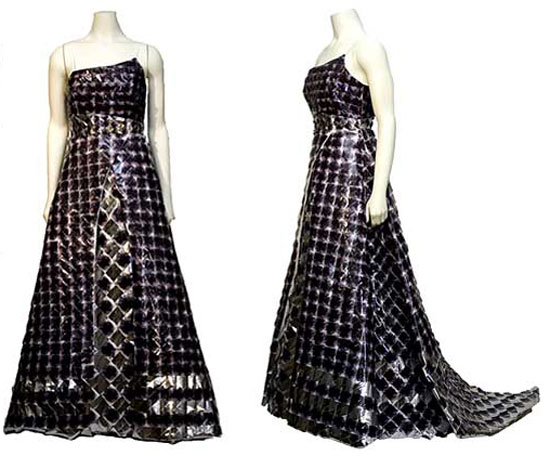 Or perhaps the Recycled Juice Pouch Gown by Naturevsfuture designer Nina Valenti? Over 6,000 used and misprinted juice drink pouches were used to make this creation.
Do you dress in recycled bottles? Comment below!
More From TreeHugger on Recycled Products
::Sears Sells Bagir's Recycled PET Bottle Suit on Father's Day
::Stackable Aluminum Chair Made From Recycled Materials
::Reviewed: TREAD's Recycled-Tire Laptop Case
More From Mairi Beautyman on Huffington Post
::Three Design-Savvy Recycled Salt and Pepper Sets
::Clothing Made from Milk and Bottles Made of Paper? The Eco Design Revolution
::Six Tips to Green Your TV
::Five Products to Green Your Cat
::Terrorists or Heroes? Sea Shepherd Fights for Marine Life
::Does Terrorism Make us Travel Greener?
::Four Organic Ways to Kill Ants
::Two Uncomplicated Reasons to Choose Organic Eggs and Milk
::Do you Really Need a Dryer?
FOLLOW HUFFPOST