You could be racking up your electric bill by just letting spam slip into your inbox. Yes, even when you haven't the slightest desire to "watch Avril Lavigne naked," "purchase cheap and affordable drugs online," or develop a friendship with Melinda who cheekily says "I like that smile big boy," (no matter that you happen to be female).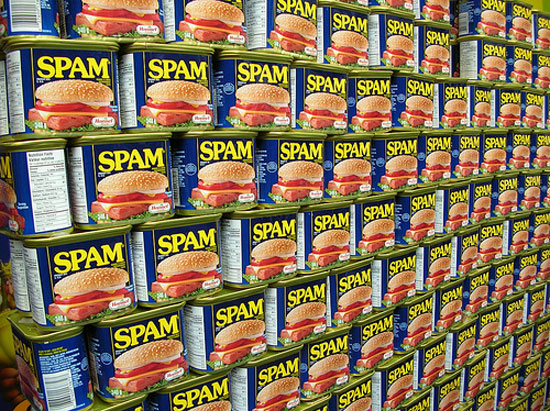 We are talking about the virtual spam here, not the meat delicacy, but you get the point. Photo via Flickr.
According to a report by global professional services firm ICF International for security company McAfee,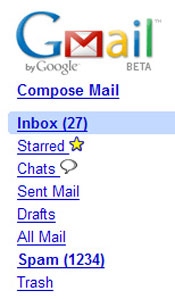 As well as cutting productivity, spam email harms the environment, wasting enough energy each year to power 2.4 million homes. Each year, 62 trillion spam emails are sent, wasting 33 billion kilo watt-hours (KWh) of power.
The report shows that 75 percent of this wasted energy is by us, the end user--consumed during all that time it takes us to delete the unsolicited junk. Therefore, having a smart spam filter is not only necessary for our sanity, it also has the global equivalent of taking 2.3 million cars of the road.
Looking for more ways to green your computer usage? Set your computer for energy savings, invest in an eco pc, and try out these 7 energy saving downloads.
More From TreeHugger and PlantGreen on Internet Usage
Set Your Computer for Energy Savings
The Footprint of Gmail: How Much Energy Would Deleting Email Save
TreeHugger Forums • View topic - we need anti spam
Black Google Would Save 750 Megawatt-Hours a Year
How to Mark Snail Mail as SPAM
Spamming Ain't Green, It's a Waste Machine
More From Mairi Beautyman on Huffington Post
Could You Live Without a Refrigerator?
The Octuplets and their Massive Carbon Footprint: 30,400 Disposable Diapers and Counting
The Top Five Most Popular New Year's Resolutions And How Being Green Can Help You Keep Them
Five Comics Giving (Anti) Environmental Messages
Obama, Bring on the Green White House
Five Ways to Green Your Yoga Workout
SUBSCRIBE TO & FOLLOW THE MORNING EMAIL
Start your workday the right way with the news that matters most. Learn more