Walking through the J. Paul Getty Museum in preparation for a recent class, I ran across the Portrait of John Talbot, later 1st Earl Talbot by Pompeo Batoni, an artist known for his portraits of wealthy Grand Tourists during their stay in Rome. The elegantly dressed Talbot poses casually amidst ancient sculptures - the Ludovisi Mars statue and the Medici Vase - to show off his learned and cultured self. (Batoni was known for paintings of carefree aristocrats surrounded by classical suffrage). Talbot even travelled with his faithful pup, together forever in Batoni's painting.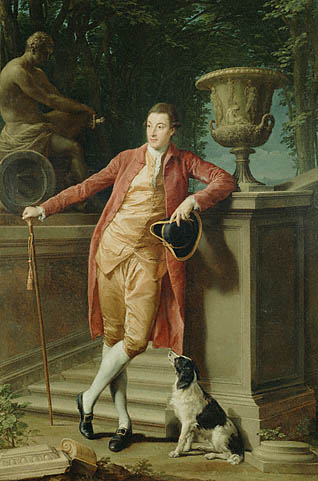 Beginning in the late sixteenth century wealthy young Englishmen, grounded in a thorough education in Greek and Latin, began taking tours through France and Italy in search of art, culture and the roots of Western civilization. The most adventurous would make their way all the way to Greece. With nearly unlimited funds, aristocratic connections, and months (or years) to roam, they commissioned paintings, collected antiquities, perfected their language skills and mingled with the upper crust of the Continent. Their adventures were known as the Grand Tour. The tradition continued for the next 300 years, when it evolved to what we refer to as tourism.
Batoni also painted popes and princes, was curator of the papal collections and his home was the meeting place for Roman intellectuals and the social elite. I can't help but imagine them partaking in some pretty spectacular feasts. Ahh... the thought of being a young aristocrat in eighteenth century Italy makes me want to indulge in a decadent plate of saffron risotto right about now.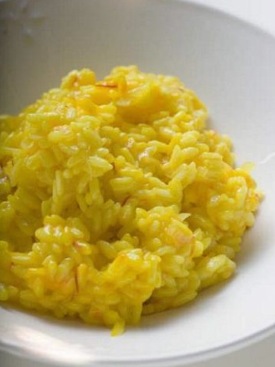 Saffron Risotto
Throughout the centuries saffron has been a symbol of wealth and elegance. Cleopatra used saffron water to keep her skin soft. Roman Emperor Nero sprinkled the streets with saffron water to honor his return to Rome. Persians considered it a tonic for the heart as it was thought to alleviate melancholy. (However, they believed too much of it could produce a state of euphoria and even death from too much laughter!) A spice consisting of the dried stigmas of the saffron crocus, it was introduced into Spain by the Arabs, and later cultivated in Mediterranean regions and elsewhere in Europe. In France it was grown by "safraniers" in the sixteenth century. In England, the Essex town of Saffron Walden became the center of saffron cultivation.
Rice was introduced into Italy during the Middle Ages by Venetian or Genoese merchants, who traded with the east. The earliest documentation of rice cultivation in Italy dates to 1475. Risotto is specific to northern Italy where rice paddies are abundant.
3 ½ cups chicken stock
1 tablespoon olive oil
½ onion, finely chopped
1 cup arborio rice
1 cup dry white wine
generous pinch of saffron
1 tablespoon butter
¼ cup grated Parmesan cheese, plus more for garnish
1. Bring stock to a low simmer in a medium pot.
2. Heat oil in a medium saucepan over medium heat for 1 minute. Cook onion until translucent, about 3 minutes. Add rice and a pinch of salt. Sauté until rice is translucent, 1 to 2 minutes. Add wine and saffron; bring to a simmer, stirring, until rice has absorbed most of wine. Add 2 ladles of stock to rice; simmer, stirring, until rice has absorbed most of stock. Continue adding stock, allowing rice to absorb it before adding the next ladleful. Cook until rice is al dente and mixture is a little loose. Stir in butter.
3. Turn off heat. Stir in grated cheese. Cover and let sit 2 minutes before serving.
image:
Portrait of John Talbot, later 1st Earl Talbot, Pompeo Batoni, Italian, 1773, oil on canvas, J. Paul Getty Museum

FOLLOW HUFFPOST