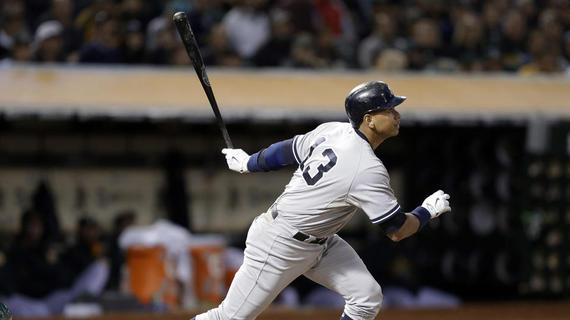 There's a quote to describe the return of Alex Rodriguez. "When life throws you a curveball, it's the opportunity to hit it out of the park." That simplifies the season he's been having thus far. After yesterday's 3-0 loss to the A's, Rodriguez extended his hitting streak to a season-high 10 games. It looks as though he's better at being assigned the designated hitter than playing third base.
"I'm enjoying the game more so probably than ever," said Rodriguez. "As much as probably when I was a teenager. I think in a weird way the year off has been a blessing in disguise. I was able to alter my off-season workouts a little bit, got a chance to heal and train. I think the training was good for me, lastly I think the range of motions that I go through in my workout regime has actually helped me swing."
Coming off a season-long ban by Major League baseball for his involvement in the Biogenesis scandal, Rodriguez came back better than ever. Two months into the season, the 21-year veteran has become the Yankees top hitter, slugging 11 home runs and driving in 27 runs. His .281 batting average is his best average since 2009, the season he finished 10th in the American League MVP voting.
"It's just an adjustment," he explained. "Switching from shortstop to third base to being a designated hitter. It's all about finding a routine that makes you comfortable. For me it's a work in progress but so far so good."
It's an honor for Rodriguez to don the pin-stripes again. He wondered if he'd ever play the sport he refers to as his "first love". His battle with MLB left many to speculate where his priorities were. The Rodriguez media frenzy became more popular than his performance on the field. Now, he's done a complete 360. Choosing to put the game first and everything else second, Rodriguez is more humbled and focused.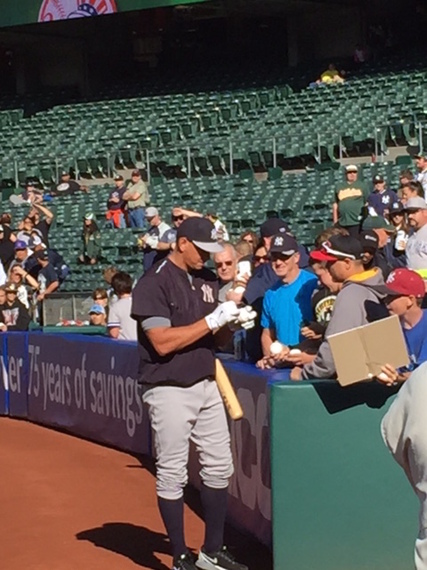 Earlier this season, he passed Willie Mays (660) for fourth place on the career home run list. He passed Lou Gehrig's American League record for RBI's. Four days ago, Rodriguez tied Barry Bonds for second place on MLB's All-Time RBI list at 1,996. He's now 301 behind Hank Aaron, whose total is 2,297. A-Rod is one of the biggest surprises this season, and at the pace he's going he can easily finish the season with more than 30 home runs for the first time since 2010.
"He's a different guy, a different person," Hall of Famer and former Yankees player Reggie Jackson said. "He paid his dues and in America if you pay your dues people let it go. He's still very productive, he'll probably hit 30 or more home runs and that's a big season for anybody."
Though Rodriguez may make it look easy, he still has ways to go. There's a lot of baseball left to be played and while breaking records aren't his highest priority, becoming a better person is. The usual fanfare that's followed A-Rod over the years is less distracting. He's become a better teammate, person and baseball player. When asked if he appreciated playing the game more now than before his suspension, he simply replied: "Yeah. No question. I'm so happy to be playing baseball no matter how poorly I do on the field. A bad day on the field is much better than a day out in the real world."
Once a fierce competitor at shortstop and third base. Rodriguez had hoped to return to his old position. But the transition to designated hitter was much smoother than he imagined. He doesn't have to worry about the extra stress on his body chasing balls at third base. More time in the batting cage and staying in shape is less work, but Rodriguez treats his workouts no differently.
"When your my age it's day to day. I think its just that, I'm loving what I'm doing, DHing has kept me fresher. It not only gives me an opportunity to play more games but also be more productive. I'm a guy that never really gets comfortable," he said. "I'm always on red alert. This game is so difficult, so challenging, there's so many great players and I'm playing with kids sometimes half my age. So, if I relax I'm not going to do myself any favors."
To the younger generation, he's one of the greatest players to play the game. His numbers speaks loud volumes. Rodriguez proved he was a good long ago. A 14-time All-Star, World Series Champion, 3-time AL MVP, and the list goes on. Who knows what he's capable of accomplishing over the next four months. A-Rod's path had many detours in baseball, but now he's a mentor to his younger teammates who desire the same adulation that comes with being one of the best in baseball.
"It's fun playing with him," said teammate Chris Young. "He's probably one of the smartest teammates as far as baseball knowledge that I've ever played with. It's been fun to pick his brain and learn the game from him in trying to get better. He's a cool cat and very approachable."
"You got to be good," said Jackson. It all works when you have ability, Alex still has ability, still has good at-bats. He was gifted with a swing that doesn't really get off line much. He's big and strong all that is an advantage for him."
SUBSCRIBE TO & FOLLOW THE MORNING EMAIL
The Morning Email helps you start your workday with everything you need to know: breaking news, entertainment and a dash of fun. Learn more