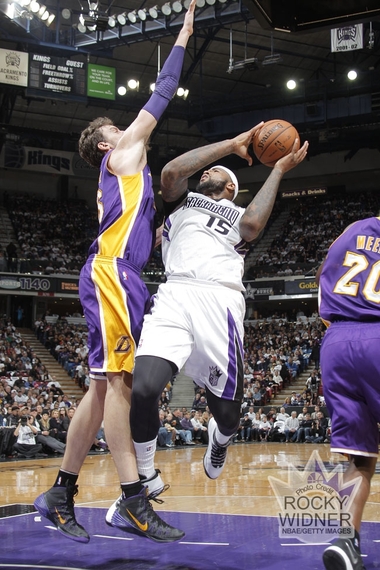 Photo by: Rocky Widner
Sacramento, CA - It's like a bad movie you watch over and over again. The Kings lead in the third quarter and then lose the game in the fourth. One of the key components was again on the bench watching Sacramento fall to the Los Angeles Lakers 106-100.
Isaiah Thomas who missed an easy buzzer beating shot that would've tied the game against Oklahoma City Thunder this past Tuesday scored 21 of his 24 points in the fourth quarter. Tonight, he missed all four of his shots late in the fourth, two of which were blocked on driving layups.
"When you look at our last five or six loses it gets to be the same old thing sometimes," Kings head coach Michael Malone said. "We as a team, have to close these games out."
The Lakers closed the game on a 13-3 run, Jodi Meeks made two huge 3-pointers in the final minutes to finish with 19 points. Sacramento didn't give up easily, they battled to the end but were out dueled on the defensive end. The Lakers blocked five crucial shots in the fourth that changed the momentum of the game.
Pau Gasol hit a jumper that gave the Lakers a 97-95 lead. Meeks knocked down a 3-point shot to extend the lead with 1:09 left in regulation. Wesley Johnson stole the ball from rookie Ben McLemore on the next possession then Nick Young hit jumper to silence the sellout crowd for good at Sleep Train Arena.
"This is just ugly," said point guard Grevis Vasquez. "There's no other name. There's no other adjective I could give to describe this."
DeMarcus Cousins returned to the lineup scoring 20 points and grabbed 11 rebounds. But shot 6-for-17 from the field and turned the ball over six times. McLemore added 20 points and Thomas who was hot in the first half with 14 points went scoreless in the second half. The Kings record their sixth straight loss and head to Utah to take on the Jazz.
As for the Lakers, they get finally get their All-Star back this Sunday when they host the Toronto Raptors. What seemed like forever after Kobe Bryant suffered an Achilles' tendon in a game against the Warriors on April 12, was expected to miss six to nine months. He'll be making his season debut right on time.
"We don't need to stand around and watch him compete," Lakers head coach D'Antoni said when asked about Bryan't return to the lineup. "There's going to be some turbulence ahead, so put your seat belt on and we'll get through it. We as team have to keep competing once he returns."
"It's a really good scenario for when Kobe comes back," said Gasol. "It's great that we've been playing well. To ease him into the team, with no pressure for him to carry to much weight right away. Now the moment we've all been waiting for is finally here."