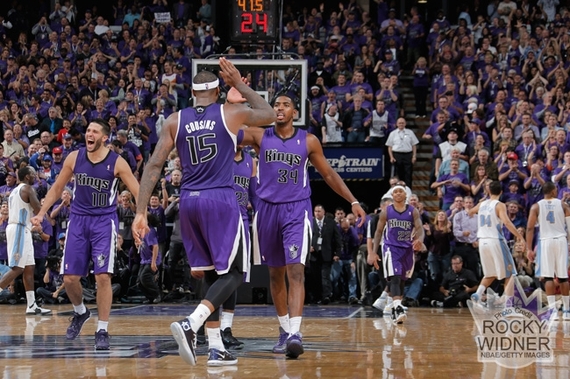 Photo by Rodney Wildner
Sacramento, CA - During the finals seconds of regulation, the Sacramento Kings were down by two points. Demarcus Cousins who finished the night with 30 points and 14 rebounds missed an easy layup under the basket. Jason Thompson got the rebound and followed with a monster dunk for the lead and the 90-88 win over the Denver Nuggets.
"To his [Jason's] credit he only came in and made one field goal tonight and it was the winning field goal," said head coach Mike Malone. "He was very active on that last defensive stand where we got that stop."
In a battle of rookie coaches, Malone led his Kings to a start the season 1-0 over Brain Shaw's Nuggets. It was a good effort by Denver who challenged Sacramento in every way. Veteran guard Andre Miller came off the bench to spark Denver's run in the second quarter scoring 10 points on 5-for-6 shooting off the bench.
Ty Lawson scored 20 points but missed a crucial tying shot in the closing seconds for the Nuggets. No fouls and good defense forced the the guard to shoot a reverse layup over Thompson that failed. Denver got the ball back out of bounds with 0.9 seconds remaining and Randy Foye missed an off-balance jumper at the buzzer.
"I made an aggressive energy play and it just happened to be the game-winner," Jason said.
Thompson did not start and had less than 20 minutes of action but provided the necessary defense in the end along with the game-winning shot. Cousins who struggled with discipline and his game in years past see's the positives in this years team and mentorship that Shaquille O'Neal brought while sitting courtside.
"He was coaching me through the game a lot," said Demarcus. "He sent me a text at halftime. I'm glad he came and supported us. Hopefully we'll see him around more often."
"He has to be more than a one-way player," Malone said. "He has to be the guy who defends at a high level for us and I thought he did a decent job of that for us tonight."
It was a "Shaq-tacular" affair to kick off the season opener. Kings new minority owner O'Neal and Commissioner David Stern were in attendance as the team's owner Vivek Ranadive honored Stern with a key to the city and a hard hat in case he wanted to find work after his retirement this upcoming February.
After three years of uncertainty on if the team would relocate, the future of the franchise now looks more promising with new management, a head coach and a new arena to be debuted next year in downtown Sacramento. Tonight, was the celebration to thank the fans that was capped off with a victory.
"There was so much hoopla going into this game, rightfully so for our fans, for our mayor, for our owner," Mike explained. "It was a great way to celebrate. To win on this night was great for the fans most importantly and our players.