Dmitry Prut, Owner and Founder of AVANT GALLERY
As the art world prepares to descend on the sunny shores of Southern Florida for the uber cool behemoth that has become Art Basel Miami -- a few local galleries are preparing to stand their ground (pregnant pause). For now we will forget the dangerous laws that govern the Gunshine State and focus on beauty, truth, art and the Avant Gallery.
Recently in a sneak peek of Art Basel Miami, CBS News created an interesting list of top galleries based in Miami year round and one that seems to hover above the rest with groundbreaking exhibitions and an impressive roster of international collectors is Avant Gallery.
Avant Gallery is the brainchild and entrepreneurial passion of New York native Dmitry Prut. I personally became familiar with the Avant Gallery last year this same time after reading about them simultaneously on the New York Post's Page Six as well as a great number of the more established and academic art blogs and periodicals. I must admit I found something about this unique cross-lateral approach to exposing artists to the public and collectors intriguing, if not downright cool. Therefore, as I began planning my own decent on my hometown of Miami, my curiosity and persistence resulted in me convincing the busy and savvy Mr. Prut to sit down for a quick interview before his upcoming breakthrough exhibition during Art Basel. In a major art-world coup it turns out the Avant Gallery will be hosting and exhibiting the long awaited Most Beautiful Woman in the World portrait by the enigmatic Russian born artist Roman Kriheli as well as unveiling 13 works by the artist that haven't been seen for almost 20 years. So it was only fitting that I ask Mr. Dmitry Prut to join us in a round of 13 Questions:
1. When and why did you decide to open Avant Gallery?

In 2007, it started as a passion project and my first entrepreneurial venture after coming down to Miami from New York City. I grew up as an artist however I eventually abandoned the idea of pursuing an art career and instead focused on business. After spending some time in the corporate world, mainly the sports & entertainment space, I was fortunate to meet some movers and shakers like Mark Cuban, Sean Combs, Woody Johnson, Robert Johnson, Jack Welch and the late Robert Tisch. Their entrepreneurial energy really inspired me to do something on my own. And art was the first thing that naturally called me.

2. What inspires you when choosing artists to represent?

Firstly, I am always inspired by the artist and then hopefully his or her work. Then as an entrepreneur, I am also inspired by artwork that I can see hanging on the walls of the gallery -- while ultimately hoping our clients can also see the work being installed on their walls.

3. What separates Avant Gallery from the other local and international galleries that come to Miami for Art Basel?

I think it's our hybrid nature of combining art and design, but also our wide range of genres and mediums that kind of play along together. Aesthetically clients have come to know us for our boldness, edginess and at the same time our dedication to originality, integrity as well as our focus on investment-quality.

4. Are you ever intimidated by the larger galleries when the circus also known as Art Basel comes to town.

Absolutely not. Everyone does their own thing and it's certainly a great time for comradery. Art Basel has a phenomenal effect on the city of Miami -- it's probably safe to say that it's one of the best times of the year anywhere in the world in terms of the combination of culture, weather and the best events. And this isn't exclusive to the art industry but also luxury, fashion and spirits -- all mingling amongst each other.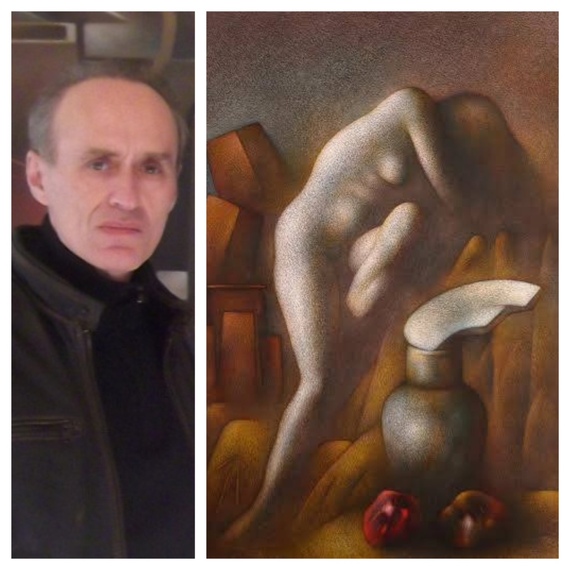 Roman Kriheli / "BARE" Oil on Canvas (46 x 60) @1989
5. For your upcoming Art Basel Exhibition you have chosen the much sought after and elusive Roman Kriheli. How did this major coup come about?

After following all the recent industry buzz surrounding Mr. Kriheli, I immediately became enamored by his aesthetic as well as the boldness in which this true master pays respect and homage to neo-classism. But it was also his range in style that drew me in. Roman is an exceptional talent and I'm quite honored to exclusively represent his work during Art Basel.

6. How does it feel breaking into the spotlight with the other major galleries from New York and around the world?

Well we've put in the smart and hard work and luckily have been around the block a bit. This is our seventh major exhibition during this time of the year and it is quite exciting to be a part of the collective energy as well as being recognized for our progression.

7. Do you have plans to open other galleries? If so, where, when and why?

Besides our new second Miami location at the Epic Hotel where we're exhibiting Mr. Kriheli's show entitled "un:VEILED", we're also actively evaluating opportunities in other cosmopolitan cities around the world. Our clientele is very much global, and I feel that Avant is now ripe and ready to explore other markets in the very near future.
8. As an rising star in the art world, what would you say really wakes you up in the morning?

Definitely not the alarm clock haha. I have a mental alarm clock that gets me up and pushes me straight into a job and career that I love. Not only do I wake up for myself, I also wake up to represent the artists Avant Gallery has chosen to support as well as to provide a service to our engaged clients and loyal collectors.

9. You have built a reputation of turning artists into mega-stars? Has this always been your intention?

In regards to artist development with the younger talent and emerging artists, the intention is unquestionably to help them grow creatively, share success and make it a win-win. Some even say there's also a certain je ne se quoi to the Avant Gallery brand, and it makes it a bit easier in terms of progressing the careers of our artists as well as meeting the expectations of our clients.

10. What is your favorite aspect of being a gallery owner?

I love art, I love business, and being able to build a special brand in this market segment is very rewarding given all the challenges you encounter on the way. I'm not sure how and why I was so fortunate to find this path -- but I'm happy and lucky that I did.

11. What is your least favorite aspect of owning and operating an art gallery?

As in any business, it's important to share your passion with the people you deal with, and especially in the creative and subjective business space there will be some naysayers and nonbelievers, and you've just gotta go with your gut many times over... And then many times after that...

12. In hindsight what was the most difficult part of reaching your current success?

For sure it would be 'barriers to entry' such as signing deals with the more established artists. Those things only happen when the time is right and having signed the reclusive Roman Kriheli for his first show in over 20 years -- I personally believe should make this less of an obstacle in the future. Also raising funds was not easy either -- as with any entrepreneurial endeavor. Initially it took quite a while to prove to financiers to believe in Avant Gallery and that again happened in due time after a lengthy bumpy road. But the bumpy roads, obstacles and barriers have only made success even sweeter and more rewarding, as those are typically the things that must first break you before they make you.

13. Final question -- wine or spirits -- and why?

Depends on the occasion -- While wine is great with dinner, spirits are terrific to celebrate something special, such as the upcoming Louis XIII-hosted unveiling ceremony at Roman Kriheli's show. I know this may seem like a shameless plug, but Louis XIII has shown tremendous support for artists as well as Avant Gallery and should be applauded as true patrons of the arts.
Photo courtesy of Avant Gallery / @richard Patterson
Photo courtesy of @RomanKriheli
FOLLOW HUFFPOST