A pin drop could be heard as I attempted to tip-toe lightly into Donna Karan's beautifully and dimly lit Urban Zen Foundation event space in Manhattan's Meatpacking District for The Million Women's Heart Project Summit. Fashionably late, my entrance went quite unnoticed as the 200 plus women (and sprinkling of men) in attendance sat quietly transfixed on the dais which included guest speakers ABC's Deborah Roberts, Ali Wentworth, Donna Karan, and Law & Orders' S. Epatha Merkerson, to name a few. As I surveyed the room, it was clear these well heeled women were all present and seriously ready to take on their mission of getting one million women tested for heart disease.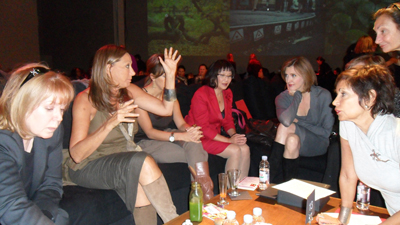 The Million Women's Heart Project has been created by Events of the Heart's co-founders Pamela Serure and Carole Isenberg to address the current reality of heart disease as the number one health threat to women. The frightening fact is that most women are entirely unaware they are at risk. However, this is a fact I believe is about to change as the goal of the project is to encourage women to be screened for cholesterol, blood sugar and high blood pressure as well as to urge their family and friends to do the same.
According to Ms. Serure, who suffered a heart attack at the age of 47,
"The Million Women's Heart Project will also collect one million stories about the lives of these women. These personal narratives tie into our collection of compelling stories we've assembled since we launched EOH. It's a sort of "Angina Monologues" if you will, which we've turned into theatrical performances which we take across the country with many well-known actors inspiring women to take care of their hearts."
Although she couldn't physically attend the event, actress Eva Longoria delivered an impassioned video plea from Wisteria Lane to all of her "Latina Sisters." Eva pleaded with viewers to get tested and informed that "Heart disease is a deadly disease within our (Latina) community with devastating statistics."
"Most women don't think heart disease is their No. 1 health threat," says Carole Isenberg, who is perhaps best known as the producer of The Color Purple and The Women of Brewster Place. "Our biggest mission through this initiative is awareness and education as this is a threat to women that is 80% preventable."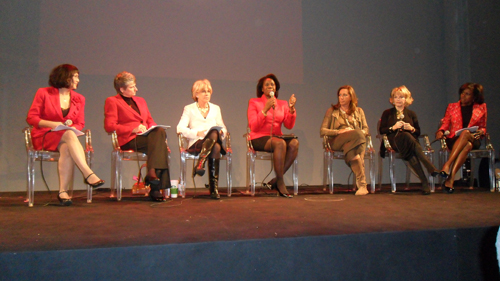 Once the panel discussion ended I was able to steal a few moments from the ever so gracious and generous Donna Karan. When asked how she found time with her busy schedule to get involved with this inspiring project, Donna explained, "The Urban Zen Foundation's mission is to connect and collaborate with other organizations that raise awareness and inspire change in the areas of well-being and empowering women. Therefore, it made for the perfect marriage with Events of the Heart and assisting them in reaching their goals." I thought to myself if this summit is the perfect marriage, then Mr. GoLightly would love to be a fly on the wall for the honeymoon. These women had clearly become galvanized and energized by attending this event and were ready to bring their message to the world.
As I made my way back into the sunlight of Manhattan, I pulled out my trusted BlackBerry and began to BBM, email, facebook, twitter and call all the women I HEART and urged them to get tested.
SUBSCRIBE AND FOLLOW
Get top stories and blog posts emailed to me each day. Newsletters may offer personalized content or advertisements.
Learn more