Alexander McQueen (British, 1969-2010) / Damien Hirst's Spot Painting
Recently, as Mister GoLightly sat quietly perched at yet another one of those fancy events where fashion meets art meets commerce, I was approached by a very well-known and gregarious gallery owner. He was full of smiles and compliments, but there was something strange about the way he put his arm around my shoulder that I instinctively knew the fix was in. LOL... But before I had an opportunity to process the game or register the angle, the following powerful and poignant (wink-wink) words came flowing from his mouth, "You know my friend, fashion is the new art."
I couldn't believe what I was hearing. One of the visionaries and leaders in the world of art was formally declaring fashion as the new art. In my head, I could hear the voice of the British comedian Catherine Tate's hysterically closeted gay character, Derek. "I beg pardon. How very dare you! I've never been so insulted. Just because designers don't go around screaming and shouting - I'm an artist, I'm an artist, doesn't mean we are ready to take it up the shoot from the first gallery owner dangling a big fat hairy carrot in our faces. How very dare you!" But as the conversation continued with a barrage of zeitgeist side-notes and references, my bat signals really began to tingle. It was truly amazing as I could physically feel "the big ask" percolating in his gut, travelling through his vocal chords and finally whispering into my ear, "How would you like to curate a fashion exhibition for the gallery?" The ask was once again followed by my inner Derek, "Who dear, me dear, curate dear, no dear."
The BBC's Catherine Tate as Derek
I must admit I find this all a bit fascinating as a few years ago when I was working solely as a fashion designer, I honestly couldn't get myself arrested. Well that's not completely true, but I'll be saving all the juicy bits for the book. But in all seriousness, there was just something about the world of fashion that seemed to be a bit off kilter, no one seemed to be taking anything seriously. Here we were collectively heading for a cliff and everyone around me was still sipping champagne and tripping the lights fantastic. While I understand fashion is meant to be fun and all that jazz, the actual business of fashion is a dog eat mink world. For a person that at times has literally given his blood, sweat and tears to this industry, the notion that people are just now "seriously" looking at fashion as a true art form seems a bit insulting. Or in the words of Derek, downright impertinent!
I don't think there is a sculptor alive that has more calluses or pricks on his fingers and hands as a young designer toiling away in his studio apartment or a couturier in his grande atelier. What painter has struggled more within the confines of the canvas than a fashion designer attempting to frame the ever changing silhouette of the modern woman. I am also sure there isn't a mixed-media artist worth his or her salt that hasn't looked at the beautiful fashion films over the past few years and marveled with a hint of envy. And of course, it is absolutely impossible to throw a stick without hitting a critic who hasn't looked at the fruit of these creative labors and posed the question, "Is this art?"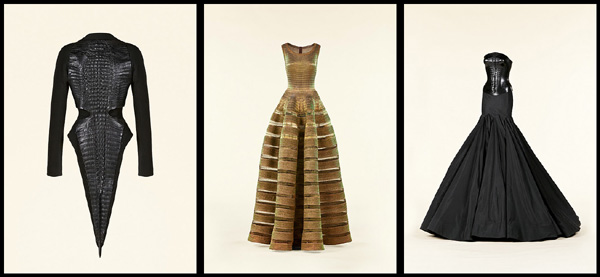 @Azzedine Alaia in the 21st century, Courtesy of the Groninger Museum
Never before in the history of modern and contemporary art have we been able to see so many fashion designers, dear or alive, have their work displayed and archived in the great museums of the world. Perfect examples are Azzedine Alai at the Groninger Museum in the Netherlands, the record breaking Alexander McQueen "Savage Beauty" exhibition at the Metropolitan Museum of Art in New York City, the recent opening of threeASFOUR's highly anticipated exhibition "Insalaam Inshalom" at the Beit Ha'Ir Museum in Tel Aviv. And now Valentino Garavani has taken it even a step further by curating and archiving his own groundbreaking virtual museum (www.valentino-garavani-archives.org). If fashion is not art, than I ask - what is art?
But there was something about the way this gallery owner attempted to pull me into his confidence that slightly unnerved me instead of making me feel secure. In retrospect, I compare it to the same feeling a sheep must have when being corralled into the small quarters where they are to be sheared for their prized wool. Thank goodness the best sheep are only sheared and not killed. Now for some, a bit of shearing might not be so bad, but for an artist being sheared is comparable to death. While later pondering the gallery owner's proposition with a friend, she gave me the lecture which of course always ends with, "Stop being an artist." This statement in my opinion only serves as further proof that designers are only called artists when it suits the particular argument.
As fashion designers the proof we seek has never been in the validity of our work. However for "the suits" or anointed gallery owners, the proof appears to be in the question, "How much is it worth?" or better yet, "How much can we sell it for?"
Now that there is a proven customer base and marketplace for one-of-a-kind Hermes Bags selling for a whopping $205,000, a frock worn by a deceased British songstress at $67,500, sold out backpacks designed by bag ladies for $39,000 a pop; of course the savvy interlopers realize the fashion industry is just a stone's throw away from presenting one-of-kind Marc Jacobs' offerings propped on a mannequin selling for $1.5 million. As gross and vulgar as this conspicuous consumption must all seem, we mere mortals must also keep in mind - we are in a recession. Our wealthy counterparts - are not. The extremely wealthy for the most part are still having the time of their lives as was clearly evident by the decadence and debauchery of the recent gathering. And who can blame them? If you have it - spend it. It stimulates the economy. But I digress...
Unlike traditional fine-artists, modern and contemporary fashion designers have already begun finding their way into the museum system as well as private collections. But is this the evolution that will definitively separate true high fashion from ready-to-wear or street-wear now that haute-couture for all intents and purposes is officially dead? Will true high fashion now be presented exclusively in galleries and sold at auctions? Will fashion come with a tag that reads, "Please Don't Wear the Art"? It takes most painters and sculptors a lifetime before they ever (if ever) find their work within the hallowed halls of a museum. The fact that fashion designers have traditionally used the catwalk as our gallery, perhaps this makes fashion the highest art form of them all. But I'm bias, and a bit delusional -but who cares, I'm an artist. And by the looks of things, it looks like I will also be adding curator to my list of professions. Which makes me wonder, imagine how magical life could be if we all dared to break free from titles, labels or professions? Imagine if we all very dared...
So here I am, once again, stuck between a rock and an art place. "Who dear, me dear, curator dear, yes dear."
@Alexander McQueen Photo Courtesy of The Metropolitan Museum of Art, Photograph © Sølve Sundsbø / Art + Commerce
SUBSCRIBE TO & FOLLOW LIFESTYLE
HuffPost Lifestyle is a daily newsletter that will make you happier and healthier — one email at a time. Learn more