Anyone who has ever driven north or south on Interstate 91 through Springfield, Mass. knows that the city is home to the Naismith Memorial Basketball Hall of Fame. You can't miss the big b'ball that tops a soaring spire near the silver domed museum, which of course draws scores of euphoric hoop-lovers from all over the world. But for travelers who believe Springfield to be a one-stop wonder, think again.
Here are Ten Things You Probably Didn't Know About Springfield, Massachusetts:
1. The Springfield Armory was one of two arsenals commissioned by George Washington in 1777. (The other was in Harper's Ferry, WV - historically famous for John Brown's raid in 1859, an event said to have set off the Civil War). In 1843, Henry Wadsworth Longfellow was inspired to write his anti-warm poem, The Arsenal at Springfield after a visit there. He called the stacks and rows of rifles "Organs of Muskets," and if you visit you can see what he meant. During its heyday - World War II - 15,500 workers (42 percent women!) churned out hundreds of thousand of M1 Rifles per year, totaling over 3.5 million. Housing the world's largest collection of American military guns, The Springfield Armory Historic Site does not glorify gun culture, but deftly informs visitors about the innovative technology of weapons development over the years. It is arguably Springfield's most compelling but unsung attraction.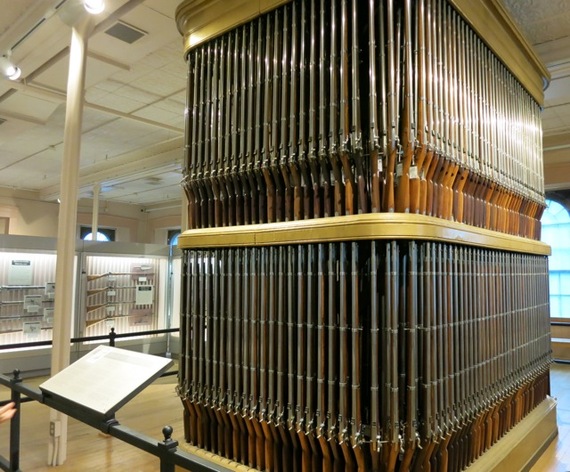 2. AM Sports Radio 1450 broadcasts right from the Naismith Memorial Basketball Hall of Fame and you can watch announcers and interviewees through the window in the entry of the "World's Premier Basketball Museum." You can also stand in athlete's footprints while watching videos of season highlights, try to palm a basketball, compare your "wingspan" with that of Kevin Durant's impressive 7'5", and pay tribute to your favorite players. Then shoot hoops in a regulation-size Center Court.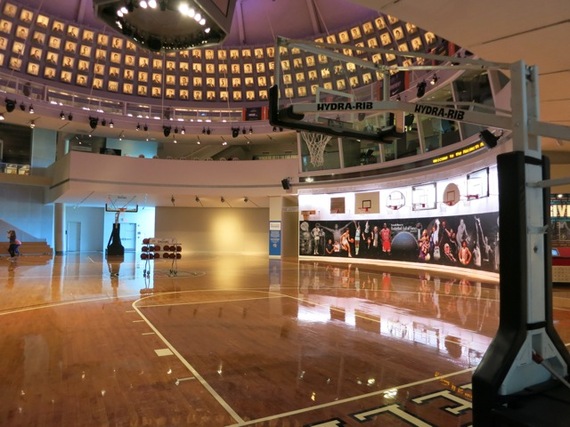 3. One of the largest, if not the largest taxidermied Python in the world - 26 feet long - sits unceremoniously over the gift shop door of the Springfield Science Museum. The Museum has a slew of other great exhibits, but this is inadvertently it's biggest surprise.
4. Built in 1895, the George Walter Vincent Smith Museum is Victorian-Era eccentricity at its best. Not only does this architecturally significant Italianate Villa styled institution feature its original Tiffany stained glass windows, it's also home to the most prevalent assemblage of cloisonné outside of China.
4. Springfield is hometown to Dr. Theodore "Seuss" Geisel, and he actually did run a zoo. Or at least his Dad did, and little Ted had the run of it. The elder Theodore was a brew master by trade, put out of business during Prohibition. So, he became the keeper of the Springfield Zoo where his young son was allowed free reign, and it's no great stretch to assume that Dr. Seuss's fantastical creatures stem from this time in his life. In the mid 20th century, Springfield was also highly industrialized, and those smoke-stacked factories also informed Geisel's work (The Lorax and others). Plan a photo op with Theodore or The Cat in the Hat or Horton or any of the several dozen Seuss characters planted in The Dr. Seuss National Memorial Sculpture Garden in the courtyard of the Springfield Museums. Or peruse the exhibit in the Springfield History Museum, which compares the good Dr.'s illustrations with actual photographs of Springfield during his life here.
5. The very first commercially viable motorcycles were manufactured in Springfield, Mass. Beginning in 1901, production of several Indian Motorcycle models reached an apex with the iconic 1928 Indian Scout before the company went out of business in 1953. Owners have waxed so nostalgic about its form and function; several models of The Indian Chief have been revived by Polaris Industries just this year (2013). You can see the largest exhibit of Indian bikes at the Lyman and Merrie Wood Museum of Springfield History, along with several candy-colored Rolls Royce cars also manufactured in Springfield when the luxury carmaker opened a second factory here from 1919-1929.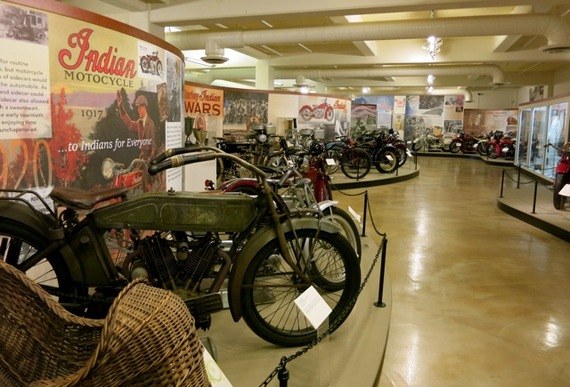 6. As Smith and Wesson was established and is still headquartered in Springfield,
The Museum of Springfield History also displays the largest collection of Smith and Wesson revolvers and pistols, including four silver versions engraved by Tiffany, and the #1 production model of the company's initial Revolver, dated 1858.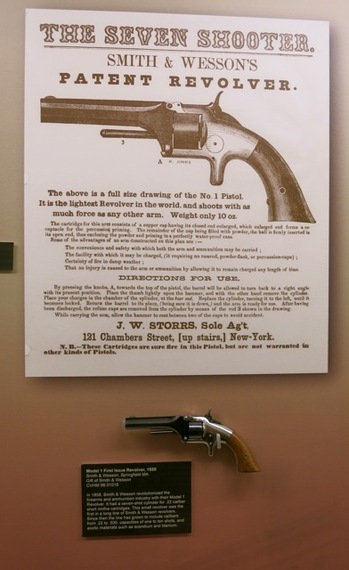 7. What other American icons were launched in Springfield, Mass.? Milton Bradley's Checkered Game of Life, Friendly's Ice Cream, and Breck Shampoo!
8. The Student Prince and Fort has a collection of over 2,000 beer steins crammed into every nook and cranny in this still-wildly popular German restaurant. A local landmark and family-owned since 1935, chances are you'll have to wait for a table on weekend nights. Try schnitzel, homemade Bratwurst and other hearty German chow, and famous "Salad with Roquefort:" the dressing is mixed tableside.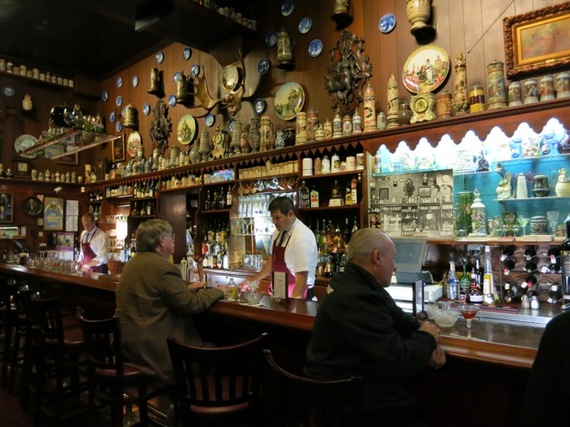 9. Theodore's Blues, Brews and BBQ was once named the Best Blues Club in the country by the esteemed Blues Foundation, and wonderful murals of blues musicians cover the walls, but Theo's has some of the best BBQ this side of Memphis. Try Short Ribs ("the bacon of beef"), St. Lewis Ribs ($13.95 for half rack), or Pulled Pork with delectable homemade Carolina Mustard.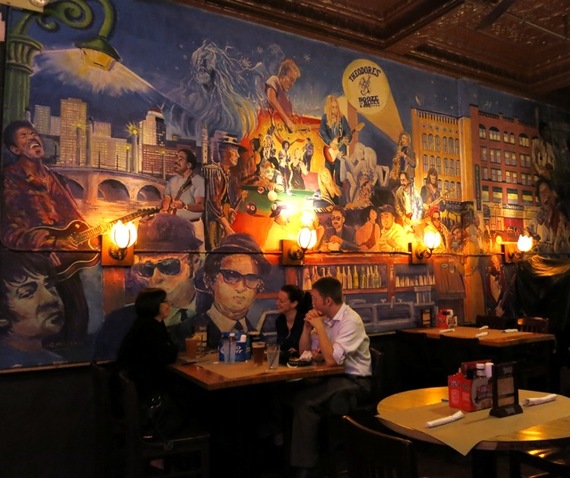 10. What is it about Springfield, Mass. and Southern cookin'? Great Southern cookin' as a matter of fact. This time, it's Cajun. Chef Wayne's Big Mamou, located in a space you'd likely pass by (or actively avoid), it would be a shame if you did. Anyone who appreciates Big Easy seasonings will find some of the best Cajun food in the country in this unassuming open-kitchen café next to a furniture discount store on a wide, busy road.
STAY: Sheraton Springfield Monarch Place. Ask for a room on floors 5-8 and you'll get a newly updated sinkable-bedding, granite counter sink and flat screen TV in a room that faces either downtown or the Connecticut River. Absolutely fine, on the corporate side of luxe and centrally located to all attractions and restaurants.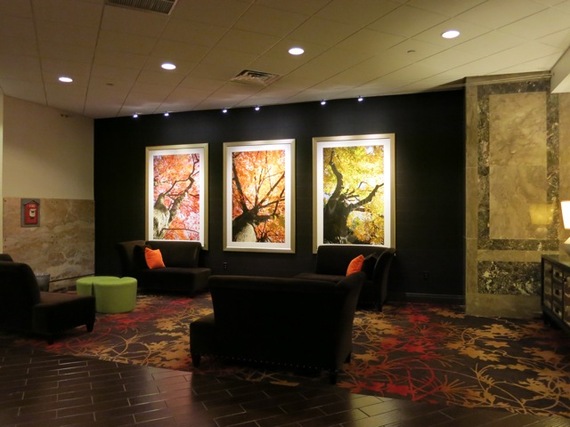 Discover more offbeat ideas about what to see and do in Springfield, Mass. and in other destinations from Virginia to Maine at GetawayMavens.com.