The Eastern Shore of Virginia, the southernmost tail of the sea-ray shaped Delmarva Peninsula that divides the Atlantic Ocean from the Chesapeake Bay, is not often touted in travel guides or in media. But it should be. The Eastern Shore doesn't have the party atmosphere of Virginia Beach to the south or the Big City culture of Baltimore to the north, but it is splendid in its own quiet and genuinely friendly way. Because the scale is so small here, everything is an intimate experience: from tour boats that only hold six guests to respected artists who talk to you while they paint. You come here to decompress, to slurp a Chincoteague Oyster washed down with acclaimed Chardonnay from its source, to sleep in an inn where caretakers actually take care of you. The Eastern Shore Tourism Commission really nails the personality of people and place. Its tagline? "You'll Love Our Nature." Here's my list of the top 10 things to do here: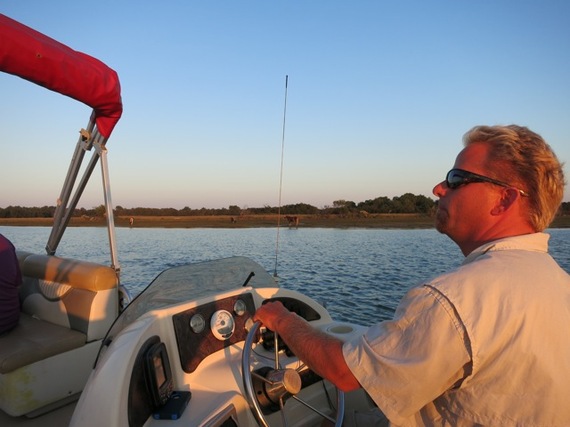 1. Take Captain Dan's Sunset Boat Tour completely around the island of Chincoteague to see the wild ponies of Assateague. Feel the bracing sea breeze as you make your way around the most famous of Virginia's Eastern Shore barrier islands. On a 26 foot boat equipped for six guests, you'll see Chincoteague Oyster beds, shore birds, NASA's launch-site -- Wallop's Island, squat duck blinds, exceptional sunsets, and of course, the wild ponies that everyone hopes to find. Captain Dan has life-long knowledge of these waters combined with a knack for story telling, which makes for a very entertaining two to three hours. If he forgets, remind him to tell you about the time his group stumbled on a mare giving birth. Goosebump city.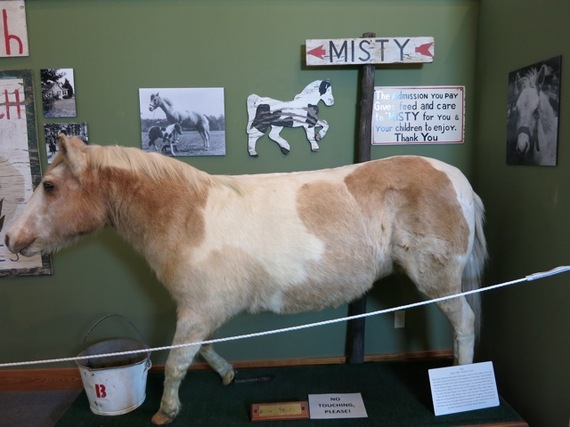 2. Pop into The Museum of Chincoteague to see the "artfully preserved" (read: stuffed/taxidermied) Misty and her foal Stormy. In 1945, the acclaimed middle-school book, Misty of Chincoteague, brought international fame to this quiet little town, and most visitors are surprised to discover that Misty was a real beloved pony. Yes, she was, and, um, still is, as her eternal rest is now being spent in this appealing and wonderfully-curated local history museum. You'll find rare pairs of wild-fowl (also "artfully preserved"), Fire Department Fundraising quilts and other artifacts of barrier island life.

3. Watch a NASA Rocket Launch. Driving up the rural road from Route 13 to Chincoteague, you'll see an abundance of massive satellite dishes: certainly not the pastoral low-tech pony-rich landscape you were expecting. Established in 1945, Wallops Island is one of the world's oldest rocket launch sites, and much of the area is now base to NASA's Suborbital Vehicle activities. Time it right and you'll witness a payload heading up to the International Space Station in all of its "bone-jarring sound and majesty." For launch dates, go to www.nasa.gov/wallops.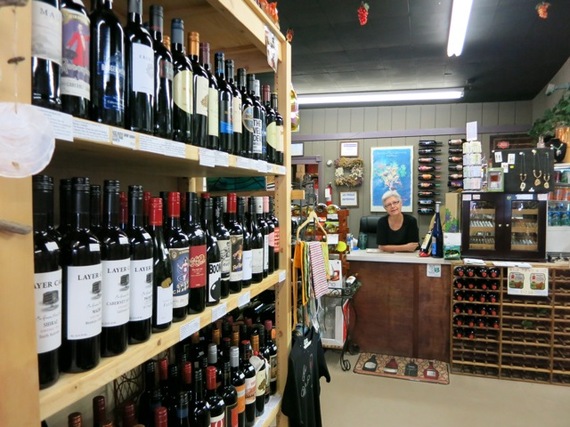 4. Pick up a bottle of Chincoteague Wild Pony Blanc at the well-stocked Wine, Cheese and More, Chincoteague. Delightful shop owner Catherine Mikel recommends other wines from around the globe in addition to gourmet food, premium cigars and everything you need for a DIY gourmet meal. Now, what wine goes best with a Rocket Launch?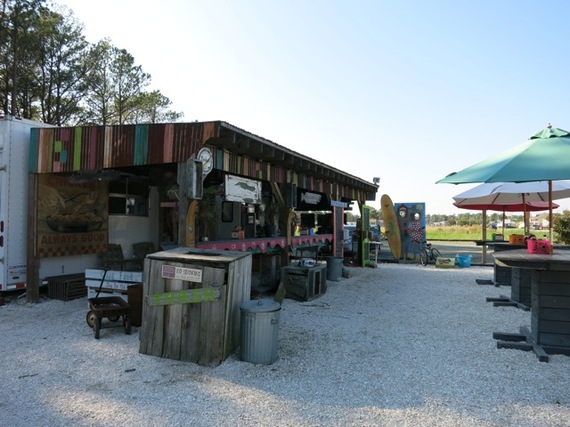 5. Eat at Woody's Beach BBQ and Eatery, Chincoteague. Don't dismiss this slightly dilapidated but whimsical outdoor barbeque shack of a place as just another tourist trap. The owners of Woody's are foodies through and through, passing off a variety of inventive sandwiches as well as pork and seafood dishes as common roadside fare. Go for The Clipper: chicken, pork, "bacon jam," slaw and rum sauce for $8.99. Uncommonly good.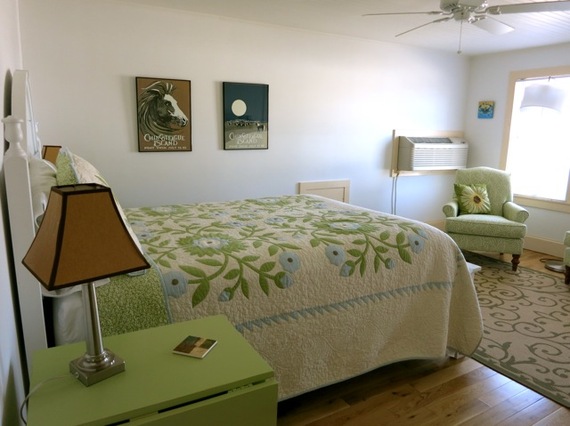 6. Stay at the Channel Bass Inn, Chincoteague. While many people overnight in one of the chain hotels that line the inlet between Chincoteague and the mainland, those looking for a more personal, European-style, hug-at-arrival, exceptional breakfast B&B will want to reserve a quilted bed at the Channel Bass Inn. Not only is Barbara Wiedenheft one of the warmest inn-owners on the planet, but she also makes impressively delicious scones from scratch each day for afternoon tea. Join her and her husband, David ($23, $12 for overnight guests), and I dare you to eat just one. (If you can't be there in the afternoon, ask Barbara to make a batch for breakfast. She'll be happy to comply).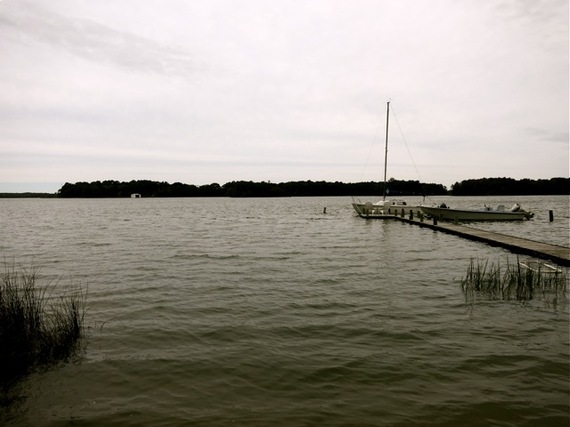 7"Paddle Your Glass Off:" Kayak to Chatham Vineyards from Onancock for a one of a kind Vineyard and Wine-tasting tour. Yes, you read this correctly. Wedged into a sea kayak, you'll float and paddle on Chesapeake Bay inlets, around spellbinding coves and then pull out at one of the premier wineries in Virginia - Chatham Vineyards. Known for its Steel Chardonnays (Wine Enthusiast listed Chatham Vineyard Chardonnay among the best 100 in the country), Chatham Vineyards was established by young second generation vintner, Jon Wehner, who grew up on his parent's vineyard in Northern Virginia. He and his wife, Mills, chose the Eastern Shore for its moderate maritime weather, and sandy loam soils - the perfect region to grow Chardonnay, Merlot, Cabernet Franc, Cabernet Sauvignon and Petit Verdot grapes. There's nothing more satisfying than a panoramic paddle and a sip of wine to top it off.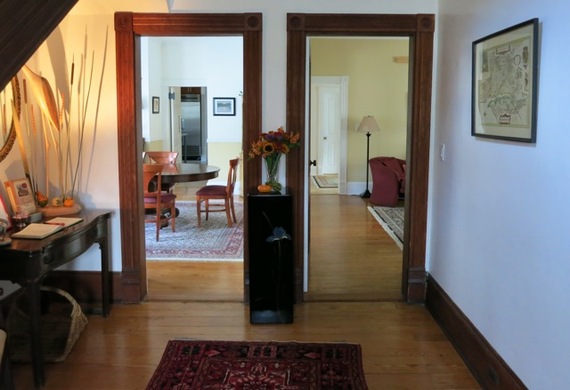 8. Stay at the elegant Inn at Onancock. Rambling Victorian on the outside, sleek, unfussy style within, this Select Registry Inn is one of the biggest and nicest surprises on Virginia's Eastern Shore. Lisa LaMontagne, who owns the Inn with her husband Chris, was a professional chef for 12 years and brings her fastidious skills to the massive cook's kitchen (where she also runs cooking classes for locals). The complementary and really fun "Wine Down" hour each afternoon, which features an assortment of wines and Lisa's hand-made appetizers, turns the Inn into a convivial "salon" - you'll never know who you will meet or the poignant stories you'll hear. Sitting together for the morning meal - frittatas, from-scratch granola, omelets and other dishes in an upscale dining room - is yet another opportunity to converse with other guests. In this age of soulless touch-and-go tourism, places like the Inn at Onancock allow for gratifying interaction and cultural immersion. Even if the culture is our own.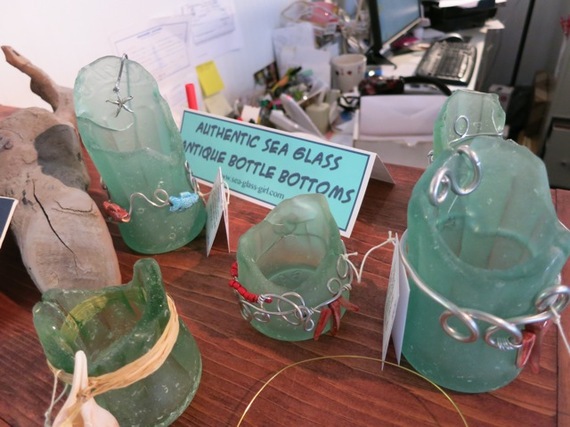 9. Shop the Mom and Pop's on Onancock's Main Street: Red Queen Gallery for antique "sea-glass Coke bottle" pencil holders, and contemporary arts and crafts, Marker 29 Design for unique gifts, personalized monogramming and reasonable prices, Crockett Gallery, where local landscape artist, Willie Crocket sells oils starting at the unbelievable $350 - and that includes the frame, Market St. Antiques for antiques and architectural salvage, and North Street Market for all manner of extravagant foodstuffs, including a colorful selection of salts from around the world.
10. Visit the Barrier Island Center. Known as "Nature's Speed bumps" because they mitigate hazardous swells created by Atlantic Ocean storms, some of the barrier islands off the Atlantic Coast once featured popular resorts, hunting clubs, and self-sufficient full-time residents. But after major storms in 1933 destroyed homes and endangered lives, islanders gave up this way of life and actually floated whole houses off the island to the Eastern Shore where they were relatively safe. The Barrier Island Center was built to keep these memories and artifacts where they belong. You'll find remnants from that easygoing, resourceful, close-knit, natural approach to life throughout the center as well as a rare "twisted chimney" in the attic. To learn more about this vanished culture watch the PBS documentary, "Our Island Home."
For more information about these attractions and much more, including best restaurants, check out the Getaway Mavens for "The Best Offbeat Escapes" from Virginia to Maine.