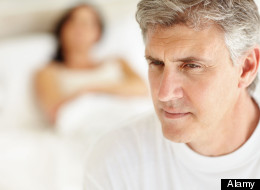 We've all heard the sayings...
"Before marriage, a girl has to make love to a man to hold him. After marriage, she has to hold him to make love to him." -- Marilyn Monroe
"After marriage, the other man's wife looks beautiful." -- Navjot Singh Sidhu
"The Three Ages of Marriage: Twenty is when you watch TV after. Forty is when you watch TV during. Sixty is when you watch TV instead." -- Unknown
Well, after 24 years with my better half, I'm here to say that sex after marriage ain't all that bad. It can be beautiful, hot and extremely fulfilling, but sometimes -- just sometimes -- it wouldn't take much, and you could probably talk me into boinking Mark Wahlberg, especially if he said, "I wanna do you hard, baby." Give me the date and time, and I'll be there.
Think about it, what do you know that lasts for 10, 20, 30 years or more that doesn't have its fair share of problems?
Consider your own body. Once you hit 40, you can kiss your eyesight good-bye. You'll be lucky if you can see your own feet by then. Your memory goes too. You won't even remember to cut your toenails, and that can get disgusting. You won't be able to see your feet though, so it shouldn't matter.
And then you reach 50 -- or 30 if you've birthed a child -- and you can't jump up and down anymore without peeing your pants.
Some people even start going bald in their teens and early 20s. Watch out Justin Bieber -- it could happen to you. It's called karma.
Thus, if you've been married for a long time, you can't expect your sex life to always be the way it is in the movie Nine ½ Weeks -- a jello-filled-fun-fest -- because sometimes it's not.
Sometimes, married sex is a little like...
Stroking your own arm. It's comforting, familiar and, at times, about as exciting as watching Kristen Stewart build a card house. Don't tell my husband, but occasionally when I'm at Costco on a busy Sunday afternoon, I accidentally bump into random strangers just to feel the touch of another human being. Don't judge -- at least, I try to find the cute ones.
It's like reading Lady Chatterley's Lover for the ninth time. As good as that book is, after the first three or four read-throughs -- depending on how sharp your comprehension skills are -- you know what's going to happen. And that scene with Connie holding the baby chick, and then Mellors taking her into the hut and making love to her on the floor, well, you can imagine it as much as you want -- I certainly have (in my darkened bedroom) -- but in the end, it's still unclear as to whether the two lovers ever actually get together. Kind of depressing.
It's like showering after you've just run 50 miles, and that includes running those 50 miles. It feels good, but it took some damn doing before it happened.
If you have children, married sex is like trying to do a 1,000-piece jigsaw puzzle of the night sky -- yeah, it all looks the same -- in a room full of ADD orangutans who are jacked-up on Red Bull, and who've each been given a functioning -- and very sharp -- sword. Expect lots of interruptions.
It can also be like traveling through the Sahara Desert after someone has forced you to eat 10 boxes of Saltine crackers. You'd give your left leg for a "drink of water", but stops at the "oasis" are few and far between. Can you say "dry spells"?
Married sex can be like going to your favorite bakery, and ordering a large piece of "atomic banana chocolate torte", and just as the deliciousness is melting away your stress for the week, you find a knot of hair right in the middle of the frosting. You eat it anyway, because realistically, when is the next time you are going to get to taste something so amazing?
It's like you are a graduate student, and in order to get your degree, you have to write a 5,000-page essay on the "Horses of Montana: Icons of the West". And you love the horses of Montana otherwise you wouldn't be doing your thesis on it, but come on, 5,000 pages? Who upped the requirements? No doubt, as fun as sex is when you are married, after so many years of doing the exact same thing with the exact same person, it can sometimes get monotonous.
What's my point to all of this? In all seriousness, I want people to know that sex during marriage can be good -- great, in fact -- but sometimes, it bites the big one. I think if more people knew this, they'd have a better chance of staying together, because they'd also know to expect some tough times.
Not that I agree with the whole concept of what marriage is supposed to be in the first place, but that's another subject.
To conclude, I just want to say that I love my husband. And I love being married. And I love having sex. And I love having sex with my husband.
I also know that nothing worth anything comes easy in life.
I wouldn't be mad however, if they changed the rules and said I could have a day every once in a while to go hang out with my friend, Mark. You know who I'm talking about [wink, wink].
Earlier on Huff/Post50:
7 Reasons You Aren't Having Sex
"Medications that are prescribed for stroke issues and heart issues can have devastating effects on sexual functioning," explains Dr. Janice Epp of the Institute of Advanced Study of Human Sexuality. In addition, researchers have found that a family of antidepressants known as selective serotonin reuptake inhibitors (SSRI) can take the winds right out of your sails. These drugs include brand names such as Prozac, Zoloft and Paxil.

Don't be shy -- talk to your doctor about how your prescriptions are affecting your sex drive. "There are a whole lot of new drugs that don't necessarily have those side effects, but it takes a lot of experimenting," says Dr. Epp. "Sometimes it takes three to four different tries to find the one that's best for you."

"People of both sexes can develop pain disorders as they get older, and that can have a big effect on sexuality," notes Patty Brisben, founder and chairwoman of Pure Romance, a company that specializes in selling sex toys and providing information on women's sexual health issues.

Brisben suggests re-evaluating your definition of sex. "Being intimate does not necessarily mean having sex in the traditional sense," she says. Some solutions sensual touching and massages and mutual masturbation. Dr. Epp suggests looking into new positions. "Sit on a chair, try being in different positions," she says. "Side by side actually puts the least amount of stress on your joints."

The National Sleep Foundation recommends getting seven to eight hours of shut eye a night. But with the stress of work, kids, bills and, oh yeah, your marriage, who can think about fitting in time to have sex, much less sleep?

For some couples the days of random romps may be behind them, and that's alright, says Dr. Epp. "Plan some sex dates around times that you know you feel more energetic -- it lets you look forward to it," she says. "Some people say, 'Sex should be spontaneous!' to which I say bullsh*t," she says, laughing. "You plan other things in your life and you don't complain about it. You can do the same with sex."

Waning libido and vaginal dryness are two unpleasant side effects of menopause. With increased longevity, "women can now expect to spend a third of their lives in post-menopausal years," Brisben said. "So understanding how you're being affected by those changing hormones is essential."

A dip in estrogen may lead to thinning vaginal walls and itchiness in the area. According to the Mayo Clinic, treatments can include vaginal estrogen creams such as Estrace and Premarin; a flexible estrogen ring that is inserted; or estrogen pills, patches or gels.

"I think if you're just now embracing this subject at or around age 50, you've got some catching up to do!" Brisben tells Huff/Post50. But it's never too late to start having a frank and honest conversation with your partner about what you want in bed.

"I recommend having these conversations out of the bedroom and when you have some alone time," Brisben says. "Be open, be receptive and be ready to listen." Don't be afraid to bring some playfulness to the discussion. "Shop online for intimacy products together," Brisben suggests. Or write your partner a letter: "Tell them what you'd like to introduce into your intimate relationship." Another tact: Read sexy books together and share what interests you and what doesn't. "If you find these conversations are still hard to have ... a sex therapist or counselor is trained to help," Brisben adds.

It's the one part of aging and sexuality that gets the most attention: erectile dysfunction, which is often rooted in some larger physical problem, including heart disease, high blood pressure, diabetes and obesity, according to the Mayo Clinic. Medications and drug and alcohol use can also play a role.

Ubiquitous ads promote the popular little blue pill to cure impotence, but there are other treatments as well, including vacuum pumps, implants and surgery, according to the Mayo Clinic.

According to the movies or steamy prime time television shows, passion goes from 0 to 69 with a mere glance, a bitten lip or a bad pun. But "as we age, our bodies slow down and we have less energy," Dr. Epp tells Huff/Post50. "That's naturally occurring, but it can have an affect on our sexuality."

Rethink the connection between arousal and desire. Tell your partner if you need more than the average 20 minutes spent on foreplay.
Follow Mandy Fox-Raynor on Twitter: www.twitter.com/TheFurFiles