After posting double-digit growth in recent years, the clean tech sector -- from solar to wind to electric vehicles -- is sailing into rough waters. Clean energy investment in the first quarter of 2012 is down to levels not seen since the start of the recession in 2008. Bankruptcies and idle factories are all over the news.
Furthermore, federal government support for clean tech is approaching a cliff -- with many programs having run out and others, like the "production tax credit" for wind, nearing their expiration date. Allowing the PTC for wind to expire would cause the U.S. market for wind turbines to contract by 80 percent, putting an estimated 75,000 jobs on the line and would be disastrous for the industry. Vestas has already announced plans to lay-off 1,600 workers in the U.S. if the tax credit lapses.
The key to calming these waters is not lurching from extension to extension of subsidy programs, but rather smart policy reform. We need a system that will sustain clean energy growth and maintain U.S. leadership in this highly competitive market.
That is the finding of a major new report, "Beyond Boom and Bust: Putting Clean Tech on a Path to Subsidy Independence," by authors from the World Resources Institute, the Breakthrough Institute, and the Brookings Institution. The authors find that federal support for clean tech is expected to drop nearly 50 percent from 2011 to 2012 alone, and a whopping 75 percent 2009 through 2014.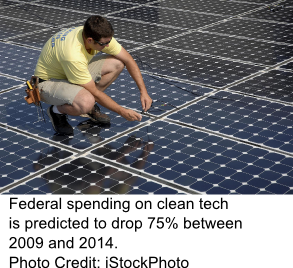 Now is not the moment to walk away from this sector. We must instead create a way to extend and reform clean tech support so it can reach its potential.
The global clean tech marketplace is projected to be worth trillions over the coming 25 years, with renewable electricity drawing $5.9 trillion alone. This market will only get harder to enter as the sector matures. The companies and domestic industries that survive the current crucible will likely go on to dominate that market for the next decade. And the U.S. should not be left standing on the sidelines.
Instead, now is the moment for smart policy reform that charts a course towards subsidy independence and global competitiveness. The new report recommends a strategy that blends smart deployment policies and support, with investments in a robust innovation system, including advanced manufacturing, to drive growth in clean tech.
What would a smart deployment policy look like?
A smart policy would provide sufficient certainty for investment decisions, but also set expectations that subsidies will decline over time. It would promote a diverse energy portfolio and maximize the impact of taxpayer resources by limiting transaction costs and ensuring clean tech can efficiently access affordable private capital. It would reward innovators who deliver better prices or performance to clean tech users.
Renewed federal investment in research, development, and demonstration (RD&D) is also critical. Similarly, investments in America's advanced manufacturers, state and regional clusters and the workforce are needed to bolster America's competitive edge.
If clean tech is moving towards subsidy independence, fossil fuels certainly should be as well. Fossil fuels are already a mature sector with more than a century to reach scale and have substantial advantages in an energy system developed to meet its needs. Even removing subsidies would not achieve a truly "level playing field," but is a key step towards that goal.
Clearly reforms are needed. Clean energy has expanded rapidly in recent years and is now entering its adolescence, experiencing the difficult mood swings that come with it. The time has come for a new clean energy framework that prioritizes innovation and reduces costs, uses scarce public resources wisely, and continues the march forward of the nation's most competitive clean tech industries.
Smart policies can ensure that clean tech thrives into adulthood and eventually even stand on its own.
This post was co-authored by Letha Tawney, Mark Muro and Alex Trembath.
"Beyond Boom and Bust: Putting Clean Tech on a Path to Subsidy Independence" was co-authored by Letha Tawney, the World Resources Institute; Mark Muro, the Brookings Institution; and Jesse Jenkins, Michael Shellenberger, Ted Nordhaus and Alex Trembath at the Breakthrough Institute.
SUBSCRIBE TO & FOLLOW THE MORNING EMAIL
The Morning Email helps you start your workday with everything you need to know: breaking news, entertainment and a dash of fun. Learn more