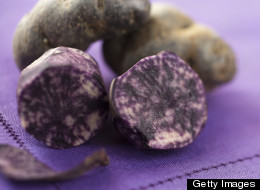 March is national nutrition month, and today I am going to focus on a few foods that provide great health benefits. When it comes to the foods you consume, I am sure you have heard to eat the rainbow, and you should take this advice. Due to pigmentation, many foods are available in an array of colors, and these different colors supply our bodies with various phytochemicals and health benefits.
This month, I decided to give the spotlight to purple! You may ask, why purple? Purple foods are packed with antioxidants and phytonutrient flavonoids. What gives these foods their purple color is their pigmentation, which is due to their content of anthocynanins, a phytonutrient flavonoid. Eating anthocynanins will protect your memory, aid against cancer, protect your heart, prevent inflammation, and slow down signs of aging.
Here are four recipes using my favorite purple foods: purple potato, purple/red onion, beets, black rice, and dried figs.
Color of Action: Paint Your Health Purple
Serves 6-8 Ingredients 10 purple potatoes, cubed 2 medium red onions, cubed 6 purple potatoes, sliced Vegetables of choice, cubed 2 Tbsp. olive oil Garlic powder, salt, and pepper to taste Directions Pre-heat oven to 450 degrees F. In a large roasting pan mix potatoes, onions, carrots, and other vegetables. Drizzle olive oil and season with garlic powder, salt, and pepper. Mix evenly. Place in oven and roast for roughly 20 minutes or until golden brown and thoroughly cooked.

Serves 2-4 Ingredients 4-5 medium beets, sliced 1 orange, peeled and sliced 1 Tbsp. Sacha inchi Oil Juice of one orange Juice of one lemon Salt and pepper to taste Directions Clean, peel, and cook your beats (boil or steam). Remove them from the heat to cool. Once the beets are room temperature slice them. Slice one of your oranges as well. Arrange them on your plate alternating beet slice and orange slice. In a medium bowl mix fresh squeeze the juice of one lemon and one orange. Add the Sacha inchi oil, and season to taste. Drizzle dressing over beets and oranges. Enjoy!

Serves 6 Ingredients 4 cups black rice, cooked 1 bunch scallions, diced 1 red bell pepper, diced 2 Tbsp. olive oil 3 eggs 1 Tbsp. ginger, crushed 1 Tbsp. garlic, crushed 2 Tbsp. soy sauce Directions Whisk eggs together and cook over medium-high heat to make an egg pancake. Once cooked, removed from heat, chop into pieces and put aside. Heat 2 tablespoons of oil in a wok or large frying pan. Add the scallion, the ginger, and the red pepper and sauté for roughly 30 seconds to one minute. Add the cooked rice and sauté for a couple of minutes more, until heated through. Add the rice, green parts of the scallion, egg and the soy sauce, and cook, stirring, until well heated.

Serves 12 Ingredients ½ bar (50g) dark chocolate, 73 percent dark 12 figs, dried Cacao nibs Directions Chop chocolate in even pieces to make it easier to melt. Place in a stainless steel bowl. Add two to three inches of water to a pot. Bring water into a simmer and turn off heat. Place bowl of chocolates on top of the simmering water. Note: avoid water going into the chocolate; they do not mix well. Also, make sure the bowl does not touch the water, leaving 1-2 inches between the water and bowl. The steam from the simmering water is sufficient to melt the chocolate. Stir the chocolate constantly to ensure even melting. By keeping the heat very low and constantly stirring, you can always melt without overheating. When you see the chocolate is almost melted, remove the bowl from the simmering pot of water and stir until smooth and shiny. Then dip figs into the melted dark chocolate, covering the fig completely. Place figs on a sheet of parchment or wax paper. Sprinkle with cacao nibs. Allow the chocolate covered figs to harden for about 30 minutes in refrigerator and enjoy.
Manuel Villacorta is a registered dietitian in private practice, MV Nutrition, award winning weight loss center in San Francisco. He is a national media spokesperson for the Academy of Nutrition and Dietetics and the founder of Eating Free and author of his new book Eating Free: The Carb Friendly Way to Lose Inches, Embrace Your Hunger, and Keep Weight Off for Good!
For more by Manuel Villacorta, click here.
For more on diet and nutrition, click here.
Follow Manuel Villacorta on Twitter: www.twitter.com/WholeBodyReboot