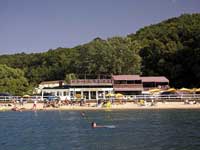 Summer has gone by so quickly and with the last blast of scorching heat, The Hamptons are winding down. I promised I would take you to Nick & Toni's and The American Hotel in this week's chapter, but they will be around to visit as the leaves start turning. It is your last chance this summer to take the ferry to Shelter Island and watch the gorgeous sunset from a table at Andre Balazs' sexy Sunset Beach.
If you are coming from Sag Harbor, follow the signs to Shelter Island on 114 to the water and get on the ferry for the short but lovely ride. From there it is but another 10 minutes via route 114 to the other side of the island or to what feels like the other side of the world, a beach in Brazil or Italy. You can hear the music blaring as you exit from your car. The music by DJ Patou is so good that I actually begged to have a CD made (you can buy the CD's in the hotel and restaurant gift shop).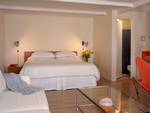 There is another way to get to Sunset Beach, either by sailing or motoring in on one of the many boats that clog the water in front of the restaurant and hotel. Yes, if you have had one too many glasses of Sunset Beach Rose Andre Balazs "Reserve" made here in the Hamptons, or too many of bartender Reiko's notorious mojitos, or "le grand flirt" which serves groups of 10 to 14, you can try to get a room at the Chistine Gachot designed hotel (pictured).

When you reserve your table, aim for the upper deck (pictured) as it can get rather noisy inside the restaurant. But if you are there to party and people watch, anywhere is a guarantee for a wildly fun time.
Start with the crispy calamari salad with frisee mixed with a carrot-ginger dressing or the delightful fresh goat cheese and tomato salad. If you are coming for lunch go for the grilled gambas (large shrimp) flavored with rosemary and the Sunset Beach burger with melted gruyere cheese and cornichon. If it is dinner, the loud de mer entier (whole sea bass) with lemon and thyme, the grilled sardines with local cherry tomatoes, caper berries and oregano, and the filet mignon au poivre with their addicting french fried potatoes are the way to go.
The wine list is well thought out, focusing on French with the addition of some very good American and a few interesting Italian and Spanish wines.
On Sunday nights, which appear to be the most popular night of the week at Sunset Beach, you will often see the owners and staff of some of Long Island's best restaurants, among them The American Hotel, Nick & Toni's, and Tutto Il Giorno . Over the years I have also seen just about every major film and television star, well known fashion designers and financial power players. Most recently Ron Perlman pulled up in his fabulous yacht unloading a banquet's table full of people, designers Calvin Klein and Donna Karan were sighted having a pow-wow over lunch, and then there was Alec Baldwin, who when he frequents a restaurant you have to know it must have something special.
The restaurant and hotel are run by the charming and elegant Frenchman Steven Jauffrineau.
I wouldn't expect any less from an Andre Balazs establishment. He always seems to be able to attract the nicest and most gratuitous staff around.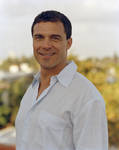 Restaurateur, hotelier, Andre Balazs
So hurry and get yourself over to Shelter Island this weekend before it closes for the season, otherwise you will to have to wait until next Spring to experience this very unique restaurant and hotel.
If you are interested in staying at the hotel, rates start at $325.00 a night and it is advised to plan ahead as they book up quickly.
Sunset Beach
35 Shore Rd
Shelter Island
NY 11965
Tel: 631 749-2001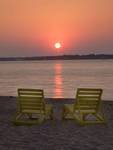 www.sunsetbeachli.com
SUBSCRIBE TO & FOLLOW LIFESTYLE
We're basically your best friend… with better taste. Learn more