THE BLOG
Everybody Eats Where? In Los Angeles, The Soho House
It is one year since the starry Oscar week debut of The Soho House, Los Angeles, and the movie, TV and music stars with their entourages are still coming out in force to hang out in this gorgeous Waldo Fernandez-designed club overlooking the city of LA. Just about every A-list Oscar party was booked into the Club once again this year, and with good reason.
Nick Jones, the charismatic and jovial Brit who runs the Soho House worldwide, has a knack for hiring the most personable group of waiters, bartenders and hosts. Not once did I see a grimace on their faces during all the week's madness. True tests of hospitality at its most difficult. Grace and charm are what are called for when waiting on the likes of Harvey Weinstein, Colin Firth, Leonardo di Caprio and Cameron Diaz (all seen at Weinstein's pre-Oscar party) and others, the "others" sometimes being the biggest challenge.
The food, which has gone through some ups and downs over the last year but seems to be back on track, is still under the tutelage of Executive Chef Matthew Amistead, who received his training in London's esteemed River Cafe. Cecconi's Executive Chef, Andrea Cavaliere, lent a helping hand during Oscar week, Cecconi's is owned by the Soho House Group. Andrea's pizzas, which were served at one of the cocktail parties I attended, are formidable, and I wish they would return to the regular menu.
At a party that Mr. Jones and Grey Goose Vodka hosted to kick off Oscar weekend, Spanish paella, a seafood version as well as a meat version, both superb, were served along with a cornucopia of salads and beautifully prepared veggies, including the house specialty of sauteed brussel sprouts with bacon. The desserts, or "pudding" as the British call it, were unfortunately irresistible for those that had to put on evening gowns on Oscar Sunday. But you have to splurge by taking at least a taste of one of pastry chef Dolores Munoz's creations such as her frozen lemon meringue pie and citrus caramel, or sticky date pudding with a banana and walnut toffee sauce and topped with banana sorbet. Her cookies are to die for, especially the shortbread. I wish they had a take-away section... no I don't... it would be my ruin.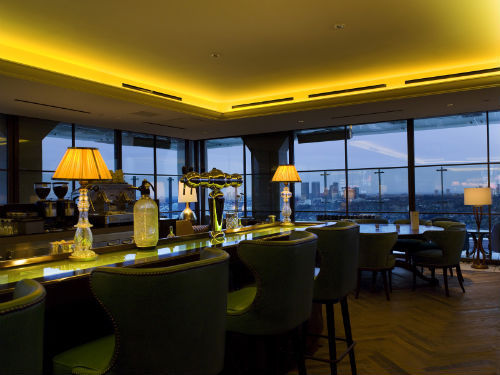 The Soho House Main Bar
The Soho House is for some the starting point of the day or of a night out in LA. It is also the never-ending late night culmination of an evening. It is always loads of fun to congregate at the bar in the main room, or at a table in the lovely garden, downing those wonderful Soho House cocktails (remember the Garrick Club Punch I wrote about last year in my Oscar week story in this online journal? Champagne, gin, maraschino liquor and fresh lemon juice). The bar menu offers some tantalizing items to munch on while you are socializing. The grilled cheese with braised short ribs is AMAZING but just might add a few pounds to the waistline. Make some friends, this one is big enough to share with the whole bar! Gruyere and cheddar cheese are melted over huge chunks of braised short ribs all squeezed in between two thick slices of perfectly grilled white country style bread. The sandwich comes with fresh cut crispy French fries which are a nice thought but certainly not necessary. Oh hey, when you are gilding the lily... why not. You can switch out the fries and go for one of the Soho House salads. The arugula, fennel and escarole salad with sections of sweet tangerine and crunchy slivered almonds is a nice choice.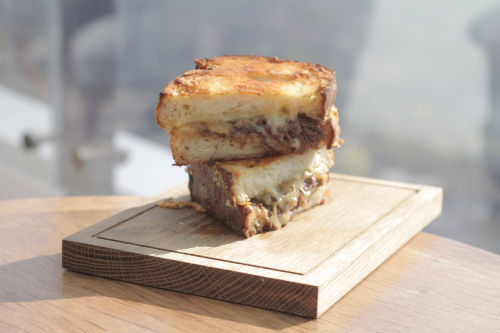 Grilled Cheese and Braised Short Rib Sandwich
If you are looking for something on the healthier or lighter side, you can always choose something from the main menu with includes some interesting appetizers like the grilled shrimp with shredded savoy cabbage salad, fried capers, chili and cilantro or the roasted beet, black lentil, cherry tomato and avocado salad. There is a terrific wood-roasted chicken with sunchokes and hen of the woods mushrooms, wild Alaskan black cod with roasted asparagus, , and grilled line-caught swordfish with roast beets and Roma tomatoes.
The wine list is extensive, and there is a good choice offered by the glass.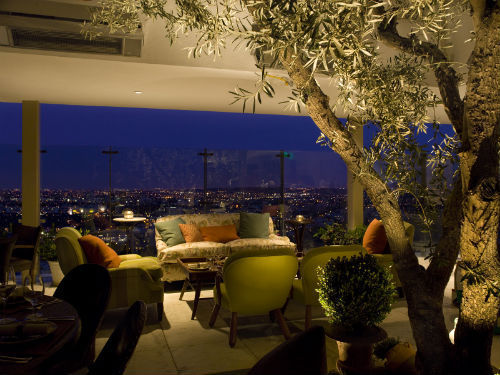 Garden Table Overlooking the City
The Soho House, which is open all day, serves breakfast (think homemade granola, blueberry pancakes and Italian frittatas), lunch and dinner but remains a private club. Because of high demand, membership is not easy to obtain. The membership fee, if you are accepted, is $1800.00 dollars a year for the LA club alone. When you buy a worldwide membership, which includes New York, Miami, London and Berlin, the price is $2400.00 dollars a year. In the meantime, if you are lucky, you will be invited to one of the great parties that continue to be given in LA's hottest restaurant and club.
The Soho House
9200 Sunset Blvd
Tel: 310 432-9200