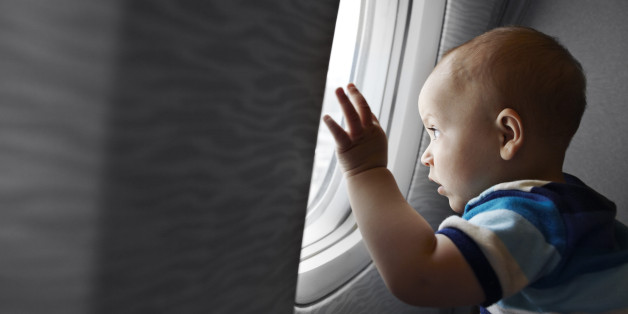 As Thanksgiving week approached, my husband Lin and I were excited but wary about our upcoming cross-country trip with our six-month-old twins, Max and Otis. But with both boys already enamored of the car and the subway, we were hopeful as we headed to Newark at 5 a.m. on Thursday morning for their first flight, to Oregon, and ultimately their first Thanksgiving dinner with Grandma Patty and Grandpa Rick outside of Portland.
Things went surprisingly smoothly in Newark. We'd paid a few bucks extra to go through a shorter security line, and arrived in time to give the boys a feeding and relax in the boarding area. Because we flew on Thanksgiving itself, everyone was in a pretty good mood, including the boys, which always makes things easier. We had added good fortune of discovering that the middle seat, as we'd hoped, remained empty and that we'd have a little more space than sardine-class typically affords.
The flight was fine. The flight attendants were charmed by the boys and one even gave them their United "wings" to commemorate their first trip aloft. Max slept most of the time, and Otis, more of a live wire, was pleasantly subdued. He was even calm and squirm-less while on the pull-out changing table in the bathroom, and with the nearly six-hour flight over, we felt the warm glow of success and readied ourselves for turkey and a few days of relaxation with family -- and maybe even a morning of sleeping in.
With the holiday over we headed back to the Portland airport this past Monday night for a red-eye back to New York. In the previous two days, both our boys not only had their first bites of solid food -- applesauce! -- but they both got their first colds, and Otis cut two teeth within two days. Nonetheless, the weekend was thoroughly enjoyable, even if the boys arrived at the airport in a considerably less jolly mood than they'd been a few days prior in Newark. Both cried and fussed, and we looked forward to getting on the plane and being home as soon as possible.
With boarding about to begin, I consoled myself that at least we'd be able to take advantage of the pre-boarding always afforded to "those traveling with small children." Only, the announcement never came -- only the usual litany of precious-metal-status-levels, first class and then general boarding. I assumed it was an oversight, and when our group number was called, I asked the gate agent why we hadn't heard an offer to pre-board.
"Oh we stopped doing that a while back -- around the merger."
"You did?" Had she stopped there, I might have just taken it as a typical, inexplicable bureaucratic change that we all encounter at times. But she went on...
"Yeah, the highest-tier frequent fliers complained so they changed the policy."
Blood boiling, we boarded the plane. One would think that in an era of increasingly sweet perks for an ever-shrinking percentage of fliers, the elite-of-the-elite might be content to cool their heels for a New York minute while the few passengers with babies board in slightly less chaotic fashion. And even if the elite were not content to defer to common courtesy, one would think that someone in charge of issues like this, perhaps Martin Hand, the Director of Customer Experience for United, might have vetoed the proposed change as short-sighted and anti-family. One would be wrong, the change went through in March of 2012 with little fanfare, save for a few media and blog mentions.
A couple of hours into the flight, Otis was suddenly, obviously, in need of a diaper change right way. Lin had him at the time, and quickly grabbed the diaper bag and headed back to the bathroom, only to return seconds later.
"They don't have any changing tables in ANY of the bathrooms."
"What?!"
"No changing tables, anywhere on the entire plane."
The very nice flight attendant seemed embarrassed by the situation, and threw up his hands in the way that people in customer service jobs do when they are put in untenable positions by their employers' lack of concern for their customers. We were gobsmacked.
Let's be clear: This was a five-hour transcontinental flight on a Boeing 757-200 plane. There was either an option at purchase of having changing tables, or some opportunity since the aircraft went into service to retrofit it with a changing table. Neither apparently happened. Lin and I are new to having kids, and new to discovering the vast swath of daylight between our societal rhetoric about how much we "care for children" and how well our society actually accomplishes that goal. It's been a disheartening awakening.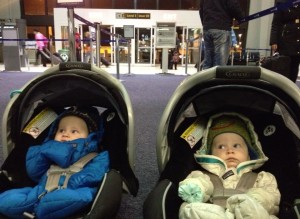 I understand that United Airlines is not an altruistic endeavor: It is a business that continues to exist only with the benefit of profits, which are slender at times in commercial aviation. But by way of their nearly hundred million dollars in annual advertising, United does their best to create a gauzy image that they actually care what the average flier thinks. They do themselves no favors by creating this impression and then failing to live up to the standard, or arrive anywhere even in the same time zone. Don't be fooled: The "friendly skies," if they ever truly existed, are gone. But the pandering-to-the-few, anti-family, stripped-to-the-fuselage lean and petty skies has a friend indeed, in United Airlines.
SUBSCRIBE TO & FOLLOW QUEER VOICES
We're spilling the tea on all the queer news that matters to you. Learn more