For the past few years, I have been reliving a youth spent in a world without the equivalent of the modern music mega-festival. Too young to have experienced Woodstock, Monterey Pop, or Newport in its prime, and too American to have attended any of the big European festivals like Glastonbury, Reading, etc. the closest I ever came to a big music festival was 1993 Lollapalooza in Philadelphia. From what I remember, it was brutally hot, there were only two stages, the JFK Park local was scrappy, the food was awful and the bands were largely loud and grungy. I think I loved it, but the details are foggy, and my expectations were considerably lower.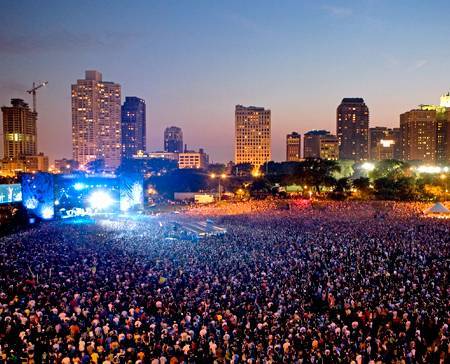 The rebirth of the modern American festival can be seminally traced back to the Summer of 2002. That was the summer of the first two-day Coachella festival where Bjork, Oasis and Siouxsie and the Banshees hung an indie rock shingle. That same year across the country the inaugural Bonnaroo festival debuted in a big field in central Tennessee, largely stocked with a thick roster of jam bands including Widespread Panic and Gov't Mule. Coachella exploded to three days and eventually two weekends over the next decade, while Bonnaroo expanded its empire West to San Francisco with Outside lands, and the rest was history. In their wake came Lollapalooza V2, ACL, Sasquatch, Pitchfork, and Electric Daisy and an explosion of EDM festivals.
In the beginning each festival prided itself on having vastly different lineups. They each stuck closely to a core set of musical genres, pulling different audiences and sensibilities. But over time indie rock bled into dance, metal into grunge, jam into folk rock, and hip-hop into everything; the breadth of these festivals exploded. Where there is something for everyone at any given time on some specialized stage somewhere within the grounds. These days, most of the big festivals share many of the same acts and will headline most of them (Phoenix, The Postal Service, The National, Band of Horses, Paul McCartney, Red Hot Chili Peppers, Pretty Lights), and the smaller stages will similarly share artists (Alt-J, Grizzly Bear, Local Natives, Jessie Ware, Dawes, Kurt Vile).
None of these inevitabilities are necessarily a bad thing. In fact, unless you attend as many festivals as I will be lucky enough to attend this summer, it will relieve much of the envy the attendee has who will only go to one festival. Of course with scale and commercialization come things like increased prices, a confusing litany of passes with widely variable and enviable access, and longish lines for everything. That said, the modern festival now often highlights legitimately solid food options, ripping pages from local food cart culture (Korean Burritos, Poutine and Lamb Banh Mi), better sound systems, and beverages that exist beyond just 16 ounce cans.
With a major festival happening almost every weekend somewhere, it seems sensible to compare the back-to back Lollapalooza and Outside Lands events I just attended. They were both very different and very similar.
Chicago Lollapalooza
Lollapalooza was reborn in Chicago in 2005, hosted in the sprawling Grant Park in downtown Chicago. For 5 months of the year Chicago is one of the world's best cities, and then the cold, rain and snow begin. I had never been to the new Lolla before this year, despite the city being my birthplace. The weather was mercifully overcast, and hovered in the high 70's for much of the three day extravaganza. Unlike Coachella's impeccably flat, grassy polo fields, or ACL's rolling Zilker Park, Lolla extends almost a mile between the two main stages, across a mélange of dusty fields, concrete bike and walking paths over baseball diamonds and around fountains and shady coves. With seven core stages and a kids stage, the grounds are surrounded to the West by Chicago's sublime skyline, and to the East by Lake Michigan.
Twenty or so festivals into my own renaissance, there are a few rules you must follow (7 Rules For Summer Festivals ) but by the end there are always a few sets in particular that tend to stick with you. The performances that just suit your mood, suit the weather or time of day, or on a more basic level, the ones where the band is just in the groove. I saw parts of 25 sets at Lollapalooza. The 10,000 hour theory matters more in a live context than in a recorded one. Take Local Natives and The National. Both bands make incredible records, but the live difference is clear, and largely attributable to ten or more years of playing to live audiences. Holding one of the big stages at a festival is hard to do but at Lollapalooza bands like The National, Band of Horses, Nine Inch Nails, Phoenix and others play big load music that blankets the grounds.
For me the highlights are always the sets that are unexpectedly great. The LA sisters act Haim was infectious and surprisingly tight playing at the shady Grove Stage. Cat Power, cruelly programmed at the same time as The Cure and Phoenix, played a transcendent set of darkish dance music. It's hard to forget how much ground Thievery Corporation has covered over the past two decades, and under the blazing afternoon sun, reminded me just how good they still are. Time of day and weather also matter. The Postal Service played a sublime set to close out Saturday, even covering Beat Happening (always a clincher for me). New Order and The Cure proved that not only does their epic music age incredibly well, but that they can still play triumphant, anthemic music live. Other highlights included Alt-J, Wild Nothing, Jake Bugg, and Father John Misty all proving again how quickly the buzz machine can thrust a band into the limelight. But for me the highlight of the festival was the mind-blowing set by Grizzly Bear, whose dark brooding set the standard.
Lollapalooza is definitely a city festival, filled with loads of young kids (largely well-behaved) in addition to aging hipsters with head-phoned kids in tow. It is also a Midwestern festival and the fashion and attitude of the attendees look just different enough from those at Bonnaroo and Coachella to be noticed. You can see the city surrounding every stage, which occasionally seems odd, but in the end is quite excellent, especially when you stumble out of the grounds at 10PM and the whole city is open for dinner and drinks. During a hotter summer, I can see how the festival could be excruciating, but this year it was just lovely. But in the end great music sounds great anywhere, especially at dusk, when the temperature drops, and lights start bleeding into the sky.
Outside Lands
In the same way that the heat is often a problem at festivals, deep in the heart of Golden Gate Park in August, there is a different kind of survivalism at play. Summer in San Francisco is typically a cold and foggy place, so instead of bikinis and misting stations, you can buy coffee and hot chocolate in addition to blankets at the merchandise stand. But it all suits this crowd and this festival and the deep history of music in the park.
A few generations removed from the summer of love, but still home to the Burners who will invade the desert later this month, SF has always mashed up a hobbiest innovation culture with a California free spiritivism. There is almost no public park in the country as beautiful and diverse as Golden Gate Park, surrounded at times by fragrant Eucalyptus trees and rugged traverses through the forest, the music just oozes serenely throughout the landscape.
Lolla and Outside Lands run on back-to-back weekends, and although much of the lineup overlaps, there is plenty that is different. Extreme highlights included Sir. Paul McCartney, proving again that he is pretty much easily the greatest living songwriter and still looks and sounds incredible at 71. Nile Rogers and Chic proved again that disco will never die (props to Daft Punk for inciting this resurgence). Other very high points included a good set by Wild Belle, now elevated to a big stage, Foals whose take on '80s goth-wave is simply magical, and Gary Clark Jr. whose modern take on Jimi and the whole history of blues and R&B is always breathtaking. Smaller but also excellent moments included Thao and the Get Down Stay Down channeling everything from Karen O to something funkier, to the gender bending Rhye (who you have to see to believe), Kopecky Family Band who brought a poppy Nashville sound, and the modern classic rock of Kurt Vile and Dawes to take things home. Of course, I caught bits and pieces of bigger acts like Yeah Yeah Yeahs, Phoenix, Hall and Oates, Nine Inch Nails, Red Hot Chili Peppers, The National, and Band of Horses but trying not to overlap was key. There is something surreal when as night falls and a thin foggy mist blows into the park, the music tends to take on a different richer texture.
Live music will always be one of the greatest and broadest reaching cultural experiences on the planet. But there is something about devoting 10 hours a day to watching music for a full weekend. You get into a specific rhythm, on a quest for pure joy, and a shared experience. Somehow the fact that cell service is shoddy and social media is not immediate, that softens the urgency to have your head down buried in a phone. It frees you to take a quick picture, and then get back to the show or the crowd. Although you often share this sense of community at a sporting event, music's diversity makes the overall energy of a festival much different.
For everyone seemingly too "old" or "out of touch" for festivals, think again. Music festivals are now broad cultural experiences with stages devoted to comedy and performance art, legitimately destination-worthy food and wine, and of course enormous amounts of music. In the event you missed one or both, here are a few playlists to pour over.